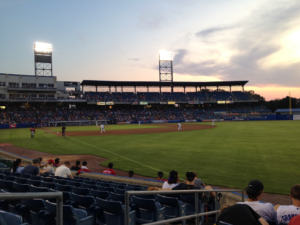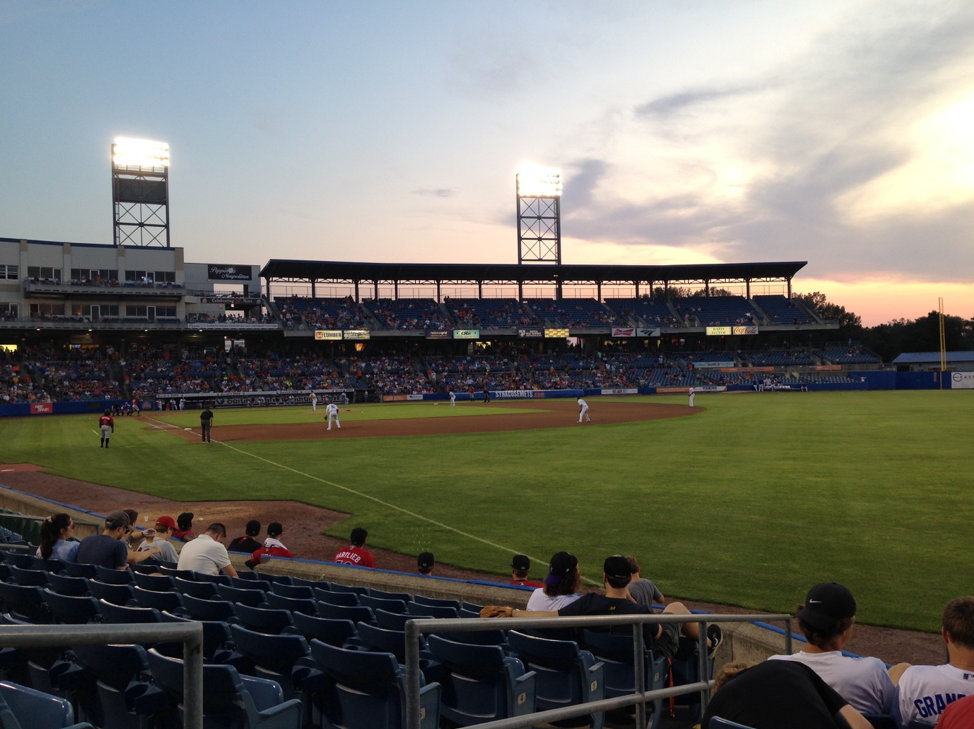 Story and Photo by: Nicholas D'Alessandro  SYRACUSE, N.Y. — It is a Thursday night game in the dog-days of summer as the nearly .500 Syracuse Mets take on the Pawtucket Red Sox. The lines at NBT Bank Stadium are overflowing with fans buying dollar hot dogs and two dollar beers. This weekly promotional occurs every Thursday […]
Story and Photo by: Nicholas D'Alessandro 
SYRACUSE, N.Y. — It is a Thursday night game in the dog-days of summer as the nearly .500 Syracuse Mets take on the Pawtucket Red Sox.
The lines at NBT Bank Stadium are overflowing with fans buying dollar hot dogs and two dollar beers. This weekly promotional occurs every Thursday since Mets General Manager Jason Smorol pioneered it during his days in Auburn, bringing it to Syracuse. Six years into his role, the North Syracuse native has already begun leaving a lasting impression within the organization.
Back in Syracuse
Donald F. Johnston, better known as "Donnie Baseball," is the lively and dynamic press box manager for the Mets, ready to greet visitors with a handshake and the lineup for the day. He met Smorol in 2003 while he was attending SUNY Cortland and Smorol was an adjunct professor. Johnston assisted Smorol, with the Auburn's Minor League Baseball Team, the Doubledays, and they've kept contact since then. Johnston credits Smorol as being an advertising and public relations savant, propelling the Syracuse baseball franchise back to profitability.
"There would not be baseball in Syracuse today, had it not been for Smorol," said Johnston.
According to Smorol, the team was $1 million in the hole when he took over in 2013. He said the Mets were close to not being able to fulfill its debts which would have resulted in the team being taken over by Minor League Baseball.
Smorol credits many of his former staffers for keeping the team in Syracuse and members of the Chiefs First Group — who helped to finance the team out of debt.
Jason Smorol worked in baseball from 1993 to 2003.
A break from the sport 
At the end of the 2003 season, Smorol got married and had two children, but wanted more of a work-life balance. In the Fall of 2003, began working as an account manager at Hilti, a company that manufactures and sells tools for manual laborers and manufacturers in the construction industry.
He worked at Hilti for ten years until the former President of the Syracuse Chiefs, Bill Dutch, sent him a friend request.
Soon after, Smorol said he was on the phone with Dutch who offered him the job as the General Manager of the Chiefs.
He discussed the opportunity with his wife, and just like that, he was back in baseball.
Minor league mentality
Smorol said that they have turned the Mets into a profitable team by embracing the, "minor league mentality of fun."
Since his start with the team, Smorol has been proudest of their engagement with the community and their charity work. With Smorol on board, the Mets have raised hundreds of thousands for Challenger Baseball, a baseball program for special needs children and adults.
As a minor league GM, Smorol isn't involved with player development and transactions. Instead, he is in charge of several aspects of the game.
Though he's in a demanding role with no set routine, Smorol has still been able to thrive.
Dave Smolnycki and Marty Nave are season ticket holders and have been attending Mets games in Syracuse since the early 1960s. They both agree that customer service is Smorol's greatest asset.
"Smorol is a good public relations man who brought family fun back to the stadium," said Smolnycki.
Smorol did this by adding more on-field entertainment, talking to fans about their ideas, and solving fan problems.
Additionally, Smorol has shown hospitality by checking in with players' companions, assuring their comfortability.
Nave, a member of the Syracuse Chiefs Hall of Fame, echoed that Smorol is great at listening to fans. Smorol has brought groups on the field and gives back to season ticket holders as they receive precedence on bus trips and he threw an all-star game party for them.
Unbeknownst to Nave, Smorol knew that he had been attending games for years. When Smorol became GM, he asked Nave if he would he run a Mets fan club. Although Nave declined, Smorol continued to lean on him for advice.
"He has given a lot to preaching Syracuse baseball. He makes fans like me part of the experience and makes fans engage," said Nave.
Working with Smorol
The Director of Business Operations and Merchandise, Katie Berger, works with Smorol daily to ensure that staffing needs are met for each game and to discuss actions they can take to make the stadium better.
"When someone is upset, people go to him and he is able to resonate and connect with them more than anyone else," she said.
Tim Leonard, a broadcast assistant for the team, knows Smorol for his positive and energetic spirit.
"It doesn't matter if it is game seven of a seven game homestand or game one, he is just as excited and passionate," said Leonard.
He also noted that Smorol goes around the stadium greeting every employee and interacting with fans during the games.
"The real work is customer service and catering to your fans first," said Smorol.
Matt Park has been a broadcaster for Syracuse Athletics since 2004, but has never worked directly with Smorol.
"He has been a great smile on the franchise," Park said.  "He has lifted the brand of the team and has made a real effort to talk to fans, be accessible, and make it fun."
He also said that Smorol has made major gains in engaging the business community.
Changing the Game
From local sponsors such as Burdick Mitsubishi and Upstate Orthopedics, to Bud Light and Toyota, the billboards on the outfield walls are full.
"Other GMs aren't necessarily as forward [about] where they are personally and individually involved. He has found something effective that works," Park said.
Jason Smorol wants to be here for the long haul.
He said that the Mets are the second-largest attended sporting event in the city of Syracuse by total number of people and he plans on beating out Syracuse University Basketball to make it the first. Contingent on Syracuse Football's attendance remaining the same, they'll have to average just over 2,000 more fans per home game in 2019 to beat them out.
Tony DeFrancesco, the manager of the team, said something about Smorol that has remained a common theme,
"I've been around him every day for four months and he makes it very enjoyable to be here."