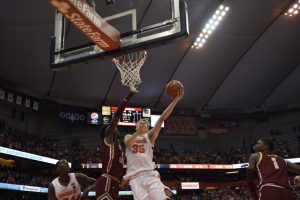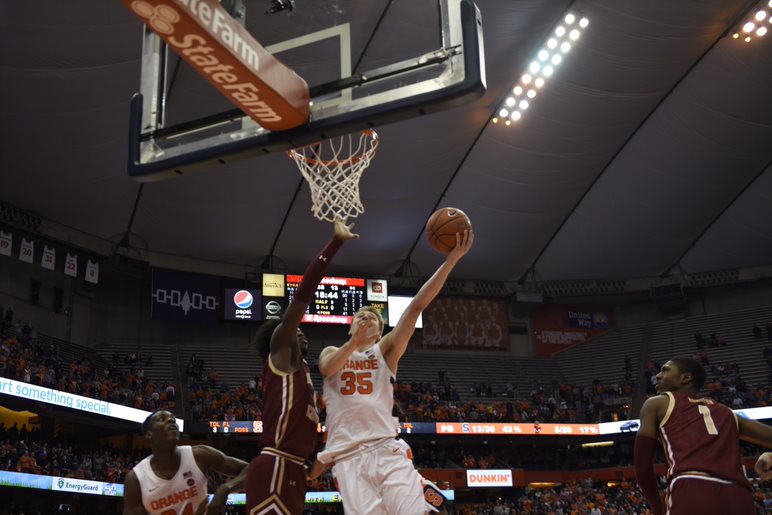 Story by Joe Trently, Photos by Nicholas D'Alessandro SYRACUSE, N.Y. – Defense, Buddy Boeheim and Elijah Hughes: those were the storylines in tonight's ACC matchup as the Orange welcomed the Eagles from Boston College. Syracuse didn't slow down from their previous win at Virginia, as their current win against Boston College ended with a final score […]
Story by Joe Trently, Photos by Nicholas D'Alessandro
SYRACUSE, N.Y. – Defense, Buddy Boeheim and Elijah Hughes: those were the storylines in tonight's ACC matchup as the Orange welcomed the Eagles from Boston College.
Syracuse didn't slow down from their previous win at Virginia, as their current win against Boston College ended with a final score of 76-50 tonight at the Carrier Dome. The Orange defense held Boston College to just 19.2% from the field in the first half as well as 0-14 from beyond the arc.
Buddy Boeheim outscored the entire Boston College team in the first half with 15 points. Syracuse defense held the Eagles to just 13 points in the same half.
"I was just really trying to get in the lane and finish around the rim," Boeheim said. "I've been trying to work on that and become more than just a shooter for this team, especially getting deeper into conference play."
Boeheim finished with 22 points and went 9-17 from the field.
It took a minute for Elijah Hughes to get going, but when he did, he couldn't be stopped. Hughes didn't score until there was around 5:45 left in the first half, but ended with 19 points, 4 rebounds and 5 assists. He elaborated on how tough it is to win in the ACC.
"Every win is precious in this league," Hughes said. "We have the right mindset that we have a great group of guys, and we're all just dialed in."
Another key contributor for the Orange was the junior forward, Marek Dolezaj, who was the only player with a double-double in the game. He finished with 10 points and 11 rebounds.
Boston College didn't get much support as a team, as CJ Felder was the only player who made a big impact for the Eagles. Felder ended up with 9 points and 9 rebounds. Jairus Hamilton also ended with 9 points.
The Orange's freshman point guard, Joe Girard, kept up with the vets, finishing with 12 points.
Here are some of the standout numbers that the Orange put up:
Shot 100% from the free throw line (12-12)
Shot 51.9% from the field as a team
Held Boston College to just 13 points in the first half
Held Boston College to 0-14 from beyond the arc in the first half, and 6-30 overall (20%)
Put up an even 38 points in both halves (76 total)
Went 8-18 from three-point range (44.4%)
With this win, the Orange now move to 10-7 overall, and 3-3 in the ACC.