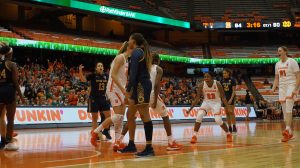 Story by Maria Trivelpiece, Photo by Tanner Russ SYRACUSE, N.Y. – The Syracuse University women's basketball team defeated the Notre Dame Fighting Irish 74-63 in overtime at the Carrier Dome for the first time in Quentin Hillsman's career. Starting off, Amaya Finklea-Guity won the jump ball and Kiara Lewis sunk a jump shot 23 seconds […]
Story by Maria Trivelpiece, Photo by Tanner Russ
SYRACUSE, N.Y. – The Syracuse University women's basketball team defeated the Notre Dame Fighting Irish 74-63 in overtime at the Carrier Dome for the first time in Quentin Hillsman's career.
Starting off, Amaya Finklea-Guity won the jump ball and Kiara Lewis sunk a jump shot 23 seconds later. As a team, they shot 30.4% (7-for-23) from the floor, with 12 rebounds. They also forced eight Notre Dame turnovers.
In the second quarter, Syracuse struggled to score, eventually allowing Notre Dame to tie it up with two free throws, an "and-one" and another free throw made by Mikayla Vaughn. The Orange took the lead again with back-to-back three pointers from Kiara Lewis and Emily Engstler, but by the end of the period, the score was tied at 31 heading into halftime.
The third quarter was led by the Fighting Irish, outscoring Syracuse 18-10, shooting fifty percent from the floor and making both threes they took. Notre Dame continued this dominance into the fourth, but with just under three minutes to go, Lewis drove and made the layup, putting the Orange within two.
The Irish stretched their lead to 60-57 when Amaya Peoples made two free throws; but with 6.9 seconds to go in the game, Lewis made a three-pointer to tie the game. Notre Dame got the ball back and had one more shot opportunity, but a block by Digna Strautmane sent the game into overtime.
Engstler started things off with a layup and Strautmane followed shortly after. The Orange scored eleven points before the Irish's Katlyn Gilbert made a layup. In overtime, Syracuse outscored Notre Dame 14-3, sealing the victory.
This is the first time in his coaching career that Coach Quentin Hillsman has beat Notre Dame, and the first time Syracuse defeated them since 2002.