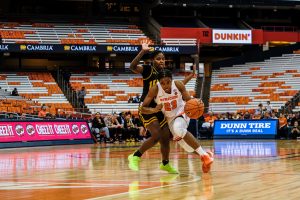 Story by Bailey Arredondo, Photos by Kris Wan SYRACUSE, N.Y. – The Orange (5-4) came off their first three-game losing streak since the 2013-14 season and over two weeks on the road. "I'm tired and I know they are tired," said head coach Quentin Hillsman. "But with our schedule we want to get ourselves ready […]
Story by Bailey Arredondo, Photos by Kris Wan
SYRACUSE, N.Y. – The Orange (5-4) came off their first three-game losing streak since the 2013-14 season and over two weeks on the road. "I'm tired and I know they are tired," said head coach Quentin Hillsman. "But with our schedule we want to get ourselves ready for the NCAA tournament and ACC play."
The contest started with the University of Maryland, Baltimore County (2-7) matching Syracuse's intensity coming out the gate and only trailed 17-15 after the first quarter. But it was Junior forward Digna Strautmane that provided the offensive spark and a 11-2 run in the last four minutes of the first half. Strautmane hit four from beyond the arc and scored 14 points for the Orange to build an unwavering lead.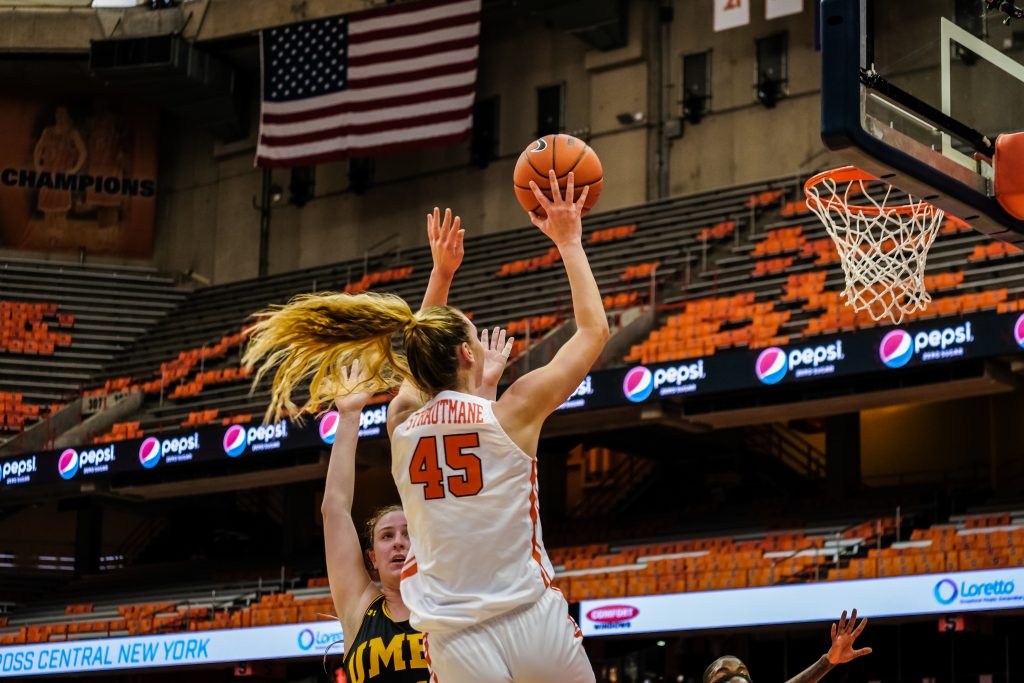 "This game was different because they didn't scout me good enough," said Strautmane on how she was able to get into an offensive flow. "Usually the teams we play take my shot away, but today I was able to find my shot."
Syracuse built their lead in the second half and continued to push the pace of the game. The pace transpired into largest run of the game, 28-8, over 10 minutes and a lead of 64-39 at the end of the third quarter.
The Orange dominated the glass, 50-35, and scored 40 points inside the paint. Strautmane finished with 17 points and three blocks. Amaya Finklea-Guity was efficient with 13 points on 6-of-8 shooting.
Syracuse also saw production from the bench as freshman Teisha Hyman added valuable minutes with a career-high 16 points on 60 percent shooting.
"Teisha was fantastic and a really tough guard in the half court, her effort and our effort in the second half was great," said coach Hillsman.
Te'yjah Oliver, a 20 point per game scorer, lead UMBC with 15 points but had seven of the team's 21 turnovers. Syracuse was everywhere on defense, forcing 12 steals and recording six blocks as a team.