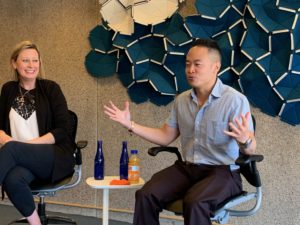 Story and Photo by Kyla Wright SYRACUSE, N.Y. – ESPN International Producer Howard Chen returns to the place where his sports journalism career began – the S.I. Newhouse School of Public Communications. A 2002 broadcast journalism graduate, Chen knew that he'd be in the industry, whether it was in front of or behind the camera. Chen […]
Story and Photo by Kyla Wright
SYRACUSE, N.Y. – ESPN International Producer Howard Chen returns to the place where his sports journalism career began – the S.I. Newhouse School of Public Communications.
A 2002 broadcast journalism graduate, Chen knew that he'd be in the industry, whether it was in front of or behind the camera. Chen discussed negotiation skills, the media industry, his Newhouse experience and his career with current undergraduate and graduate students.
Growing up in Canada and eventually moving to Texas, Chen fell in love with hockey among other sports, but quickly realized he wouldn't play them professionally, so he decided to find another way to enter into the sports realm: journalism.
As a student, Chen was active in WAER, Z89 and UUTV (now CitrusTV). He credits being on staff for these outlets for setting him a part from his competition upon graduation. Chen worked at NBC and FOX affiliate stations before reporting for Comcast SportsNet Houston, which landed him his current position at ESPN.
While at ESPN, Chen has been allowed numerous opportunities such as traveling to the ESPYs, NBA Finals and All-Star Game, US Open and at least two NBA games a week.
"I get to do all this big picture stuff, I never imagined myself doing and I get to see all my friends while in all these cities," Chen said.
Though he is now primarily behind the camera, it was important for Chen to spend time in his career in front of it. He always dreamt of  inspiring others who look like him, as there aren't a lot of Asian sports broadcasters.
"I knew I could do more good and influence more people if my face was on a screen," said Chen.
Chen also advised students to learn at least one other language and to be open to all opportunities.
"Be willing to go to small markets, sleep on the couch," Chen said. "I look back and I have no regrets – you'll definitely have your ups and downs and you can't help but wonder, 'am I stuck here forever?'"
Chen attributes a lot of his successes to Newhouse and his friends for pushing him to be better. As all other Newhouse alumni, Chen is a part of the coined, "Newhouse Mafia." Some alumni don't particularly care for the name, but Chen doesn't feel the same, he feels it makes up a piece of who he is.
"I don't hate it, I love it," said Chen. "I take pride in it."