Newhouse Sports Media Center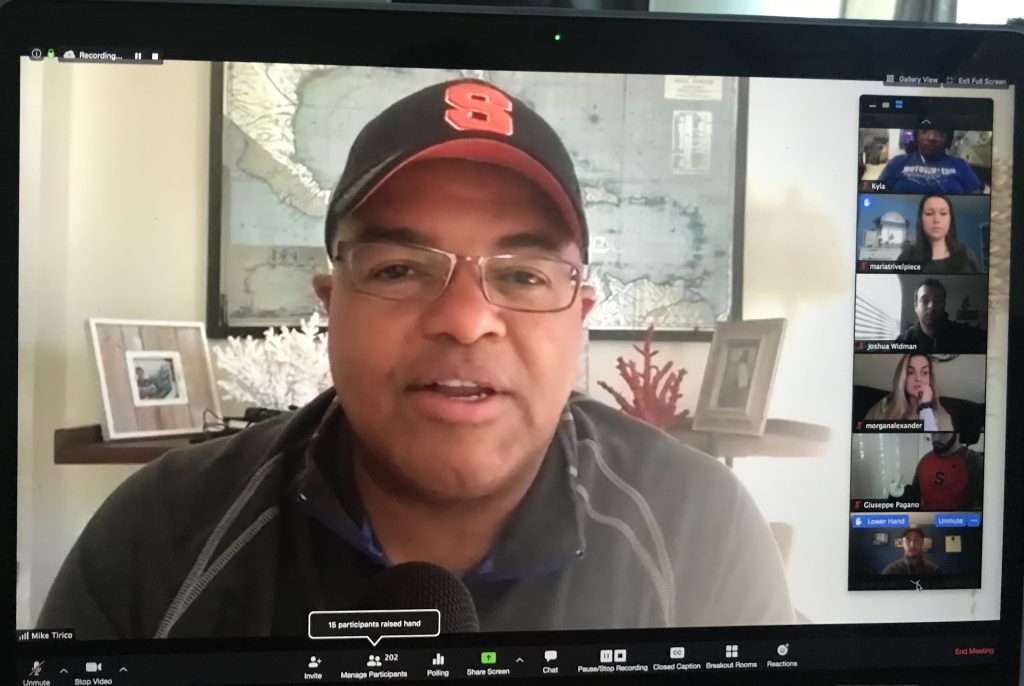 Ian Eagle and Mike Tirico Meet with Students, Virtually
As students are away from campus and likely quarantined in their respective locations, academic programs have navigated to online means to stay in contact. To uphold the Sports Media and Communications Track's requirements, and connect students with industry professionals, the Newhouse Sports Media Center hosted two events, via Zoom. Hosted by "Voice of the Orange," Matt Park, hundreds of students logged onto the online platform to virtually meet with Ian Eagle and Mike Tirico, both Newhouse alumni.
Both Eagle and Tirico discussed their journey through Newhouse, the ups and downs of their careers, journalism in the age of the Coronavirus and advice on perfecting their craft and circumnavigating the job industry at present time.
"Even though I graduated 30 years ago, I still have the same mentality. I'm still a student of the profession," said Eagle. "You have to be critical and comfortable with hearing and watching yourself. Watching others, listening with a critical ear and watching with a critical eye." Eagle recalled metaphorically being a "sponge" while a student, and even now. While driving to and from Queens and Syracuse he would listen to play-by-play announcers back and forth, just to "get it in" his head. As a current CBS and Brooklyn News play-by-play broadcaster, Eagle noted dedication and curiosity along with connections for landing him to where he is today.
Our online speaker series has begun! '90 Ian Eagle speaking to the @NewhouseSU students and alums. Thank you for speaking to us Ian and thank you for helping us all connect @MattPark1 This is SO COOL! It is good to be 🍊 pic.twitter.com/9O1QXQuLwK

— Newhouse Sports (@NewhouseSports) March 30, 2020
Invested in bettering himself as a sports broadcaster, Eagle ensured that no matter the opportunity presented to him, he said his answer and his mentality was always, "yes." The desire to know more is one of the monumental factors in elevating him in his career. "There were times I wasn't qualified to do what I did, but I was confident, and I was prepared," Eagle said. "Make sure you're locked in – you're all in – zero in on what you're passionate about and what's going to get you excited to wake up. What's going to challenge you?"
Finding a challenge amid his passion, Eagle reminisced on once receiving a call, asking if he did boxing play-by-play, he said yes. Even though he didn't; he laughed, recalling he'd never been to a fight or even been in one, but he refused to pass up an opportunity to learn something new and advance his skillset. The same with situation occurred with track and field, and with no background he watched about 20 hours of coverage to prepare. He ensured that he got himself familiar with pacing, nomenclature, and athletes of the sports, and no one would've known he was formerly unfamiliar, unless he told them. As he gain a newfound knowledge of the sports, he gained a love for them as well.
Students often hear about the importance of connections within the media industry, usually followed by the saying, "it's not what you know, but who you know." Eagle planted a similar seed, telling students to make connections with classmates now, as you never know who you're in school with, as the same happened to him.
"I didn't realize that Mike Tirico was Mike Tirico. He became a very close friend, and that hatched at Syracuse because we were two people that had aspirations to do more and achieve more," said Eagle.
When Tirico spoke to students a few days later, he was in his makeshift studio comprised of his iPad and a mic after being in quarantine in Florida since a March 11 PGA tournament. Instead of moping about the current pandemic, he challenged students to make it a part of their resiliency.
"Think about it like sports: this is apart of your story," Tirico said. "Don't dwell or get yourself lost in the self-pity of it, make the best of the situation and thrive."
He recommended that students make the best of their situations, whether at home, or in their apartments as the COVID-19 outbreak will change the journalism industry, as far as remote work. He told students to still practice being on camera and editing video by recording 30 second updates on sports or news events on their phones, editing with simple materials and software. The NBC Sports play-by-play broadcaster advised that this is an imperative time for students to highlight their versatility. As there are no sports right now, many sportscasters are doing news. When you see a non-news reporter attempting to do such, and they don't know what they're talking about, it's obvious, Tirico said.
This weekend, Tirico celebrated 33 years since he first appeared on camera, and attributes it to continually bettering himself and being a part of the well-known, "Newhouse Mafia." He advised that students do the same during the world's difficult times, and ended giving students the same advice he began with, "Do your best to be better everyday. Syracuse has been through some tough stuff in the past and we can come through this, and it's because of you," said Tirico. "Be ready to make this apart of your Syracuse story."
Seen taking notes, watching and listening attentively, students were satisfied with the Sports Media Center's first week hosting sports professionals remotely.
"These times are super uncertain right now, and as a grad student I've had some anxiety just thinking about trying to find a job in this climate. But, both Tirico and Ian Eagle were so motivating," said SMC student, Maria Trivelpiece. "I'm thankful that the SMC Zoom calls happened. It gives us a chance to stay connected and stay on top of our game during these times."