Newhouse Sports Media Center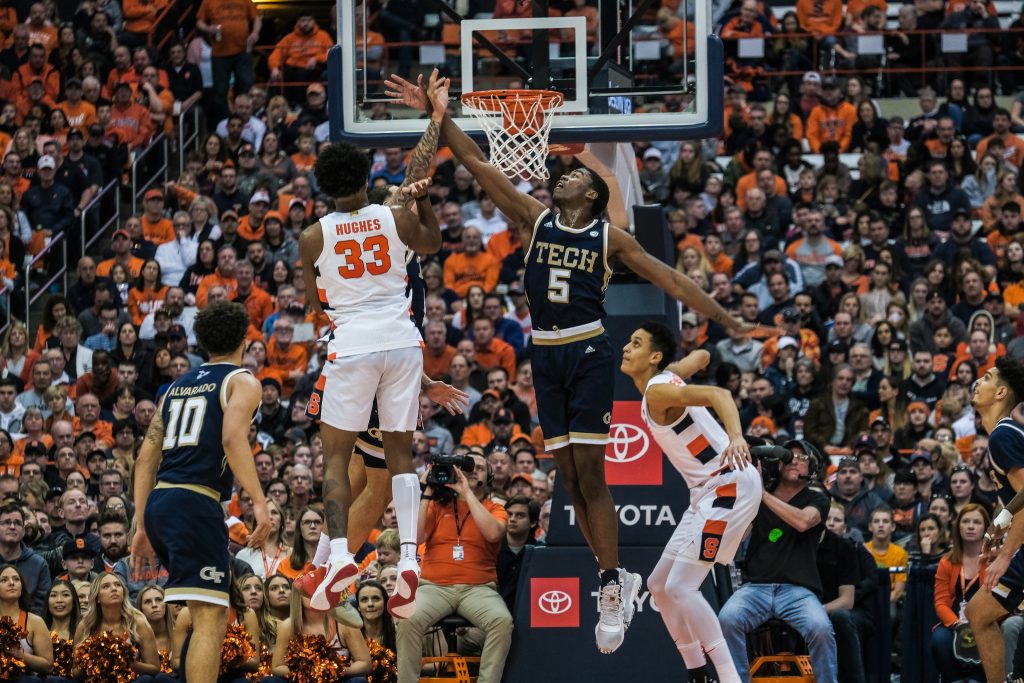 Second-half spark leads Syracuse past GA Tech to snap three-game losing skid
Story by Bailey Arredondo, Photo by Kris Wan
Four starters for Syracuse scored in double digits and the Orange shoot 64 percent in the second half in a 79-72 bounce-back win over Georgia Tech on Saturday in the Carrier Dome.
52-34 was the score differential in the second half and impressed Syracuse head coach Jim Boeheim.
"One of the best second halves we have ever played…anywhere," said Boeheim.
Leading into Saturday's matchup, the Orange (14-13, 8-8 ACC) and Georgia Tech split their head-to-head series 6-6. In their first meeting this season on Dec. 7., Elijah Hughes was 10-for-15 from the field and 7-for-7 from the free throw line for a career-high 33 points, leading Syracuse to a 97-63 stomping.
On Saturday, Syracuse relied on a 20-point and 7 rebounds effort from Hughes and Marek Dolejaz's 20 points, that included 12-12 from the free throw line.
"I love playing basketball and I get the crowd into it. That's what you have to do in college is have fun with it," said Hughes.
Georgia Tech (13-14, 7-9 ACC) came into Central New York with some aggression as junior forward Moses Wright came out the gates attacking the paint and scored 8 points on 4-4 shooting, to put the pressure on Syracuse 17-9 at the 12 minute mark in the first half.
Syracuse started 3-17 from the field and Hughes was the lone offensive spark with 10 points at the half.
The Orange went on a 10-2 run to open up the second half and cut the deficit, 37-40. Joe Girard III had the hot hand during the run and dropped 8 quick points that featured a turn-around baseline jumper.
"When the ball goes in the basket, the game is a lot easier," said Boeheim. "At halftime, this was a really hard game to win and the players ignored what has happened and is happening."
Wright might have found his sanctuary inside the Carrier Dome as he went on to drop a career-high of 33 points. Syracuse held Yellow Jacket leading scorer (16 PPG) Michael Devoe scoreless in the second half and 11 total points.
Both parties had 34 points in the paint, but it was the tempo of the Orange's offense that gave them the edge. 21 fast break points and 12 assists as a team.
Buddy Boeheim finished with 13 points and Girard III added two from beyond the arc and 15 points of his own.