Newhouse Sports Media Center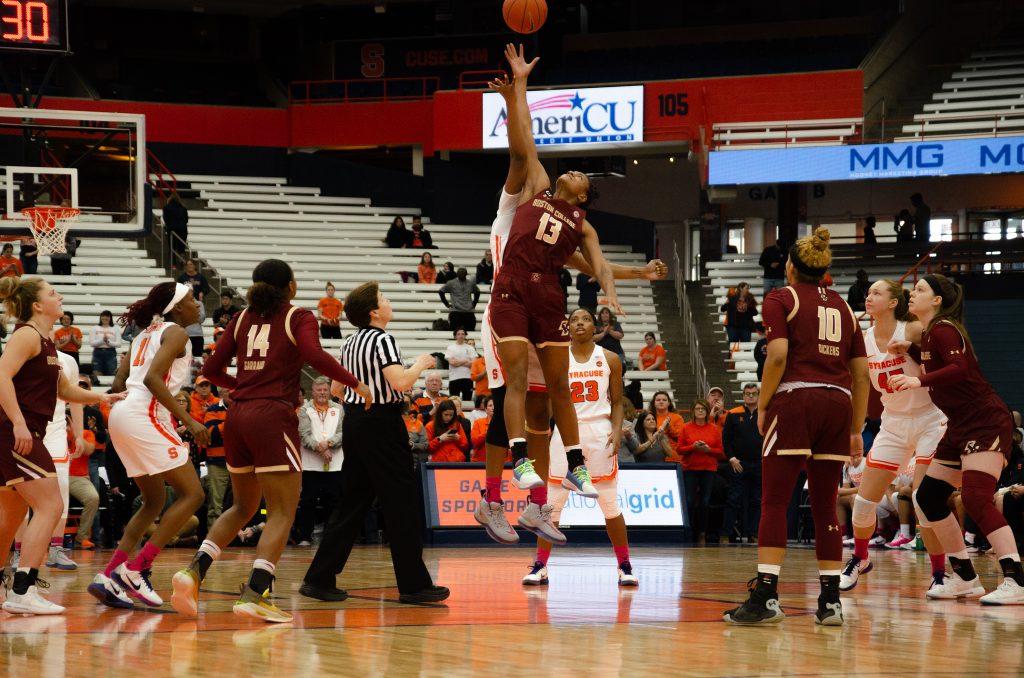 Fourth quarter emotions cost Syracuse's final home game against Boston College
Story by Bailey Arredondo, Photos by Tanner Russ
SYRACUSE, N.Y. – After three nearly identical quarters of basketball, the Syracuse women's basketball team couldn't fight off Boston College in the fourth quarter and came up short, 88-81, in the last sporting event at the Carrier Dome for the year on Sunday night.
Tied at 64 after three quarters, the rest of the game was up for grabs on senior night. Down the stretch as emotions were flying at 83-78, Syracuse head coach Quentin Hillsman received a technical foul after arguing a no-call. That gave Boston College two free-throws and possession – which put the nail in the coffin for the Orange (15-14, 9-9 ACC).
"I take full responsibility for this one," said Hillsman. "Our kids fought hard and I was fighting them, but that's on me at the end."
Boston College (18-11, 11-7 ACC) came out firing on all cylinders and set the tone for Syracuse, connecting on three-straight 3-pointers on their first three possessions and grabbed an early 11-2 lead.
"I told them to calm down, relax and to play the game," said Hillsman, on what he said to his team following the Eagles start.
The Orange started putting together their own offensive game plan with Kiara Lewis and Gabrielle Lewis leading the charge. Both had 18 points on the night and Lewis added 8 assists.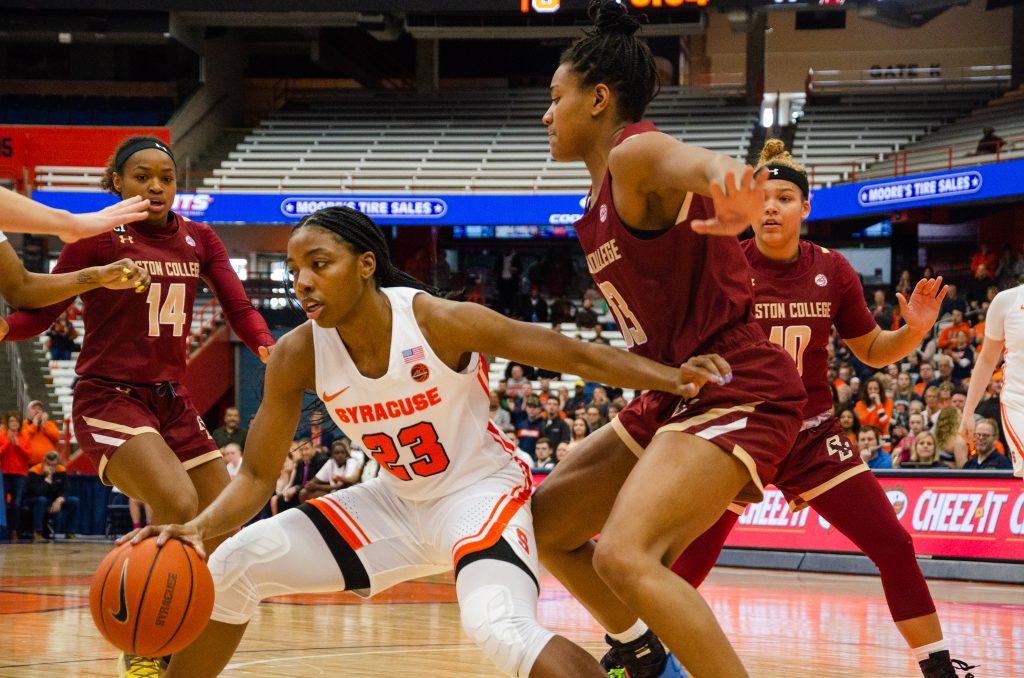 After starting 6-of-14 from beyond the arc in the first-half, Syracuse struggled to pick back up in the second half – finishing 9-of-25.
Syracuse shot 47 percent from the field and dominated the paint, 42-30.
Boston College had five players score in double-digits but held senior Emma Guy to just seven points. Guy is No. 1 in the ACC in field goal percentage and has scored in double-digits 9 straight games coming into Sunday's contest.
The difference was the pace from Boston College, scoring 31 fast break points to Syracuse's 13.
"We knew it was going to be a tough game and they shot the ball well from 3." said Cooper. "But you have to put it in the past now and look towards the ACC tournament."
With that mindset, the Orange's regular season comes to an end with hopes of making an NCAA tournament appearance. First – a smaller, yet important, round of games this week in ACC tournament play.
Syracuse will sit at the #8 seed and will play #9 Virginia. Exact day and time, TBD.
"Right now, everyone is 0-0 and coming in fresh," said Hillsman on what's next. "We have to go win some games and win the tournament."