Newhouse Sports Media Center
Syracuse Rolls Past the Panthers, Again
Story by Alyssa Lyons, Photos by Nicholas D'Alessandro

SYRACUSE, N.Y. – The color pink has many meanings and attributes, but most of all it has a meaning of its own for one month, Breast Cancer Awareness. The same words shocked the Syracuse women's basketball team when one of their 14 was diagnosed. That same awareness was celebrated during halftime Sunday, Feb. 16, 2020 when the Orange slipped past the University of Pittsburgh 71-53.
It was the annual #Play4Kay game, only this time with the addition #Tough4T. During halftime, 15 women who are in the midst of, and succeeded in the fight against Breast Cancer were recognized – including Syracuse's own Tiana Mangakahia. As the parade of survivors and current fighters entered Jim Boeheim court, Mangakahia addressed the crowd for the first time since her diagnosis last year.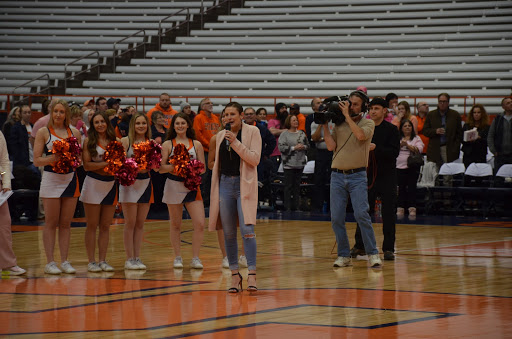 The Streak
Syracuse taking down the Panthers extended their win streak to four. This is the third time this season where they've held off ACC foes below 54 pts. The Orange started off strong, taking the first half by storm retrieving to the locker room with a 14-point lead. There was no evidence of the Orange struggling with points outside the paint. Between the game in North Carolina and the one in the Dome, the Orange have shot down 20 from the arc. Late in the first quarter within less than two minutes, Taleah Washington, Kiara Lewis and Teisha Hyman knocked down a shot from three. Forward Digna Strautmane grabbed three on the night, a repeat from Thursday's win against the Tar Heels. Strautmane surpassed her season-high of 17 points, ending the game with 18. Coach Quentin Hillsman, recording two more wins from his 300-career tally, said Strautmane was "aggressive on all three levels of the floor."

Kiara Lewis said the win was attributed to sharing the ball. Coach Q's crew recorded 15 assists, 6 of those coming from Lewis. The Orange took the lead for 38 minutes of the contest. In the second half alone, Syracuse outscored Pittsburgh 33-29.
Syracuse recorded 19 fouls, meanwhile Pitt picked up 15. The Orange capitalized on points at the line going 15-18. Kiara Lewis was perfect, grabbing 4-4. Consequently, Pitt was not, and struggled to find the rim, 12-22.