Newhouse Sports Media Center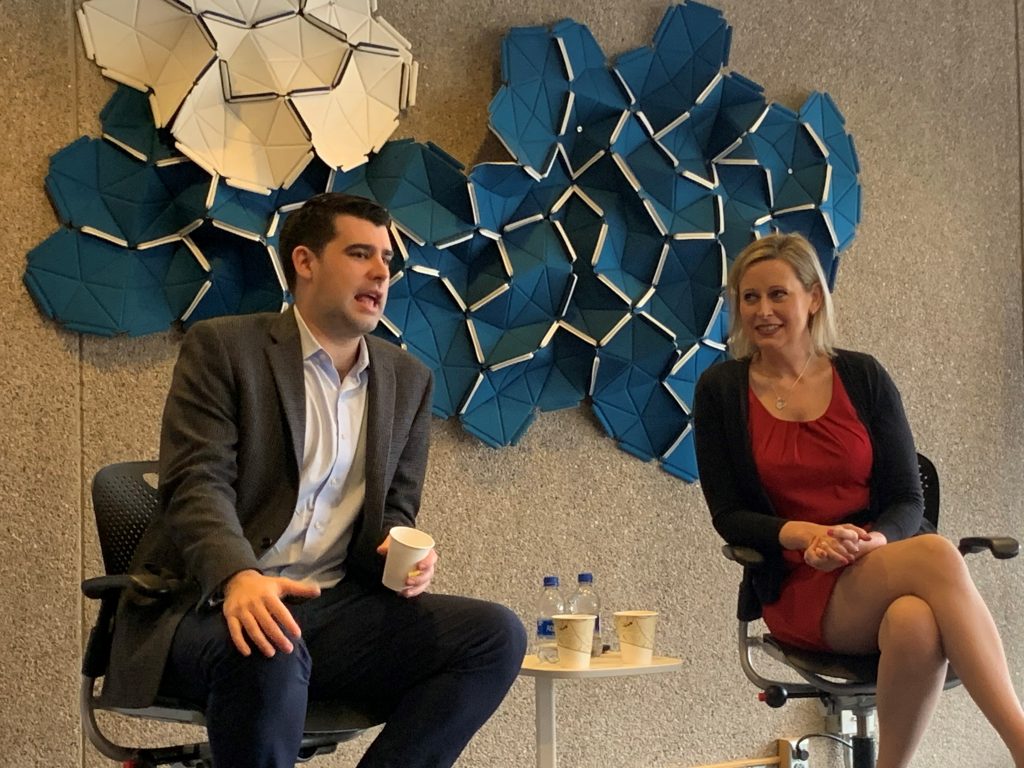 From Newhouse to the Airwaves: Jay Alter's Journey
Story by Cole Johnson, Photo by Kyla Wright
SYRACUSE, N.Y. – There's no place like Newhouse. Simply stated, it's the place where the dreams in the media industry come to life for hundreds of students each year.
It's not just individual talent and determination that gets these students to the top of company resume lists each year. It's more than that – it takes relationships and assistance from professors and alumni.
On Friday, students had the opportunity to network with 2016 alum, Jay Alter, who almost gave up his dream after his freshman year.
The ESPN play-by-play personality came back to Syracuse to call a Men's lacrosse game, and speak to students about his journey and his life as a broadcaster.
"My parents wanted me to be an accountant," said Alter. "But I wanted something different. I came here with a twinkle in my eye, and I did everything I set out to do…I wouldn't do a single thing differently."
For Alter, it wasn't easy as it would seem to simply set a goal and "go get it." Similar to other students, there may be times when they don't think this is the right path for them.
"I had a lot of doubt at the end of my freshman year going into sophomore year if this was going to be it for me. I was struggling to get cleared at student radio stations and back home my sister was battling Leukemia," said Alter. "I just wanted to be home. My mind wasn't in it."
He said that he called his parents, wanting to take a semester off and listening to his parents' earlier advice about going into accounting. Yet, his dad told him that he was being ridiculous. There was nothing he could do to help at home, only to fight and work hard in school – making a life for himself.
"I channeled all of that fight and put it here, and that really turned a corner for me," Alter added. "I wouldn't be here in this room today, without that."
As Alter sat in front current sports journalism students with Newhouse Sports Media Center Director, Olivia Stomski, it was clear that he had overcome many doubts to get to where he is now. He attributed passion to being his driving force.
"You can't manufacture passion. Passion makes you work ten times harder, research more, communicate better. If you lack that, you're never going to make it in this industry because it's too competitive," said Alter. "This is a game of inches, and every inch you give yourself is a chance that you have. When you give yourself that inch, passion gives you a foot."
After graduating, Alter landed a position at News12 in Connecticut as the weekend sports anchor, thereafter he took on many play-by-play and reporter roles for the Big East Digital Network. From there, he went to ESPN, calling various college sports and high school football.
"As cliché as it is, trust the process. Bet on yourself. If things aren't going well, work twice as hard. Don't think day to day, but think long term," he said. "If I didn't double down on myself and bet on myself I wouldn't be at ESPN or speaking at Newhouse today. I wouldn't be in broadcasting at all."
Given the talent and passion Alter has shouted through the airwaves, it had to start somewhere. He said it wasn't just that determination and grit that got him to where he is. Countless times, Alter told students that it's more about the human connection you make in this industry that will get you far.
"Relationships are your resume in this business. Without relationships, you're never going to get hired because you can't hand someone a piece of paper in this business and say 'hire me.' You need somebody that's going to go to war for you," said Alter.
He advocated for making connections, a common piece of advice from Newhouse alum and staff alike.
"All of those relationships start in Syracuse and start at Newhouse," said Alter. "I wouldn't be where I am today without those relationships and it's all because of this school and this program."