Newhouse Sports Media Center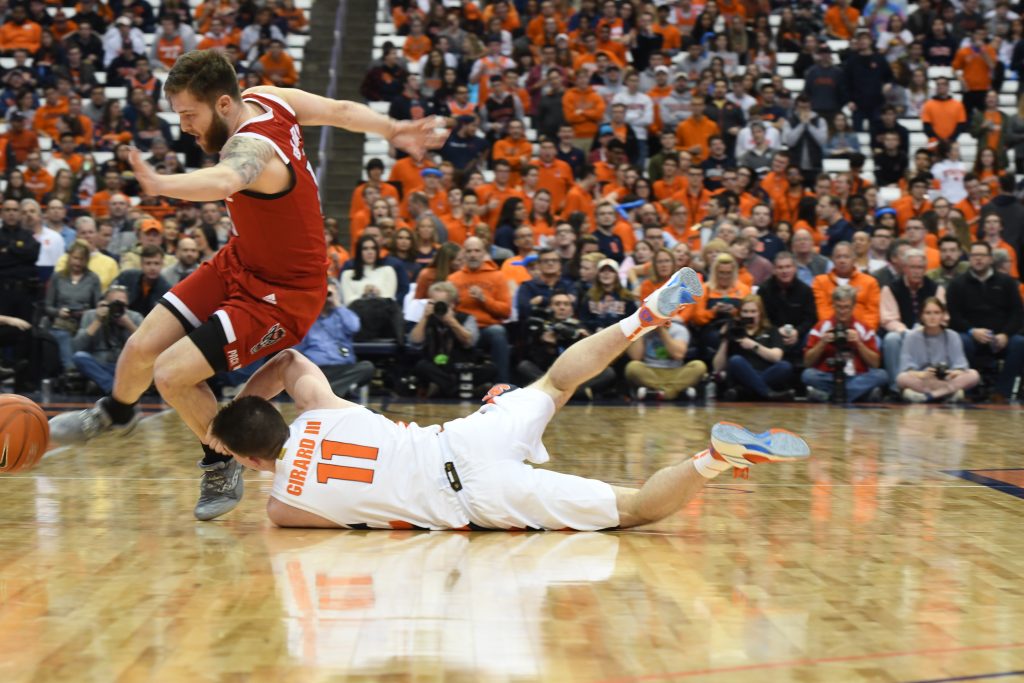 Orange Fall and Foul Against the Wolfpack
Story and Photos by Alyssa Lyons
SYRACUSE, N.Y. – For the second game in a row, Syracuse's Basketball team worked their opponents until the last minute without top scorer, No. 2 in the ACC, Elijah Hughes, this time coming up short 79-74. This was the sixth conference match-up of the season that has been decided with 4 points or less.
In warm-ups Hughes suffered a left groin strain and left the game 2:33 into the half. With Hughes out, Jim Boeheim looked to young talent, freshmen Joe Girard III and Quincy Guerrier to put a stop to the Wolfpack's Devon Daniels and C.J. Bryce.
The Orange started off the first half looking strong, but it was quickly cut short when N.C. State took a scoring run to put the Wolfpack up 12-7 with 7:34 to go. Missed shots from the field set the Orange behind, only knocking down 2 of 13. The Wolfpack converted on 4 of 9.
Guerrier and Girard set the rhythm near the end of the first half of play, earning a combined 23 points to set the Orange under by four against the Wolfpack, 39-35. Girard would pick up his one and only successful shot from the arc, along with two from Buddy Boeheim. Successful chances from the circle have been a struggle for Boeheim's team this season. Syracuse went 3-18 from the arc forcing opportunities in the lane.
The Orange found success driving through the paint early in the second half nearing the five-minute mark setting a one-point divide with a score of 68-69. Syracuse grabbed 40 points in the paint Tuesday night, a handful compared to N.C. State's 26. Bulldozing through the paint was Girard, who picked up a new record, most points by a freshman in the Carrier Dome (30) and tied Dwayne "Pearl" Washington for second most points by a freshman in program history. Carmelo Anthony is the only Orange freshman with more points, recording 33 against Texas on April 5, 2003 in the Final Four.
Foul trouble and missed three-pointers have plagued Syracuse basketball this season. Bourama Sidibe earned his fourth foul less than a minute into the second half. When he returned late in the game, he picked up his fifth nearing a minute to go. In four straight games, Sidibe has fouled out. Buddy Boeheim did the same with 22 seconds left on the clock, and Marek Dolezaj ended with four. Foul trouble was also in the Orange's favor as the Wolfpack's center, Manny Bates received four, limiting the leading shot blocker to 14 minutes.
The Orange will need to take home wins against their next two ACC opponents to keep tournament chances alive.