Newhouse Sports Media Center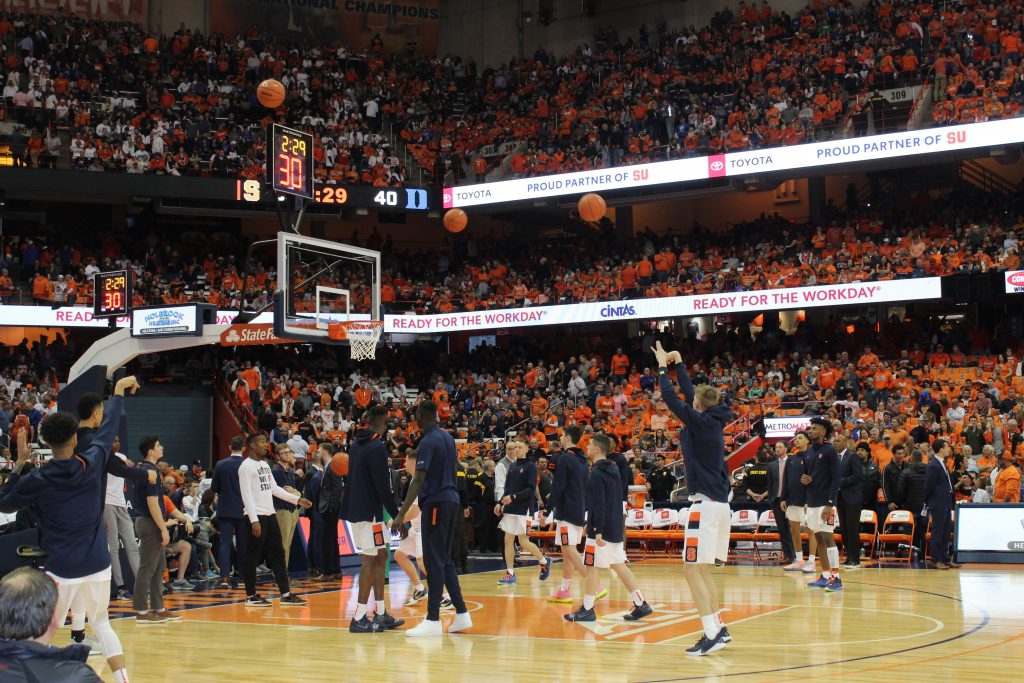 Blue Devils Beat Orange 97-88
Story by Maria Trivelpiece, Photos by Kyla Wright
SYRACUSE, N.Y. – Syracuse and Duke possess two of the most decorated coaches in college basketball. This was the most anticipated matchup for Orange fans. Feb. 1 had been circled on their calendars since the schedule came out. Their team had been playing well, winning five of their last six games. It looked promising. Duke came into town as the no. 9 team in the country – a ranking lower than years passed. The game would be the top-notch opponent win that the Orange needed. A win that they needed, but didn't get. The Blue Devils arrived in the packed Carrier Dome and defeated Syracuse 97-88 on Saturday night. They won because Syracuse could not "stop the big guy" – a problem that Head Coach Jim Boeheim says has been a year-long issue.
Coming out hot in the first half, Syracuse held the lead until the last 40 seconds when Duke benefitted from two Alex O'Connell foul shots, making the score 38-36. The Blue Devils seemed shaken up by the crowd of over 31,000 as they did not score a field goal until over two minutes into the game. Marek Dolezaj dropped ten in the first half, leading him into a career-high of 22 points. "He's playing great and stays out of foul trouble," said Coach Boeheim.
Despite Dolezaj's offensive efforts, him and his fellow forwards could not contain Vernon Carey. The 6'10" freshman had twelve points and eight rebounds within the first twenty minutes. Heading into the locker room at halftime, Duke led Syracuse 40-36 and Coach Boeheim said, "We have to do something about that big guy," but Syracuse didn't.
Duke quickly extended their four-point lead to nine and continued to climb. The Orange kept the game within at least ten with some big blocks from Elijah Hughes and some big threes by Buddy Boeheim. With a little over a minute to play, they were within seven. Syracuse was forced to foul. Tre Jones made both foul shots and the game became out of reach.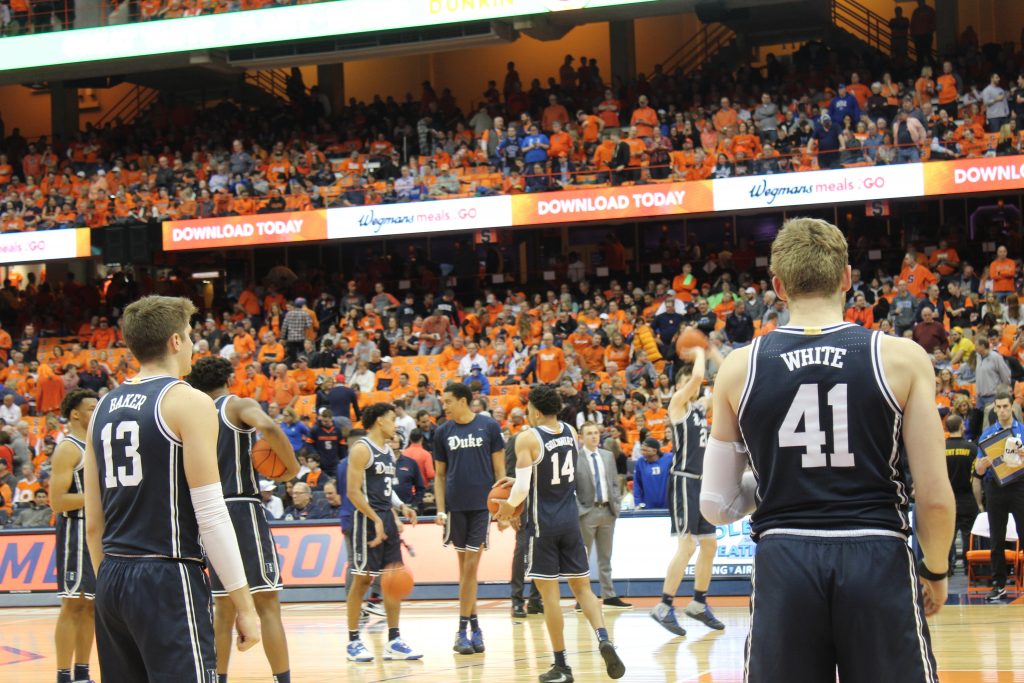 Carey finished the night with 26 points and 17 rebounds. Coach K said, "He was hungry. He attacked the zone and played well." Coach Boeheim also gave credit to the freshman saying, "The big kid is really good. He's got great hands, and he's really tough down there."
Boeheim said his team is getting better, but they still have to get even better. If they want to beat the good teams, they need to stop people in the paint. He also said that his team needs to shoot the ball a little better, something they haven't done in the last two games.
Syracuse will have a week off and then will be back in the Dome on Saturday, Feb. 8th at 8 PM.