Newhouse Sports Media Center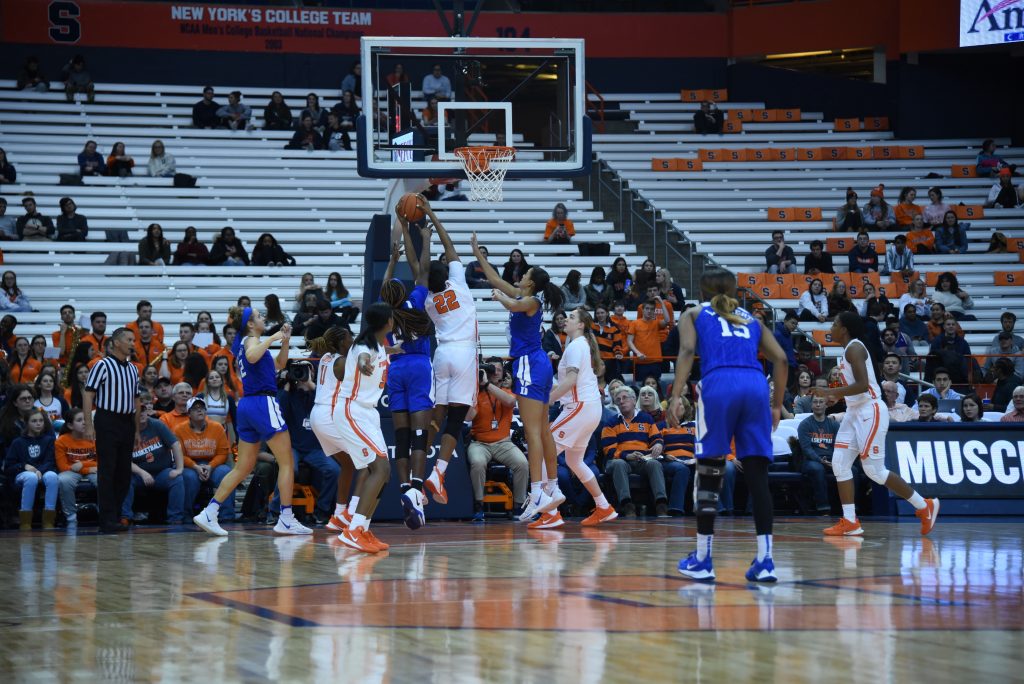 Women's Basketball suffer season's biggest loss
Story by Nicholas Ursini, Photos by Racquel Stephen
SYRACUSE, N.Y. – The Syracuse Women's Basketball Team (9-9, 3-4 ACC) led for just 18 seconds in the game. Kiara Lewis hit a layup right off the tip, and it was all Duke from there. The Blue Devils (10-9, 4-4 ACC) cruised to an 88-58 victory Thursday night inside the Dome.
In the first quarter, Duke had the Syracuse press figured out, leading to easy transition layups and quick scores. In total, Syracuse had 22 turnovers while forcing 18. However, the biggest difference came from points in the paint.
The Blue Devils scored 46 of their 88 points in the paint, thanks in part to Leaonna Odom who scored a game high of 23 points along with ten rebounds, six offensively and four defensively.
Odom shot 11-of-14 from the field.
Duke had a 21-11 lead going into the second quarter and that quarter was much of the same as the first. Syracuse had no answer for Duke's scoring tonight.
The Orange were just 5-of-30 from three-point land and overall were 20-of-62 from the field. On the other side, Duke was nearly 50 percent from the floor (33-of-67) and 8-of-15 from three-point territory.
Duke led at halftime 49-28 and Syracuse still couldn't recover after the break.
Kiara Lewis played all 40 minutes and led the Orange with 14 points. Lewis was 3-of-14 from the field and 0-and-5 from downtown.
Maeva Djaldi-Tabdi was second in scoring with 12 points, Gabby Cooper had 11 and Digna Strautmane had seven.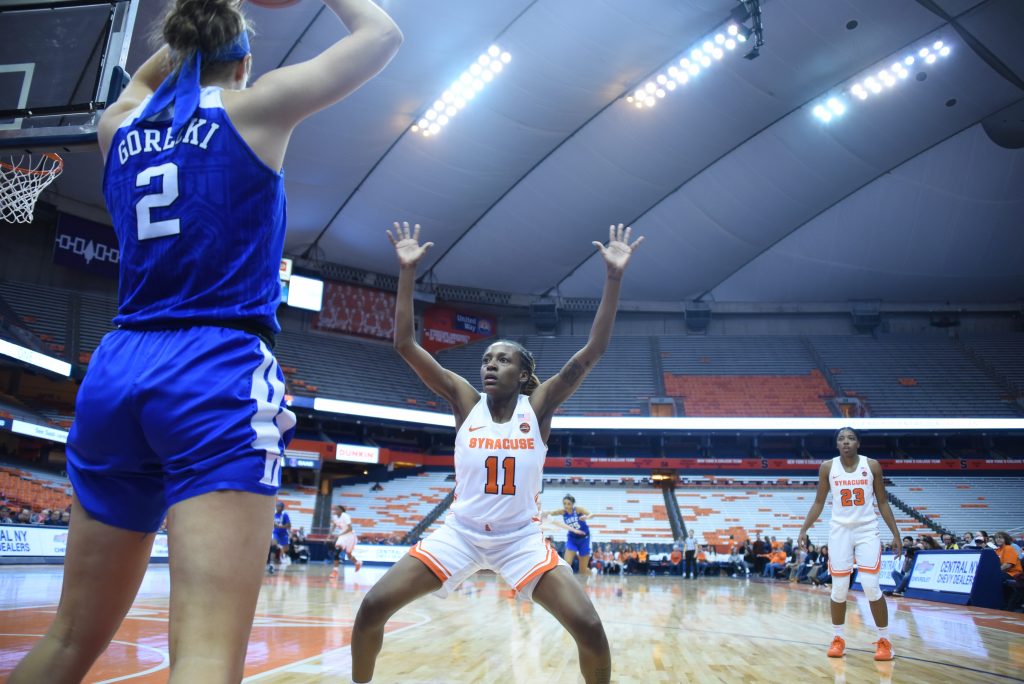 The 30-point difference was Syracuse's biggest loss of the season and tied for its lowest point total.
While Odom took care of business inside the paint, Haley Gorecki and Mikayla Boykin put on a shooting clinic from mid-range and three-point land. On top of outrebounding Syracuse 47-to-33, the Orange could not keep up with Boykin.
She made five of her three-point attempts, including four in a 63-second stretch in the second quarter pushing Duke's lead to 20 points.
Gorecki finished with 19 points, five rebounds, and nine assists.
After the game, Coach Quentin Hillsman harped on a lack of discipline from his defense and not sticking to their game plan.
"When your game is predicated on trying to create turnovers and pressure, it is tough," said Hillsman. "Give Duke credit, they did a good job attacking our press before could set up. They attacked us downhill and we played unsettled defense pretty much the entire game."
While down by 21 at halftime, his message to his team was, "we are still going to compete." Coach Hillsman had no intention of stopping the press.
"I am never going to stop. Either we are going to figure it out and play our way, or we are going to have more games like this because I am not going to back down," said Hillsman. "We need to play the way we need to play to be successful."