Newhouse Sports Media Center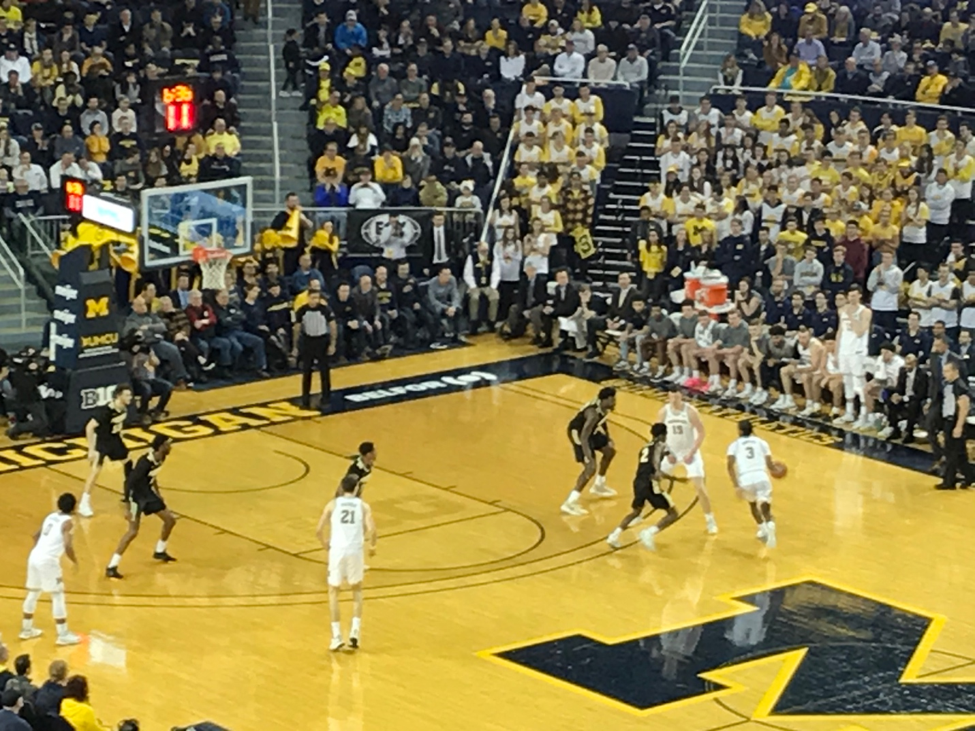 Michigan fends off Purdue in 2OT
Story and Photo by Nicholas D'Alessandro
ANN ARBOR, M.I. – The Michigan Men's Basketball team bounced back from their recent loss against #8 Michigan State with a gritty 84-78 double overtime win against the Purdue Boilermakers. Michigan (11-4, 2-2) was led by senior point guard Zavier Simpson, who shot 9-13 for 22 points and dished out 9 assists and senior center Jon Teske, who had 18 points and 9 rebounds. Purdue was led by sophomore center Travien Williams, who ended with 36 points and 20 rebounds.
Teske and freshman guard Franz Wagner accounted for Michigan's first 13 points. After attempting 15 shots between Matt Haarns and Williams, Purdue emphasized pounding the ball down low.
Senior center Austin Davis scored both times on his only attempts. Around the same time, Haarns got hurt and was out the rest of the night. When asked about it afterwards, Purdue Head Coach Matt Painter said he was told it was a hip flexor at halftime, but he hadn't talked to the trainer postgame yet.
Despite tight and aggressive one-on-one defense by Teske, Williams continued to make tough shots. The Wolverines held slim leads throughout most of the first half and led 32-28 at halftime.
To start the second half, Purdue got their momentum back. They had a 12-2 run early in the second half to go up 42-36, including back-to-back three pointers by freshman guard Isaiah Thompson. From then on, the teams went back and forth with a score of 47-44 with about one quarter remaining.
Every time Michigan would get momentum, it seemed as if Williams would get a big bucket to silence the crowd. With Haarns out, Painter relied on Williams and he kept delivering.
Michigan Head Coach Juwan Howard implemented a smaller line-up about halfway through the second half that paid dividends. Painter said Michigan sophomore guard David DeJulius' bounce gave them the most trouble when the smaller lineup came in.
The lineup switch also seemed to open up the game from a scoring perspective for Simpson, and he did just that.
He didn't attempt a shot for the first 18 minutes of the game and was 2-2 with 4 points at halftime. Simpson said afterwards that Howard told him that the defense wasn't conducive to him scoring. The NCAA's second-highest assist leader instead focused on facilitating and had 6 assists at halftime.
As the game was winding down, Simpson consistently scored at the hoop with crossovers and off-handed layups. He tied the game at 62, with 19 seconds left. Purdue used a timeout to draw an in-bounds play for what would be the final shot.
Sophomore guard Eric Hunter Jr. dribbled the clock out and drove to the line. He dropped it off to Williams in the paint, but Wagner blocked it just in time, sending the game into overtime.
In the first overtime, Michigan jumped out to a 66-62 lead on the heels of a Simpson drive and two made free throws. Purdue then tied it at 66 with two free throws by Williams. Purdue once again found themselves with a chance to win it on a buzzer beater. This time, Hunter took a jump shot and missed it with about four seconds left. This left time for Simpson to heave a game winner for Michigan just inside mid-court but it turned into a second overtime tied at 68.
In the second overtime, Teske started off with a three-point play followed by a Simpson three, the next time down. With Michigan fans celebrating, Franz Wagner hit a corner three to put Michigan up 77-68 with just over two and a half to play. Despite some missed free throws down the stretch, Michigan came out with the 84-78 victory.
Afterwards, Simpson said that Howard told them that double overtimes are from the neck up, meaning they are about mental focus.
Howard said Simpson is a gamer. He also added, "I'm happy we have our Tom Brady."