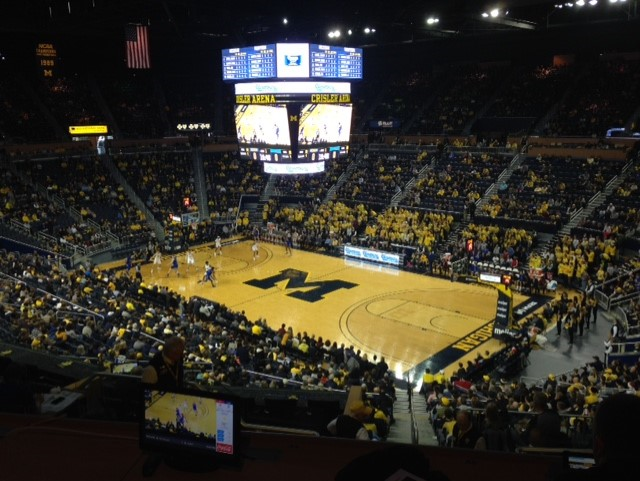 No. 14 Michigan has commanding victory against first-time opponent Presbyterian
Story and Photo by Nicholas D'Alessandro
ANN ARBOR, M.I. – The No. 14 Michigan Wolverines bounced back after a tough overtime loss against the No. 8 Oregon Ducks last weekend with a resounding 86-44 victory over the Presbyterian Blue Hose on Saturday afternoon at Crisler Arena.
Michigan raced out to an early 9-2 lead at the first media timeout right after the Wolverines' starting forward Isaiah Livers was fouled and injured while going up for a dunk. He left the game soon after and did not return. After the game, Coach Juwan Howard did not have an update on the injury.
Michigan pounded the ball inside and played the height advantage of 7-1 Jon Teske against the Blue Hose's 6-8 forward Ben Drake and 6-7 forward Cory Hightower throughout the first half. At the break, Teske was 4-6 with 11 points, leading all scorers.
With Livers' 14.6 points per game missing, Michigan had to rely on other players to fill the role. Sophomore guard Adrien Nunez was one player who stepped up scoring five points off the bench followed by sophomore guard David DeJulius coming in and knocking down two triples. Michigan relied on their stifling defense throughout the first half to hold the Blue Hose to 6-25 shooting for 24% and 0-9 from three. They led 38-15 at the half.
Presbyterian's leading scorer coming into the game was Flint, Michigan native Cory Hightower who averages 12.3 points per game. Michigan was able to hold him to no points in the first half and 4 points later in the game.
The beginning of the second half was centered around Eli Brooks. The sophomore guard for Michigan scored 8 points within a 1:17 span to put Michigan up 48-18.
The Blue Hose hit a streak towards the middle of the second half, thanks to freshman forward Owen McCormack knocking down back to back threes, including one to beat the shot clock.
Michigan senior guard Zavier Simpson then hit a bit of a streak himself, scoring all three of his field goals midway through the half, including two drives to the bucket to push the lead to 70-33 with 8:42 to go.
Down the stretch, Michigan utilized the rest of their roster to finish off the victory. By the end, 14 of the 15 players on the roster saw game action. The only player who didn't was sophomore forward Brandon Johns Jr., who was out with an illness.
Michigan shot 28-53 on the game (52.8%), while holding the Blue Hose to 17-60 on the game (28.3%). Michigan also had 14 assists to 10 turnovers.
After the game, Michigan Head Coach Juwan Howard alluded to the high number of turnovers.
"We need to look for some singles instead of homeruns," he said.
The Wolverines improve to 9-3 on the season, with the Blue Hose going back to Clinton, South Carolina with a 2-10 record.