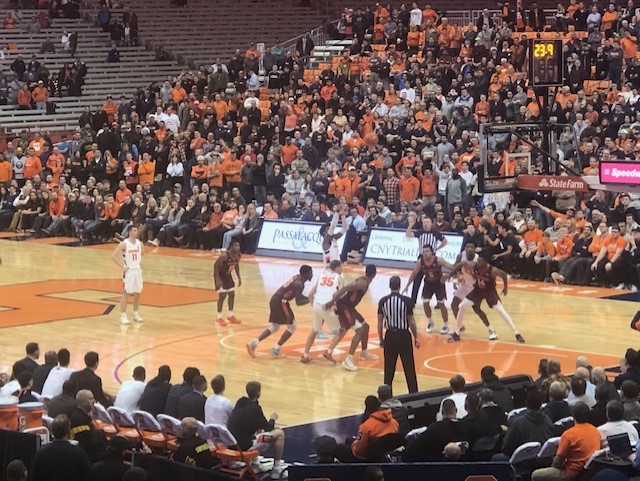 A Crushing defeat for the Orange against Hokies
Story and Featured Image by Vanity Delbridge, Gallery Photos by Sharif King
SYRACUSE, N.Y. – The 8-6 Syracuse Orange were off to a good start in the first half against the 11-3 Virginia Tech Hokies where they led by 12 points going into the second half.
Elijah Hughes led the team with 18 points and scored an additional 3-pointer from beyond the arc in just under two minutes, bringing the Orange within three for a 62-59 score.
The Hokies came in undersized against Syracuse, but it was no stop for freshman Jalen Cone who played 19 minutes and scoring 19 points – 16 of which came in the second half.
The Orange controlled the rhythm of the game, dominating on the defensive end, leading 40-31 with 12 minutes left in the game with the Hokies making five, 3-pointers out of 18 attempts.
Quincy Guerrier, the only reserve to play for the Orange, put up 12 points along with 9 rebounds in addition to a 3-point conversion late in the game to cut Virginia Tech's 65-62 lead.
The Orange kept watch for the Hokies' high scoring freshman, Landers Nolley, holding him to 2-for-7 field goal shooting, with just four points in the first half.
Nolley averages 17.1 points per game.
Joe Girard had a rather dismal game coming off Saturday's one-point loss to Notre Dame scoring only 12 points, of which only two came in the second half.
Both teams' field goal percentage shooting was just under fifty percent and both had frequent fouls, 17 for the Orange and 18 for the Hokies.
Despite multiple attempts to cut the lead close, Virginia Tech's quick action play, pressured defense and outnumbering in assists, helped in securing the 67-63 win over the Orange.
Syracuse falls to 1-2 in the ACC, the last two losses happening at home.
There's still hope for the Orange as their next matchup is Saturday against 11-3 Virginia.
Virginia is 3-1 in the conference.