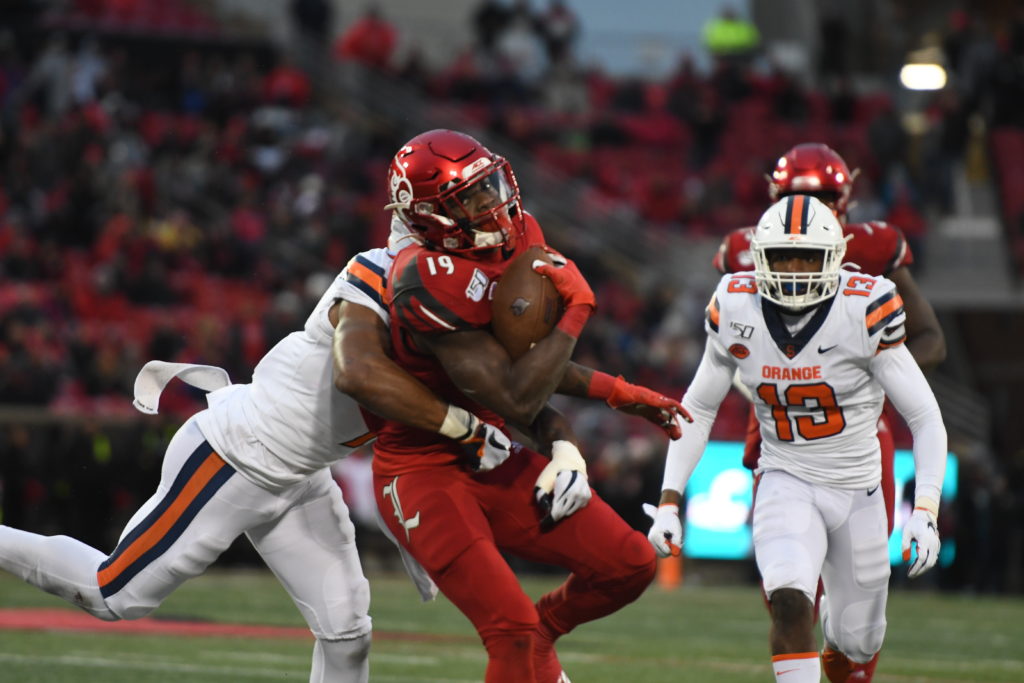 Cardinals Find Holes in Orange Defense
Story and Photo by Alyssa Lyons
LOUISVILLE, K.Y. —  Louisville's Micale Cunningham looked a lot like his predecessor, Lamar Jackson, as Syracuse defense gives up 608 yards against the Cardinals for a 56-34 final.
Saturday's cold and windy forecast alluded to the performance of the Syracuse defense: misdirected and inconsistent. For the fourth time of the 2019 season, 'Cuse defense allowed over 600 total yards: Maryland (650), Clemson (612) and Boston College (691). A gapping comparison to Syracuse 510 on the game, 300 earned in the second half.
The defense struggled to contain Cunningham and the rushing performance of the Cardinals totaling 238 passing yards and 370 on the ground. Cunningham finished the night with 298 total yards, and six touchdowns.
Meanwhile, the Syracuse offensive line allowed two sacks on Tommy DeVito, adding to their resume of the second worst offensive line in the country. The Orange headed into the locker room 28-10 at the half, hoping for a different outcome to finish the series; that's exactly what they got, and then some.
Despite the offensive line being awry, 'Cuse managed to secure some missed opportunities in their rushing game, scoring 24 points and averaging 9 yards per play with 261 rushing yards. In the hands of Moe Neal, the Orange found consistency. Neal set the tone with 163 yards on 20 carries, with 8.2 yards per carry. The senior ran for a 45-yard touchdown, making the score 35-20. An answer by the Cardinals, sent Orange Sophomore Jarveon Howard rounding out the third quarter with a 16-yard rushing touchdown.
A fourth quarter, quarterback change-up put the game in the hands of Clayton Welch with 9:55 left to go. A screen pass to Jawhar Jordan put the Orange in the red-zone with an 81-yard drive. The freshman racked up 223-yards against Louisville. Jordan outworked the Cardinals defense, with 33 rushing yards, 87 receiving, and 101 on special teams.
A plague of false starts would falter the aggressive mark Syracuse was taking to get back in the game, a false start on left tackle Airon Servais moved the Orange back to the 16-yard line. On fourth and goal, another false start moved Syracuse back to the 18-yard line. Welch looked to Taj Harris, but it was caught six yards too short, ending back-to-back redzone chances for an Orange scoring opportunity.