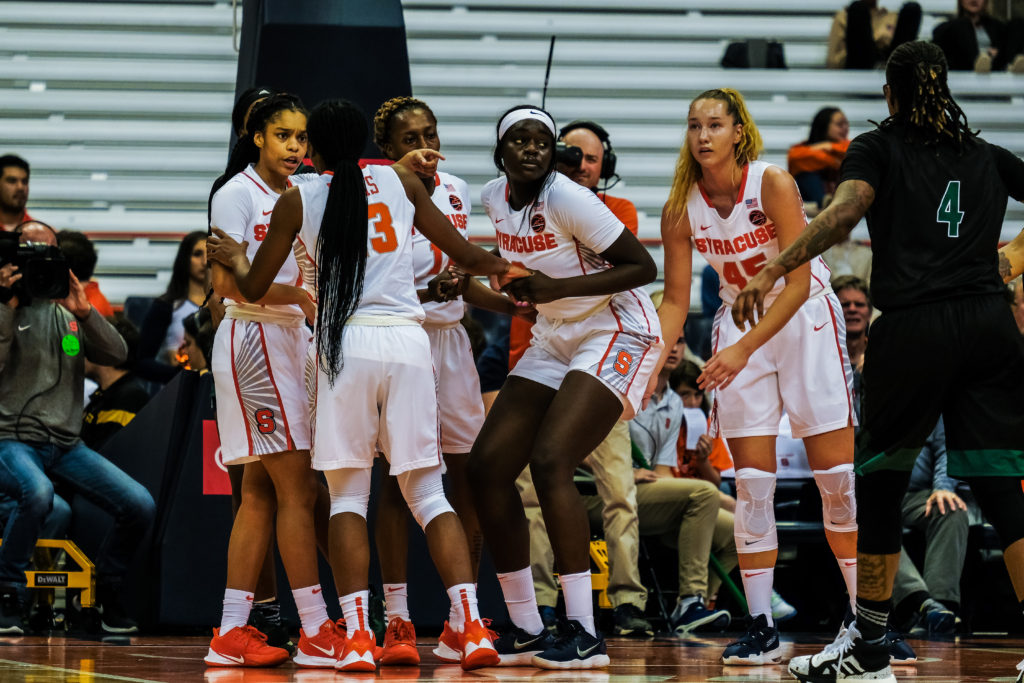 Women's Basketball Opens Season With Win Against Ohio  
Story by Maria Trivelpiece, Photos by Tze Kiu Wan
SYRACUSE, N.Y. – Head Coach Quentin Hillsman knew that the Ohio University Bobcats were going to be a tough matchup for his team. "That's why we scheduled them," he said.
After the first quarter, it looked as if the Syracuse Women's basketball team may be starting their season 0-1. After ten minutes of play, they trailed 22-10. They were only four-for-18 from the floor and had nine turnovers.
"Ohio had an urgency that they come up with at the beginning of the game," said Coach Hillsman. "We didn't have that same sense of urgency."
Between quarters, Hillsman addressed this and the Orange came out with the urgency they lacked in the first. They outscored the Bobcats 21 to eight in the second, shooting 62.5% from three-point range and snagging eleven rebounds. To end the half, Taleah Washington made a shot to put Syracuse up by one.
"I give my kids a lot of credit," said Hillsman. "They fought hard."
They carried their fight into the second half, outscoring Ohio 35-24. They shot 14-for-32 from the floor and had 27 rebounds. Kiara Lewis notched 12 points in the half and 17 total on the night. Even with the tough-fought battle against a hard-nosed opponent, the Orange still have some work to do.
They had 18 turnovers and only shot fifty percent from the free-throw line.
"I'm not going to let them settle," said Hillsman.
The team agreed, taking accountability for their individual downfalls in the game.
"I had six of the turnovers myself," said Kiara Lewis, a redshirt junior guard. "That can't happen. We have to get better and we're going to get better."
Syracuse will be home again Tuesday, Nov. 12 to take on the University of Maryland Eastern Shore at 8:00 pm.