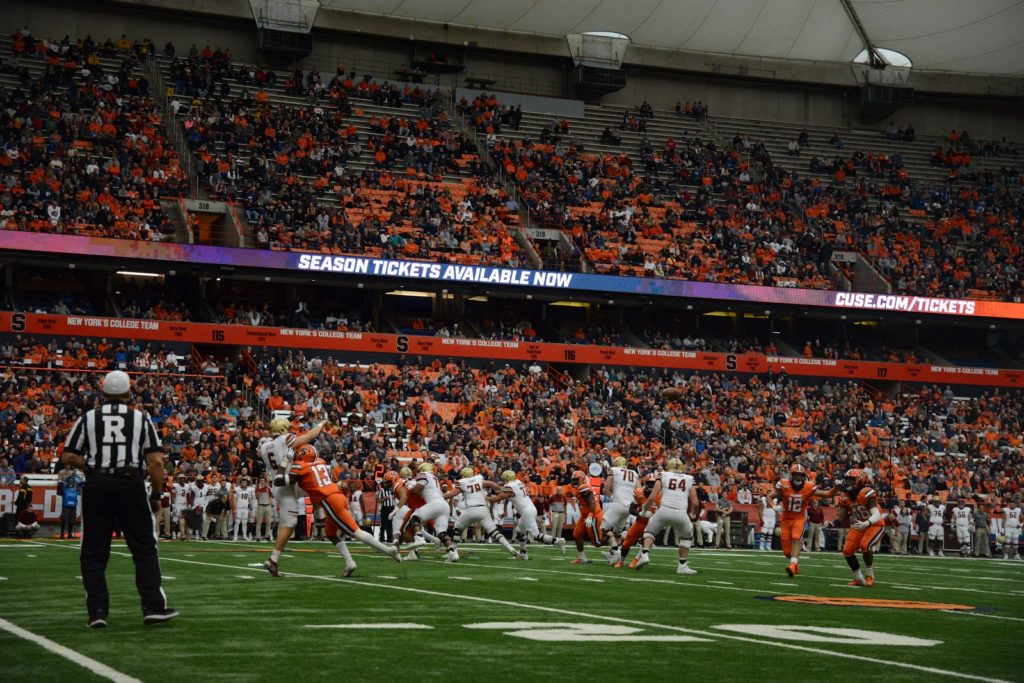 Syracuse Defense Struggles Against Boston College
Story By Maria Trivelpiece, Photos By Nicholas D'Alessandro
SYRACUSE, N.Y. – Syracuse headed into their game on Saturday with hopes of picking up their first ACC win, and it initially seemed as if they might get it. After each team's opening drives, the Orange led 7-3.
The rest of the first quarter was a series of lead changes. Boston College scored on a 29-yard run from David Bailey. The next Eagles' drive resulted in a fumble recovered by Andre Cisco that eventually led to an Andre Szmyt field goal.  
Boston College fumbled again on their next possession, but this time the Orange converted with a touchdown. Heading into the second quarter, Syracuse leads, 17-10.
Syracuse's defense started to collapse as thirty-eight seconds into the second quarter, Boston College quarterback Dennis Grosel found Koby White for a 64-yard touchdown. The Orange responded with a field goal of their own, but it was one of the last times they would score.
Boston College scored touchdowns on their next three possessions on a pass from Grosel to Zay Flowers, a 51-yard run by AJ Dillon, and finally a pass from Grosel to Miranda.  At the end of the first half they led the Orange 44-20. 
Syracuse's final score of the game was an 85-yard pass from DeVito to Trishton Jackson toward the end of the third. Dillon ran for two more touchdowns, one in the third and another in the fourth, with a final score of 58-27. 
Dillon ran for a season-high of 242 yards and David Bailey followed closely behind with 172. As a team, Boston College rushed for 511 yards.
"Our defense just got tired of hitting Dillon," said Head Coach Dino Babers. "Obviously I'm extremely disappointed about the outcome of the game. I think they played really hard, but the score didn't show it."  
The Orange have a bye-week and will then head to Duke. Babers said that going into their break, the team has to, "dig deep and find something out" about themselves.