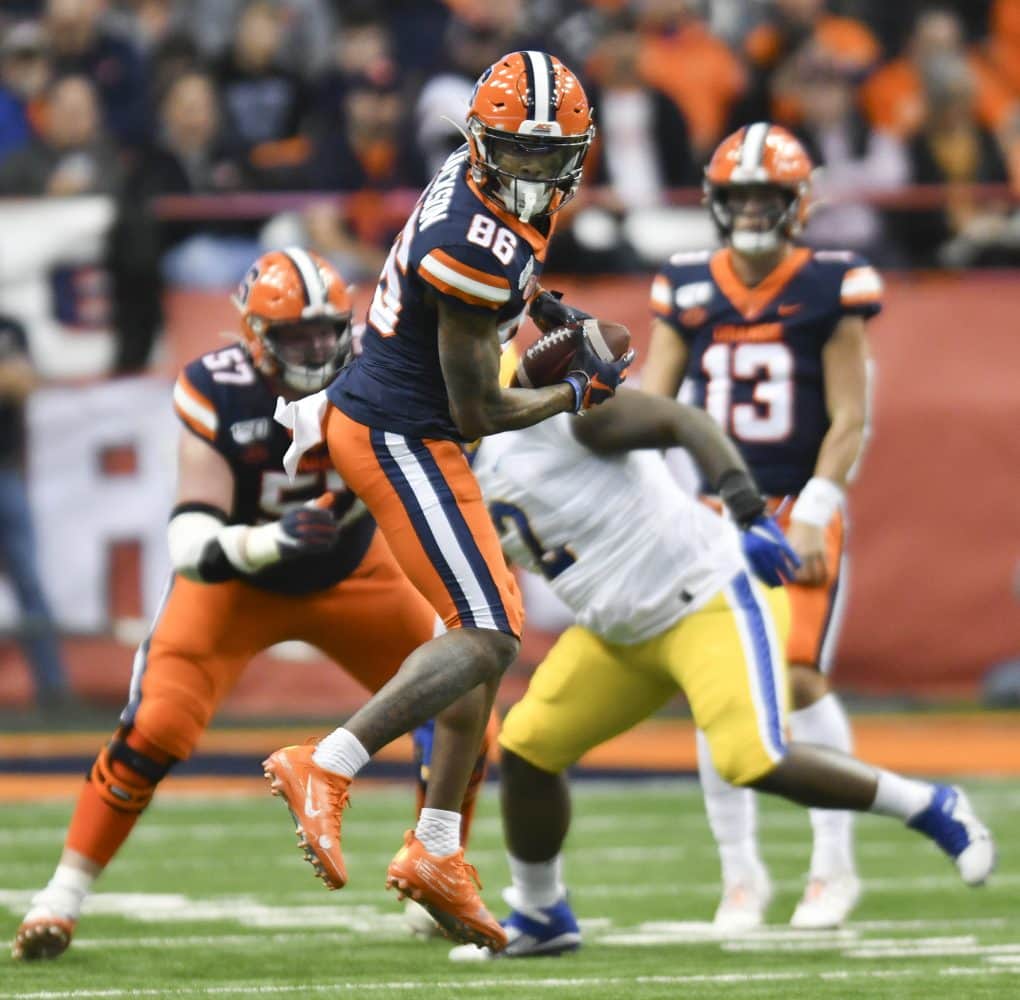 Pittsburgh's Defense Stifles Syracuse, Orange Remain Winless in Conference
Story by Nicholas Ursini, Photo by Noah Lowy
SYRACUSE, N.Y. – It was a slow start for both Pittsburgh and Syracuse, but it was Pittsburgh's defense that recorded nine sacks en route to their fourth-straight victory.
The Panthers knocked off the Orange 27-20 inside the Dome.
Four punts to start the game before Pitt (5-2, 2-1 ACC) finally got their offense rolling. The Panthers moved the ball down the field for 52-yards on seven plays and broke the tie with a 47-yard field goal from Alex Kessman.
Syracuse (3-4, 0-3 ACC) got some momentum going after Maurice Ffrench muffed a punt return and Cameron Jordan recovered it. A sack and a penalty forced the Orange to kick a 28-yard field from Andre Szmyt to tie the game with 3:07 left in the first quarter.
Ensuing Panthers possession, quarterback Kenny Pickett threw a 43-yard touchdown strike to Aaron Mathews off a flea-flicker trick play to put Pitt up 10-3 with 1:23 left in the first quarter.
To start the second quarter, Syracuse was driving deep into Pittsburgh territory.
The Orange had first-and-goal from the four-yard line, but could not find the end zone and settled for a Szmyt 20-yard field goal.
Pittsburgh got the ball on Syracuse's 39-yard line after forcing a punt deep in Orange territory.
The Panthers took five plays to go 39-yards, capped off by an A.J. Davis 5-yard touchdown rush putting Pittsburgh up 17-6 with 4:53 left in the first half.
Syracuse goes three-and-out and next Pittsburgh possession, they score once more. Pickett connected with Ffrench from 14-yards out with 23-seconds left on the clock in the second quarter.
That touchdown sent Pitt to halftime with the 24-6 lead.
TOMMY DEVITO INJURED, IN COMES CLAYTON WELCH:
After both Syracuse and Pitt punted, Clayton Welch entered the game for an injured Tommy DeVito at the 12-minute mark in the third quarter. DeVito took a hit to the shoulder after he escaped the pocket. He left the game with no return.
On third-and-eight, Welch dropped a dime to Taj Harris who shrugged off the cornerback for a 94-yard touchdown reception.
Welch's first career touchdown pass cut into Pittsburgh's lead. Syracuse was down 24-13 with 11:12 left in the third quarter.
In the fourth quarter, Syracuse had a third-down and two-yards to go, Welch was sacked and the 49-yard field goal attempt by Szmyt was hooked left.
Pitt added a 34-yard field goal with 7:03 remaining, extending their lead by two touchdowns.
Welch led Syracuse on a 15 play, 75-yard touchdown drive capped off by a Welch to Aaron Hackett four-yard reception, Hackett's fourth touchdown of the season.
Syracuse could not stop Pittsburgh on a third-and-two and the Panthers ran out the clock, securing the 27-20 victory.
HEAR FROM DINO:
Head Coach Dino Babers saw Welch play the most football he ever has in an Orange uniform and said he could not be more proud.
"It was good to see him finally get out there as a senior," Babers said. "It might be his last time playing football."
After giving up nine sacks, no team has given up more sacks this season than Syracuse as their season total climbs to 35.
Through seven games, Syracuse's offensive line is exposed and Coach Babers says it's time for a reevaluation.
"Everyone's job is in jeopardy," said Babers. "It's not fair to keep playing the same guys if the results do not change. There are certain guys in the game that are not doing good enough."
This is the second game in a row that DeVito has exited with an injury. DeVito finished the night 11-for-23 with 101 yards.
Coach Babers said Tommy wanted to go back out.
"You have done enough," said Babers. "Those guys are like my stepsons and that hit was enough for me. I did not need to see him go through that again."
Seven games into the season and Syracuse is 3-4, remaining winless in the conference. Syracuse will now travel south to Tallahassee to face the Florida State Seminoles.
For Syracuse, the clock is ticking with five games left, they need to win three to become bowl eligible.
Coach Babers would not say who he would start as quarterback against Florida State. He said it is all about how guys heal.
Kickoff at Doak Campbell Stadium is set for 3:30 p.m.