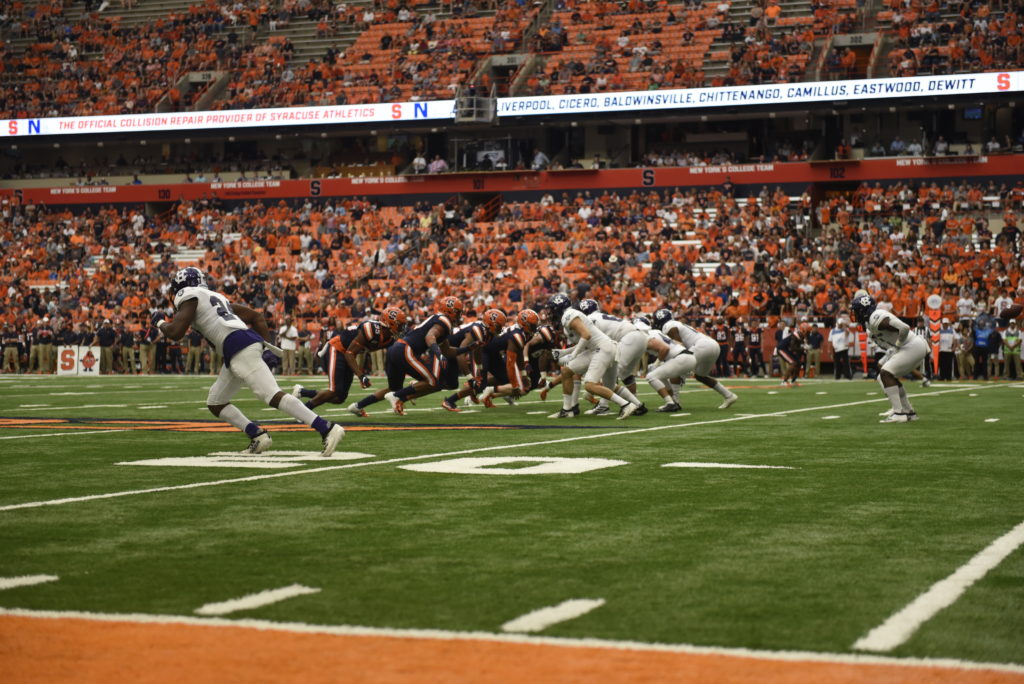 Orange Winless Since Holy Cross
Story by Kienan Dixon, Photos by Julianna D'Urzo
SYRACUSE, N.Y. – Tommy DeVito and the Orange haven't gained a win since they beat Holy Cross 41-3, over a month ago.
DeVito showed poise against Holy Cross, pitching four touchdown passes for 269 yards. The redshirt sophomore was 19-31 through the air, with a late pick on an underthrown pass.
DeVito left the fourth quarter with an apparent elbow injury.
The QB's main targets were Taj Harris, who he found for 6 receptions and 107 yards. Harris was also one of four beneficiaries of a DeVito dime that found the end zone, as the Orange showed diversity in their offensive threat through the air. Joining Harris in the touchdown column were Aaron Hackett, Triston Jackson and Luke Benson.
The defense held strong, sacking Holy Cross quarterback Connor Degenhardt five times and holding the Crusaders to just 138 yards of offense. They also held Holy Cross to 18 yards on 32 attempts.
Andrew Armstrong led the Orange's defense with eight tackles, including three for a loss. Brandon Berry got to Degenhardt often, sacking him 2.5 times with five total tackles.
On the downside, Syracuse did not record an interception for the first time in 17 games, which was the longest current record in the country. On the upside, the Orange continued its takeaway streak with one fumble recovered. The streak gets pushed to 19 games, the third-longest in the country.
The  fumble set up a 17-yard touchdown pass from DeVito to Jackson.
The most impressive play of the day was a 47-yard catch and run for a touchdown by Taj Harris in the third quarter. Harris caught a pass ten yards downfield, then reversed field to beat every Crusader to the end zone.
The Orange's losing streak began at NC State where the score was 10-16.