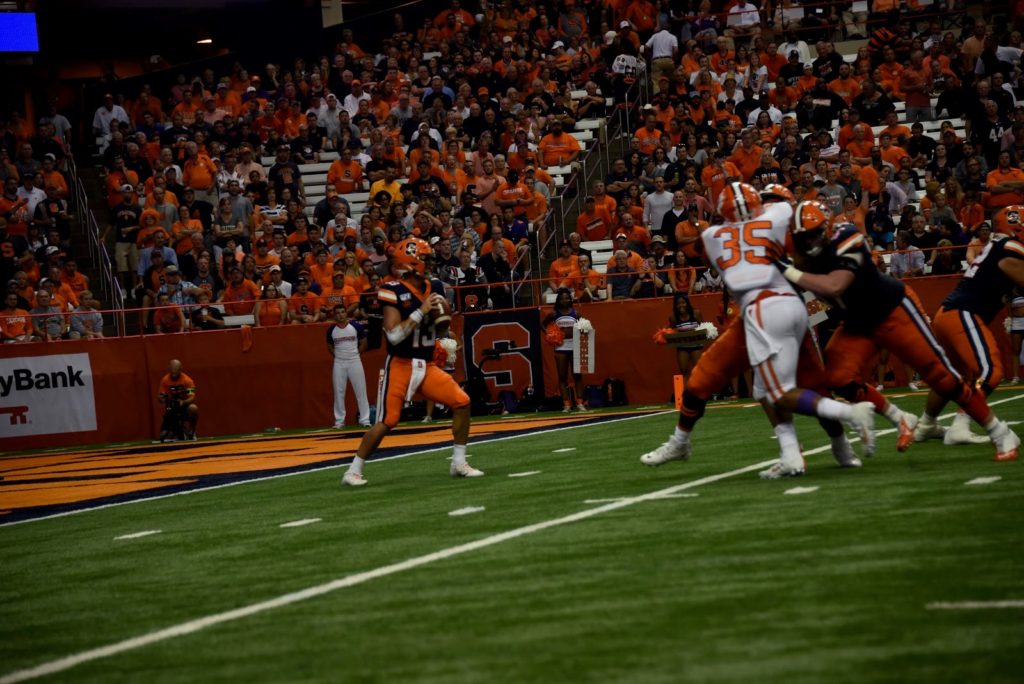 DeVito is the Future of Orange Football
Story by: Darron Wallace, Photo by: Michelle Knezovic
SYRACUSE, N.Y. — Nearly three weeks into the 2019 season, Syracuse quarterback Tommy DeVito has thrown more interceptions than touchdowns and has a 30.9 QBR. This was supposed to be the year that head coach Dino Babers gave DeVito the keys to the Porsche. So far, the Porsche is driving more like a hooptie. Coach Babers came to Syracuse with a reputation of coaching teams with fast-paced and high-scoring offenses. This year's offense has been far from that. Though there have been some injuries and adjustments made to the offensive line in addition to former QB Eric Dungey graduating, this year's offense was expected to pick up where they left off. After last weekend's 41-6 defeat to Clemson, it may be time to look at the man under center and wonder what's going on.
Turnovers, really bad turnovers
Through three games, DeVito has thrown four interceptions and two of them were particularly puzzling. While playing Maryland, DeVito rolled to his right but unable to find a receiver, forced him to pass down the field — apprearing as if it was intended for the defensive back. Against Clemson, he threw a pick that was similar to the one against Maryland and it came at the absolute worst possible time. Chris Fredrick picked off Trevor Lawrence and set the Orange up inside the 10. During the next play, a pick was thrown to a Clemson defender with no Syracuse receiver in a ten yard radius. If the Orange would've found a way to come away with a touchdown then it would've been a different ball game.
"I was disappointed that it kind of happened in the same place in the same situation and I talked to him about that," said Babers in reference to the similar plays. "It was one of those reactionary things and I didn't think I would be talking about it again, but I really don't believe it's going to happen again. I really think that that's it and that we'll grow from it." Those sort of mistakes from DeVito pose the question if he's capable of leading a high-powered offense, but Coach Babers is adamant that he is the guy.
Indecision
Another one of DeVito's apparent struggles was his indecisiveness in the pocket. Potentially due to offensive line instability or lack of confidence; when standing tall and stepping into his throws, DeVito looked his greatest. Though the Orange didn't score any touchdowns, they looked their best when their leader looked confident. Throughout the night, the signal caller was throwing off his back foot or flat footed, resulting in off-target or mistimed throws. If Taj Harris catches the slant route in the first quarter, could that have changed the way DeVito played the rest of the game? Maybe. Regardless, for an offense that's fast-paced and based on timing, stepping up in the pocket and making timely throws are crucial to an offense operating on schedule. If DeVito can make that adjustment, perhaps he can look like the DeVito that fans sparatically saw last season. If not, there won't be much to be excited about for the rest of the season.
No one knows what other SU quarterbacks have to offer. Clayton Welch checked into the end of the game, but it didn't mean much. Other than that, no one can say that there's an answer outside of DeVito. It's his team. This team will live and die by the play of Tommy DeVito.
What Happens Next?
It's important to see growth from DeVito after the last few games. The recent game against Western Michigan was a great opportunity to see how the young quarterback could bounce back from a lackluster performance, albeit against one of the top defenses in the nation. Syracuse won comfortably, meaning there is still hope for an 8 or 9-win season.
The Clemson game was winnable. After Fredrick's interception, if Syracuse would've found the end zone after that play, it could've been a 17-13 game.
"It is just a lot of growing, just trying to get better every game moving forward," said DeVito. "I am just trying to be the best leader possible and try to move the offense down the field."
It is imperative that DeVito corrects his mistakes from the first three weeks and helps turn the offense back into the high-paced production that it was last year. It's too early to write the Orange off and this small homestand comes at the right time. If the offensive line can get back on track and the defense continues to give opposing teams fits, we could see Syracuse fighting for a bowl game, but the team can only go as far as DeVito can carry them.