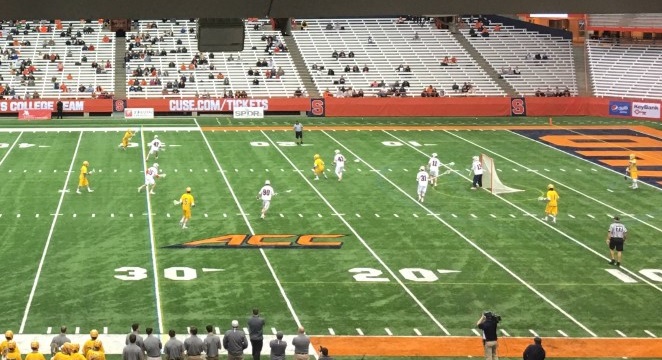 February 12, 2017
Story and photo by Andrew Leffler SYRACUSE, New York– It was another day of action in the Carrier Dome Saturday. The turf was out, and the hardwood floor was stored away. The goalposts, however, were nowhere in sight, with the start of spring football practice more than a month away. It was the Syracuse men's lacrosse […]
Story and photo by Andrew Leffler
SYRACUSE, New York– It was another day of action in the Carrier Dome Saturday. The turf was out, and the hardwood floor was stored away. The goalposts, however, were nowhere in sight, with the start of spring football practice more than a month away.
It was the Syracuse men's lacrosse team that took the field, playing its season opener against Siena College.
It was a little deja vu, considering Syracuse hosted Siena around the same time last year crushing the the Saints 18-5. Although the score was slightly different this time (19-6), the outcome was the same.


In The Beginning, We Had A Game
In the early stages of the game, it appeared that sixth-ranked Syracuse had a little competition. Senior Nick Mariano got things started with the first goal of the season, but shortly after, Siena's Eric Munn responded with a goal of his own. In 17 games last season, Mariano finished with 46 points (35 goals and 11 assists). In the first game of his final season, he finished the game with seven points, scoring three goals, and dishing out four assists.
Emotions were high for Mariano. "I was just fired up," he said after the game. "I take this game very seriously. I have a lot of passion and love for this game. It's my last year of playing collegiately, and it's going to be a lot of fun."
After the first period, Syracuse led 7-3, but Coach John Desko wasn't hesitant to mention the early game mistakes on his team's end, but the quick recognition on the team's part to fix it.
"We got a little better as the day went on," he said."I thought it was disappointing giving up some of those balls early. They were kind of easy goals. We had left a player on one to get to our matchup and got an outside shot on us. We had left another player on the inside wide open on the crease."
He continued, saying that he "got a little concerned about that early, and then as the game went on, we started to eliminate those mistakes."
And Then The Story Was One-Sided

After the first period, Syracuse outshot Siena 16 to 5. It was the Saints' inability to score in the second period that allowed Syracuse to run away the rest of the game. Siena only got four shots off in the second while Syracuse got 17. After two periods, Syracuse had taken 33 shots and picked up 27 ground balls, while Siena had fewer than ten of each.
Brendan Bomberry played in his first game at the Dome, and in a Syracuse uniform. A junior transfer from Denver, Bomberry, finished the game with four goals in his Syracuse debut, one of those goals being a "SportsCenter Top 10" no-look behind the back goal.
Excitement was high for Bomberry's first time in the Dome, as he explained his emotions after the game.
"It was awesome. There is a lot of hype and opportunity. All the guys were telling me how much fun it is playing in the Dome, and now I know, but I was really nervous, didn't know what to expect, but when I put that first one in, it really gave me a lot of confidence."
Ultimately, Syracuse finished with 54 shots and 50 ground balls, compared to Siena's 26 shots and 20 ground balls.
A Little Look Ahead

After getting knocked out in the quarters by Maryland in last year's NCAA Tournament, Syracuse is all business. The Orange will see Albany next at the Dome on February 18th. Desko's squad went 13-3 last year, and is looking to have a similar, if not better, season.
Orange Women begin with blowout win
Earlier in the afternoon Coach Gary Gait's No. 5 SU women's team opened its season with an 18-8 win over No. 17 Boston College at the Dome. Junior Riley Donovan has four goals and three assists to lead the Orange, tying her career best in points.
The Orange women play a day-night doubleheader at the Dome on Feb 18 against Canisius and Binghamton.