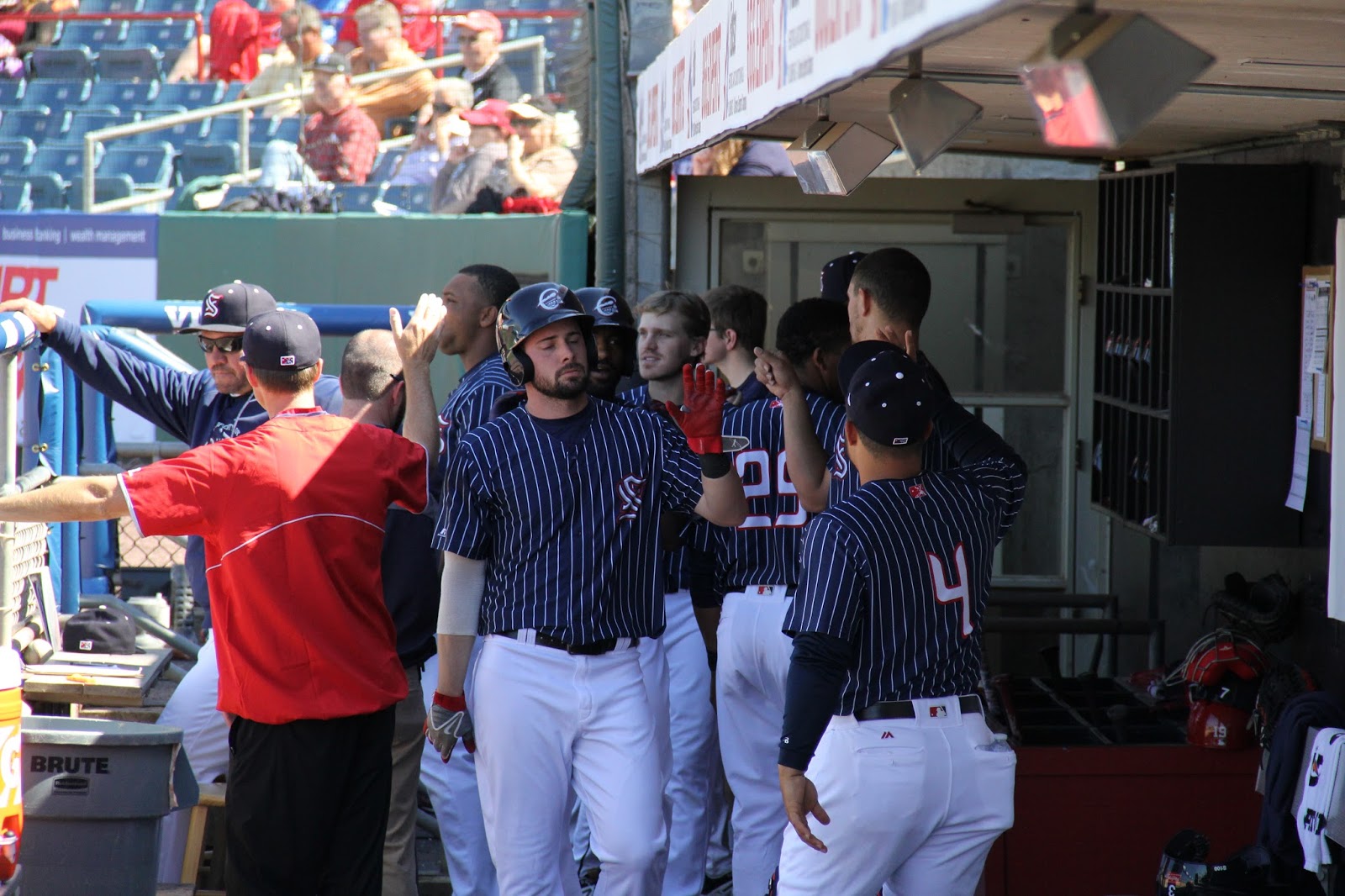 Story and video by Robert Schiff Photos by Brianna Adams SYRACUSE, N.Y. – An abysmal start to the 2017 season saw the Syracuse Chiefs drop seven of their first nine games this spring. But The club has found its groove over the last week, completing a three-game sweep of the Norfolk Tides on Sunday afternoon, 8-2, […]
Story and video by Robert Schiff
Photos by Brianna Adams
SYRACUSE, N.Y. – An abysmal start to the 2017 season saw the Syracuse Chiefs drop seven of their first nine games this spring. But The club has found its groove over the last week, completing a three-game sweep of the Norfolk Tides on Sunday afternoon, 8-2, and extending its win streak to six games. The Chiefs (8-7) hadn't won six in a row since last April.
Fast start
The Chiefs jumped on Tides' starter Gabriel Ynoa early. After back-to-back singles in the bottom of the first inning, Clint Robinson moved the runners over with a fly ball to center. Matt Skole then drove home the first run of the game with a slowly hit grounder to first, allowing Rafael Bautista to come home, giving the Chiefs an early 1-0 lead.
Ynoa's struggles continued in the third. After a single by Robinson, Chiefs' third baseman Brandon Snyder crushed a line drive to center field, scoring Robinson from first. The offense didn't stop there. Two batters later, second baseman Corban Joseph crushed a liner to right field, increasing the Chiefs' lead to three. Ynoa's afternoon didn't last long, as the former Met was pulled in the fourth after walking Bautista to start the inning.
Cole solid
Those three runs proved to be enough for Chiefs' starter, A.J. Cole. The young right-hander established his fastball early, striking out two of the first three batters he faced. After a two-out double in the second by Francisco Pena, Cole completely fooled David Washington, who swung at a pitch in the dirt for strike three. After retiring the side in order in the bottom of the third, Cole walked Johnny Giavotella to start the fourth, but the 25 year-old Florida native escaped trouble again. Cole struck out the next batter, Robert Andino, and Chiefs' catcher Pedro Severino shot a laser to second, gunning down Giavotella for the strike him out-throw him out double play. Cole earned his first victory of the season, going five innings, and allowing just two runs on five hits. He also struck out five.
Nathan's famous
Longtime closer and MLB veteran Joe Nathan came on in the ninth to seal things up for the Chief's and easily received the loudest ovation of the afternoon. Nathan made quick work of the Tides, retiring them in order, and securing the win and a perfect homestand for Syracuse. The Chiefs will begin a six-game road trip, starting with a three-game series against the Durham Bulls (11-6) on Tuesday night.