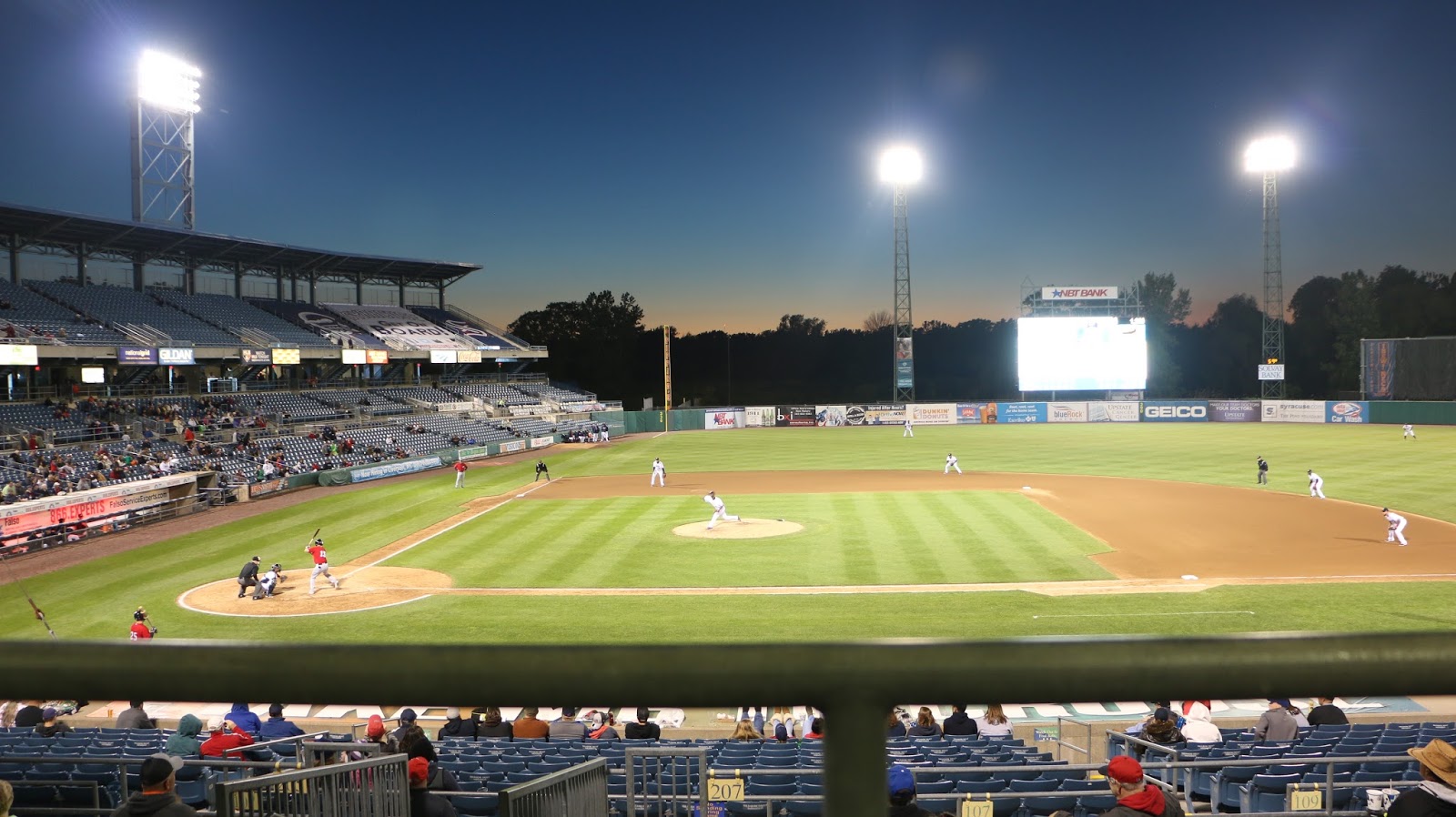 Story by Brianna Adams Photos by Jacqueline Mundry SYRACUSE, N.Y. — The Syracuse Chiefs  fell to the Columbus Clippers in the opener of a 3-game series at NBT Bank Stadium Friday night, 11-5. Behind the bat of Richie Shaffer and capitalizing on the poor pitching performance, the Clippers (25-29) grabbed the lead in the first inning and held on […]
Story by Brianna Adams
Photos by Jacqueline Mundry
SYRACUSE, N.Y. — The Syracuse Chiefs  fell to the Columbus Clippers in the opener of a 3-game series at NBT Bank Stadium Friday night, 11-5.
Behind the bat of Richie Shaffer and capitalizing on the poor pitching performance, the Clippers (25-29) grabbed the lead in the first inning and held on until the end.
"A couple of big innings on their part and we couldn't make the quality pitches," Chiefs manager Billy Gardner said.
Clippers Offense
In the top of the first, the Clippers got on the board after Chiefs pitcher Kyle McGowin loaded the bases bringing Richie Shaffer at the plate. The right fielder grounded into a double play but Yandy Diaz reached home plate to take the lead 1-0.
Chiefs DH Ryan Raburn hit a solo homer to right field in the bottom of the first to tie the score up but the Clippers broke the game open in the third.
After McGowin loaded the bases for the second time, Shaffer hit the first pitch for a grand slam to left center field give Columbus a 6-1 lead.
Chiefs respond but can't keep up
Brandon Snyder responded with a 3-run homer to cut the Clippers lead to two.
"It's kind of a shift in momentum so we were excited," Snyder said. "It kind of brought the momentum back on our side but he went out and pitched us well."
Adam Plutko pitched six innings for the Clippers giving up five runs on just four hits and Louis Head and Shawn Armstong shut down the Chiefs (17-33) the rest of the way on just one hit.
The bullpen

The Syracuse bullpen continued to rotate through its pitchers, once again using five in the loss to Columbus.
Starting pitcher McGowin struggled from the beginning, loading up the bases twice in three innings resulting in six runs. The right-hander wound up throwing 100 pitches in five innings. He
gave up nine runs, eight of them earned on seven hits and six walks.
Every pitcher thereafter spent a single inning trying to stop Clippers' power hitters. Only Neal Cotts and Rafael Martin escaped without allowing any runs.
Up Next

The Chiefs offered a fireworks show after the game.
The teams will face each other in game two of the series Saturday at 7:05 in NBT Bank Stadium.