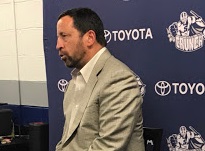 Story and photo by Matt St. Jean SYRACUSE, N.Y. — What does it take to own and maintain a team in the American Hockey League? For Syracuse Crunch owner, Howard Dolgon, it's more than a business, it's a passion.   Roughly 15 minutes before taking center stage at the Crunch fan forum Monday afternoon at […]
Story and photo by Matt St. Jean

SYRACUSE, N.Y. — What does it take to own and maintain a team in the American Hockey League? For Syracuse Crunch owner, Howard Dolgon, it's more than a business, it's a passion.
Roughly 15 minutes before taking center stage at the Crunch fan forum Monday afternoon at the War Memorial, Dolgon had the look of a man who was genuinely happy to be sitting behind his desk about to enter his 24th season as owner. In addition to discussing the ins and outs of the franchise from a business perspective, Dolgon was adamant about his commitment to the city and people of Syracuse.
"I've said this forever." Dolgon said, "One of the mandates of a professional sports team in town, is to utilize your popularity to make things better in the community you play in and that's critical."
Players involved

Dolgon's New York City-based business career has been in sports public relations and that translated well to how he's handled the Crunch.
With Dolgon at the helm, Crunch players are encouraged to get out in the community and give back. They have participated in the Sunny Delight Anti-Bullying programs in schools, put on holiday parties for kids with pediatric cancer at the Upstate Medical Center and even serve doughnuts for the Dunkin Donuts Munchkins Hosting Program, where proceeds benefit area youth groups and nonprofit organizations.
"For us that's a blessing to do, not a job," Dolgon said, "when we see the fruits of our work in a positive way in our community then we know we've done what we're supposed to do."
A better place to play
In addition to the work outside of the rink, Dolgon is dead set on improving the conditions of the War Memorial, so Crunch fans have an immaculate game experience. His goals for the 2017-18 season are to digitally upgrade the whole area, primarily the scoreboard and concourse as well as to update the areas honoring our nation's veterans. All of those plans, hinging on the green light on obtaining funding from Onondaga County.
"This is the closest we've ever been, I believe, to getting the approvals that we need," Dolgon said, "Are we there yet? No. Are we in the right direction? I think a lot would have to go wrong not to get there."
Owner as fan
What this all comes down to for Dolgon is that, at the end of the day, he's a fan.
"We're fans first, we own a team, but we do it because we love hockey and we love sports." Dolgon said.
With that, he shook my hand and walked down the hallway to greet 50 eager, loyal Syracuse Crunch fans ready to answer any question they sent his way.
The full length audio of the interview can be found here: https://soundcloud.com/matt-st-jean-1/howard-dolgon