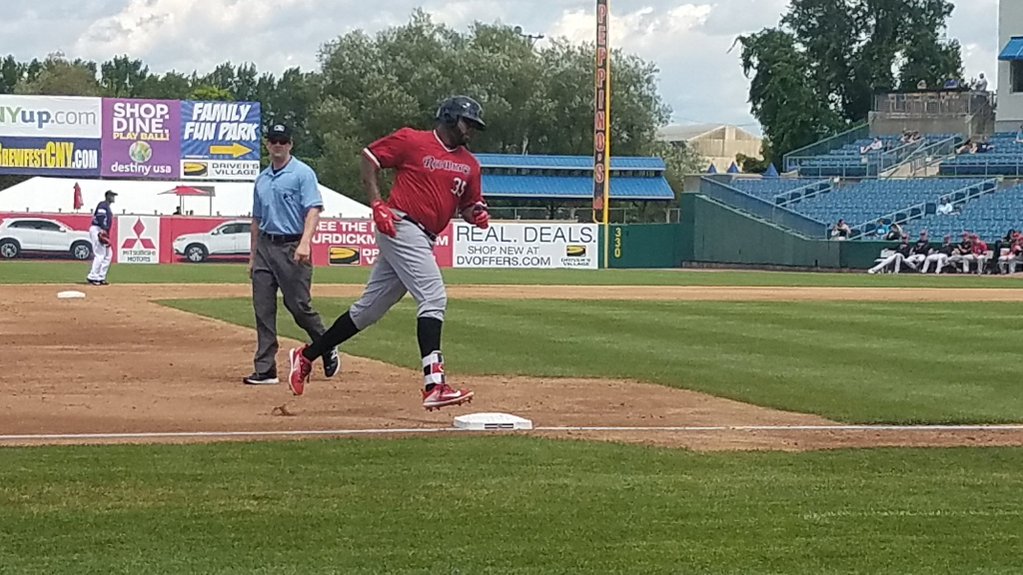 Story and photos by Corey Crisan Syracuse, N.Y. – The Syracuse Chiefs could not hang with the Rochester Red Wings as they dropped the fourth and final game of this series, 8-4, on Sunday at NBT Bank Stadium. After losing to the Red Wings on Sunday, the Chiefs are now 6-11 against their IL-North Division rivals […]
Story and photos by Corey Crisan
Syracuse, N.Y. – The Syracuse Chiefs could not hang with the Rochester Red Wings as they dropped the fourth and final game of this series, 8-4, on Sunday at NBT Bank Stadium. After losing to the Red Wings on Sunday, the Chiefs are now 6-11 against their IL-North Division rivals this season.
An Early Lead
Rochester scored about as early as you possibly could on Sunday. On the fourth pitch of the game, Red Wings center fielder Zack Granite hit his fourth home run of the season over the right field fence. After a J.B. Shuck flyout, Daniel Palka and Kennys Vargas hit back-to-back singles. Red Wings designated hitter Matt Hague then grounded to short, but he beat second baseman Irving Falu's turn-and-throw in a double play attempt. Palka scored from third. Rochester held a 2-0 lead after the first inning as Syracuse was held scoreless in the first.
The Red Wings then took a 3-0 lead in the third thanks to a two-out, solo home run to dead center field by first baseman Kennys Vargas. His eighth home run of the season gave Rochester a 3-0 lead.
Battling Back
After quiet first and second innings, the Chiefs offense picked up to tie the game in the third. Zach Collier walked to lead off the inning and was tagged out by Vargas as Irving Falu followed with a single. After a Neftali Soto single and a Clint Robinson strikeout, Brandon Snyder followed with a three-run home run to clear the bases. Snyder's 14th home run of the season knotted this game at 3-3.
The Chiefs took the lead in the fourth inning. After Michael Almanzar led off with a swinging strikeout, Bengie Gonzalez singled. He took second base when Red Wings catcher Anthony Recker fell victim to a bluff-steal attempt and threw the ball to second base, where nobody was covering.
Gonzalez went to third as Collier flew out to right field, then he scored on a wild pitch by Red Wings starter Aaron Slegers. The Chiefs led 4-3 after four innings.
A Dogfight
After relatively quiet fifth and sixth innings from both sides, the Red Wings battled back to tie the game in the seventh. Engelb Vielma greeted Chiefs reliever Neal Cotts with a single and then advanced on a sacrifice bunt by Granite. He reached third base on a passed ball that skidded by Chiefs catcher Spencer Kieboom.
Vielma scored on a sacrifice fly to center off the bat of Shuck to tie the game at 4-4 after the top of the seventh.
The Final Blow
The Red Wings then took the lead in the top of the eighth. Vargas led off with a single and Hague walked to follow. With Niko Goodrum pinch-running for Vargas at second base, Leonardo Reginatto flew out to center.
Cotts walked Tommy Field, and the Chiefs went to their bullpen in favor of Neil Ramirez. With a bases loaded, one out situation, Ramirez allowed a two-run single to Anthony Recker. Goodrum and Hague both scored to give the Red Wings a 6-4 lead.
Vielma then brought Field in via sacrifice fly to give the Red Wings a 7-4 lead. Then, after Granite walked, Shuck doubled in Recker from second to further the advantage to 8-4.
Failed Comebacks
The Chiefs fumbled away a scoring chance in the eighth inning. After Robinson led off the inning with a strikeout, Snyder walked and advanced to third as Kieboom followed with a single. Chad Huffman flew out to left, but it was not deep enough to allow Snyder to tag and go home. Almanzar then flew out to right to end the inning.
The Chiefs went three up, three down in the ninth giving Rochester the 8-4 victory and the four-game series split.
Alex Wimmers earned his third win in relief for the Red Wings, and Cotts suffered his third loss in relief for the Chiefs.
The game took three hours and five minutes to play, and 5,241 were in attendance at NBT Bank Stadium to witness it. The Chiefs fell to 44-69, and the Red Wings improved to 65-49.
From the Manager
Despite the loss on Sunday, the Chiefs have played much better baseball in comparison to the rest of the season. They have won nine of their last 12 games, dating back to July 26.
"We've had a revolving door situation, which is just a part of the Triple-A experience," Chiefs manager Billy Gardner said after the loss. "These guys have done a good job with it. The chemistry's really good right now. The culture's good in the clubhouse. Obviously, winning games helps."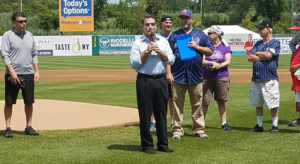 Cancer Awareness
Major League Baseball legend Steve Garvey was at NBT Bank Stadium on Sunday as a part of the Chiefs' Cancer Awareness Day. In 2013, Garvey revealed a prostate cancer diagnosis and underwent surgery to have his prostate completely removed. He was in Syracuse to promote early detection and screening on behalf of Fans for the Cure.
"We reach a lot of people," Garvey said after an autograph session and a meet-and-greet with the fans. "We have a chance, because we're so blessed to make a difference in life, by addressing these issues. I know I try to do as much as I possibly can."
Even though he mainly advocates for cancer awareness, Garvey continued by emphasizing how giving back extends beyond just cancer awareness.
"We're all affected," he added. "Whether it's cancer or diabetes or whatever it may be, those six degrees of separation are very narrow. A chance to give back is something that's very important. Life is God's gift to us. What we do is our gift to Him. If we can make a difference by talking about things and spending time and effort, then that's why we're here."
Garvey was a ten-time All-Star in his 19 Major league seasons with the Dodgers and Padres. He was the 1974 NL MVP and was a World Champion in 1981 with the Dodgers. He holds the NL record for most consecutive games played at 1,207. Despite all of this, Garvey did not get elected into the Hall of Fame as his final balloting year was in 2007.
Series Lines
Friday 8/4 Game One: ROC 1, SYR 2. WP: Turner (1-3, 5.89 ERA), LP: Enns (1-2, 2.38), SV: Suero (7)
Friday 8/4 Game Two: ROC 3, SYR 2. WP: Reed (1-0, 1.45), LP: Adams (6-2, 2.45)
Saturday 8/5: ROC 4, SYR 9. WP: Kelley (1-1, 12.27), LP: Hurlbut (8-6, 3.78)
Sunday 8/6: ROC 8, SYR 4. WP: Wimmers (3-3, 3.12), LP: Cotts (1-3, 4.10)
What's Next
The Chiefs will travel to Toledo to begin a four-game series with the Mud Hens. The two teams will begin the series with a doubleheader on Monday, first pitch at 5:05 P.M. After leaving Toledo, the Chiefs travel to Indianapolis to begin a four-game series with the Indians on Thursday.