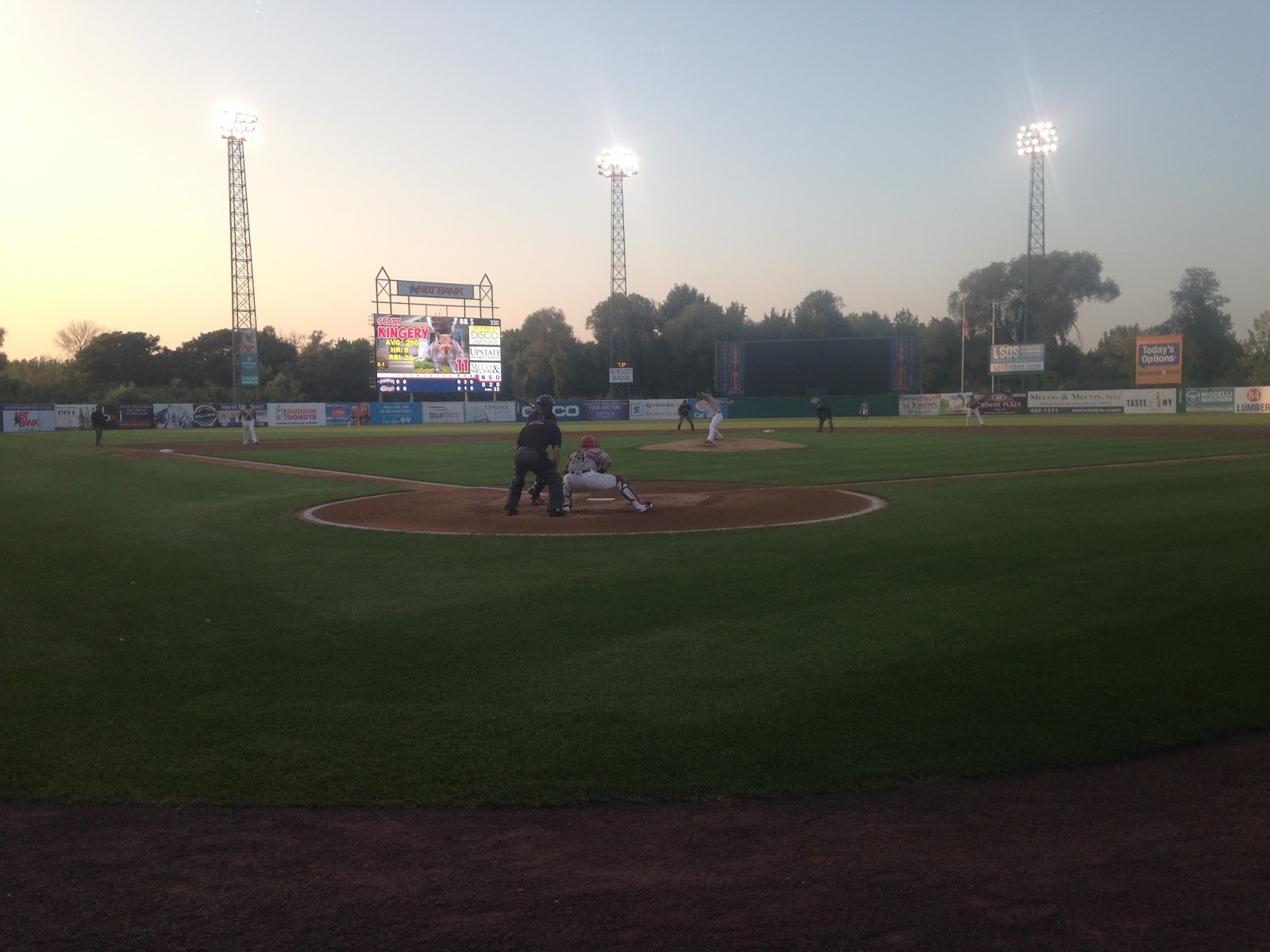 Story and photo by Kevin Van Pelt Syracuse, N.Y. – The SyracuseChiefs three-game winning streak ended Wednesday night at NBT Bank Stadium, as they lost to theLehigh Valley IronPigs 7-3. Led by the pitching of Henderson Alvarez, the IronPigs took the lead early and never gave it up. Alvarez pitched seven strong innings giving up three earned runs and only […]
Story and photo by Kevin Van Pelt
Syracuse, N.Y. – The SyracuseChiefs three-game winning streak ended Wednesday night at NBT Bank Stadium, as they lost to theLehigh Valley IronPigs 7-3.
Led by the pitching of Henderson Alvarez, the IronPigs took the lead early and never gave it up. Alvarez pitched seven strong innings giving up three earned runs and only walking one batter.
Alvarez was making his first career start with the IronPigs after being signed by the Phillies on August 22.
However, it was also the bat of Alvarez that helped the IronPigs get the victory. In the third inning, Alvarez ripped a double to open up the inning against Chiefs pitcherA.J. Cole. Later he scored on an RBI-single by shortstop Scott Kingery. After RBI singles by third baseman J.P. Crawford and second baseman Angelo Mora, the Chiefs were down 3-0 at the end of the third.
Chiefs get on the board, IronPigs answer
It wasn't until the fifth inning that the Chiefs finally broke through in the run column. Catcher Spencer Kiebloom drew a walk to start the inning for Syracuse. His patient at-bat paid off, as the next batter, third baseman Michael Almanzar, ripped a double down the line and Kiebloom hustled from first base to score the first run for the Chiefs. Rafael Bautista drove in the second run of the inning, grounding out to third to drive in Almanzar.
The IronPigs answered quickly, hitting Cole often. After Brock Stassi singled and Angelo Mora doubled,, Cole to settled down and struck out the next two batters.
The Chiefs intentionally walked the number eight batter catcher Logan Moore to get to Alvarez. The decision proved costly. Alvarez singled to drive in two runs and bring the lead back up to three for the IronPigs.
From there, Alvarez was on cruise control, only allowing one more run before being pinch hit for in the top of the eighth. Alvarez only threw 77 pitches, but considering it was his first start of the season, the team opted to keep his pitch count low.
As for Cole, his night was over after giving up the two-RBI single to Alvarez. He gave up five earned runs in six and two-third innings and took his fifth loss of the season.
Lehigh Valley tacked on two insurance runs in the eighth inning to pull away and keep the Chiefs in check.
Next
This was the Chief's 84th loss of the season, but they can still win the series against the IronPigs with a win Thursday tonight to close out the series. First pitch is scheduled for 6:35 p.m.
As for the IronPigs, they remain in the wild card hunt as they move two games behind the Rochester Red Wings after their loss to the Scranton/Wilkes-Barre RailRaiders.