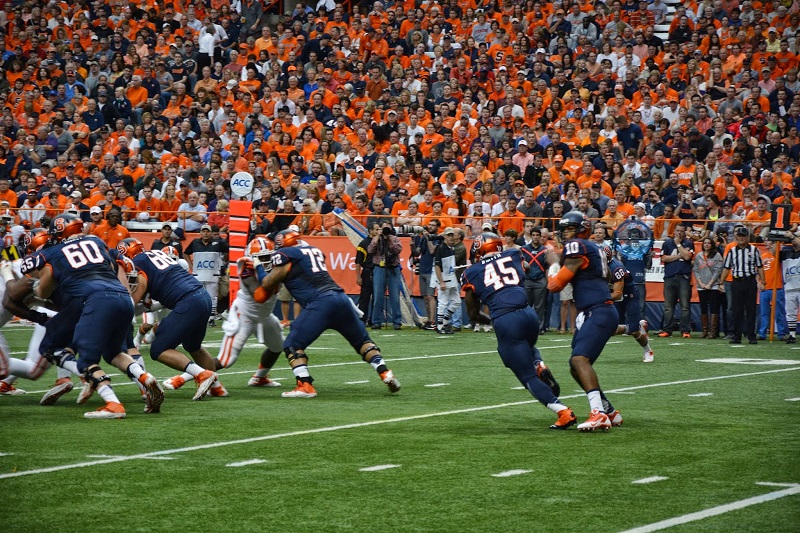 By Ethan Joyce Coming into the season, Syracuse was expected to run the football and do it well. The Orange would ride its horses into the ACC to establish the program's credibility. The team struggled at first, breaking the 200-yard rushing mark only once (against Wagner) in its first four games. Other than that, the […]
By Ethan Joyce
Coming into the season, Syracuse was expected to run the football and do it well. The Orange would ride its horses into the ACC to establish the program's credibility.
The team struggled at first, breaking the 200-yard rushing mark only once (against Wagner) in its first four games. Other than that, the rushing attack seemed stunted.
Now, after two games against Clemson and N.C. State, we see the attack forming. In both instances, Syracuse took advantage of two average run defenses—N.C. State is ranked 52nd in the nation in run defense and Clemson is 64th.
This week's opponent, Georgia Tech, serves as a very interesting one; one that is similar to Syracuse.
Both teams rely heavily on running attacks that rank in the top 25 of the nation (Georgia Tech is No. 6; Syracuse is No. 22), and both teams boast a rush defense that ranks in the top 30 (Syracuse is 22nd; Georgia Tech is 30th).
This game is likely to be run-heavy and something's got to give.
Jerome Smith, Prince-Tyson Gulley and Terrel Hunt rank fourth, 11th and 18th in the ACC in rushing yards and Smith leads the league with eight rushing touchdowns.
But for the run to remain effective, Hunt must step up his passing performance.
QB Comparison
Look at a comparison between two quarterbacks in a two-game span:
Completion Percentage        Throwing Yards          TD's            INT's
Player A                         54.6                                   468                        1                   4
Player B                         41.6                                   126                        0                   5
Player A is Drew Allen during the first two games of the season, against Penn. St. and Northwestern. Player B is Terrel Hunt in the last two games, against Clemson and N.C. State.
Though it's a small sample size, Hunt played poorly in his last two starts and you could argue Allen's first starts came against two tougher defenses.
Allen was easy to criticize, being the new guy who stole the starting spot. His reputation grew off speculation and talent. His downfalls were lack of mobility behind shaky pass protection and his own inexperience.
Hunt earned the right to start and in his first two games, looked like he might be the answer at quarterback. Wins are always encouraging, but against the likes of Wagner and Tulane, they should be taken with a grain of salt. Hunt is dealing with the same inexperience bug that Allen caught, but he has a longer leash to work with because head coach Scott Shafer took a chance, endorsing him with the quarterback change. But that shouldn't be taken for granted by Hunt or the fans.
This game is the game, and the rest of the schedule won't be any easier: playing away against previously-ranked Maryland and No. 5 Florida State and at home against a Boston College team that led No. 3 Clemson last Saturday. Playing well against a respectable Georgia Tech pass-defense unit (ranked sixth in the ACC) would be a great accomplishment for Hunt.
He doesn't need to throw five touchdowns. He doesn't need to pass for 400 yards.  All the team needs for him to do is play in the system. Throw for 150 to 200 yards. Toss a touchdown or two. Try not to throw an interception and don't take unnecessary risks. Ride your horses to this victory and just help hold the reins.
Terrel Hunt is a sophomore. He doesn't need to be a star, much less a Heisman Trophy candidate. All he needs to do right now is show the capability to play effectively against better teams and grow in the system he plays in. Coach Shafer had the faith to put the ball in his hands. Now, Hunt needs to transfer that faith to the fans. He must prove that giving him the starting position wasn't a mistake. And all that starts with this week's game.