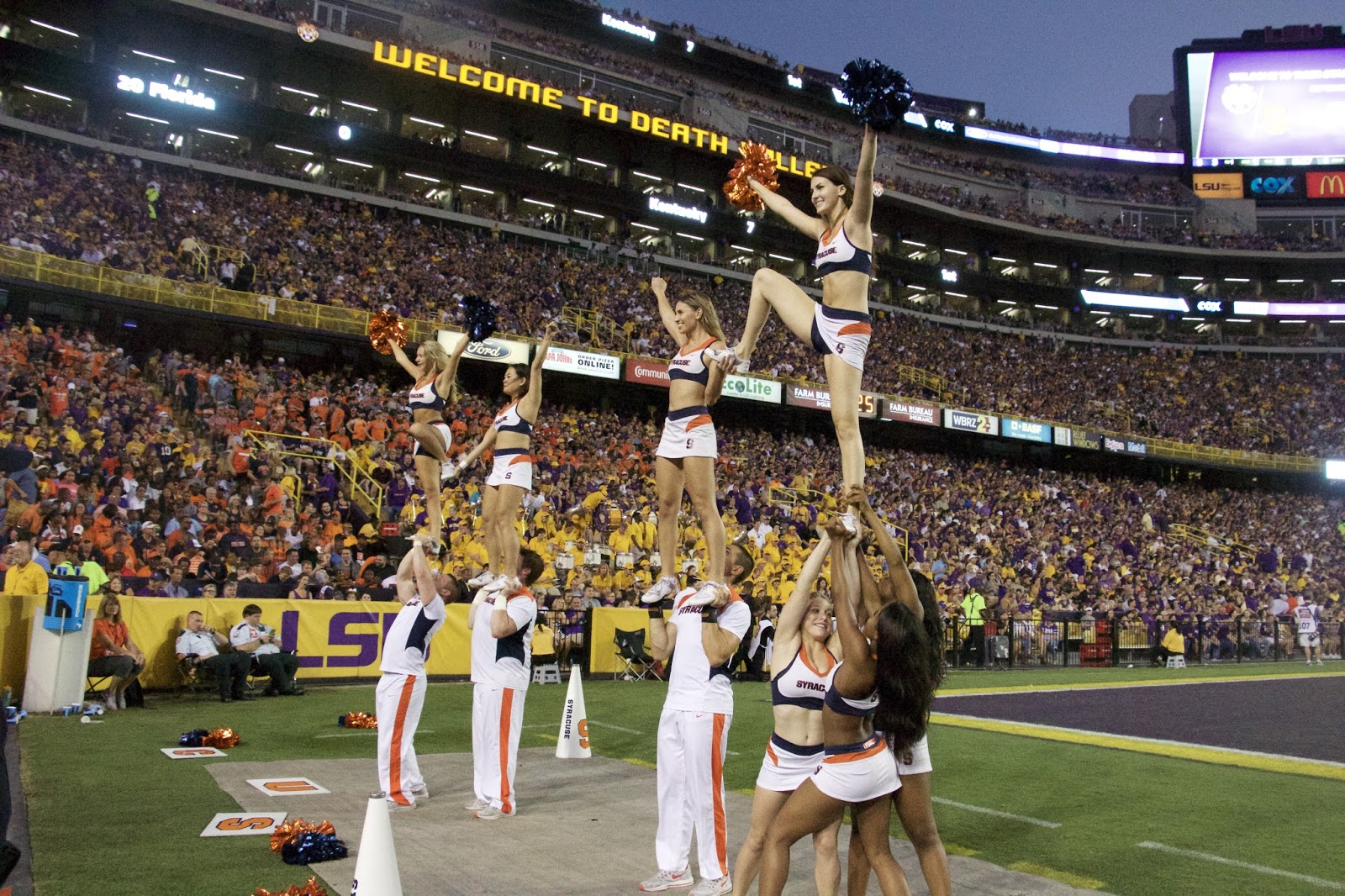 Story by Brooke Meenachan Photos by Tyler Dudley Baton Rouge, La. — "Welcome to Death Valley" looms large in gold letters in the center of the Tiger Stadium stands. Nearly 100,000 fans who planted themselves in their seats Saturday night and almost got to witness the Syracuse Orange get out alive with a stunning upset against […]
Story by Brooke Meenachan
Photos by Tyler Dudley
Baton Rouge, La. — "Welcome to Death Valley" looms large in gold letters in the center of the Tiger Stadium stands. Nearly 100,000 fans who planted themselves in their seats Saturday night and almost got to witness the Syracuse Orange get out alive with a stunning upset against the 25th ranked Tigers. Almost.
But the Tigers came away with a 35-26 win over the Orange using a handful of big plays and a 20-yard touchdown run in the closing two minutes that sealed the deal.
"I'm not upset," Syracuse head coach Dino Babers said. "I'm disappointed that those young men didn't get an opportunity to win a game like that in a venue like this that would affect them for the rest of their lives."
"I give Syracuse credit, they battled the whole time," said LSU head coach Ed Orgeron, whose team got hammered a week earlier at Mississippi State. "It's a good win for our team. I know it wasn't pretty and it wasn't exciting, but I'm glad that we won."
First quarter: quick LSU start
The first play of the game was almost a pick six after Syracuse quarterback Eric Dungey's pass was intercepted by Darrel Williams. Dungey yanked Williams down by the face mask at the 1-yard line and LSU took a 7-0 lead on its first play from scrimmage as Derrius Guice ran the ball in for a touchdown with just nine seconds gone. It was the fastest score in an LSU game since Oct. 12, 1985.
"It was a bad read on my part," Dungey said. "I shouldn't have taken the match up. I mean, testing those corners on a running back, that's not smart."
Where's the offense?
Neither team was an offensive threat to start the game. LSU combined for ten yards on five carries, while Syracuse led the first 15 minutes with 79 total yards.
While the Orange won the offense in the first, its only score came on a 42-yard field goal by Cole Murphy at 7:58. It was his longest attempt of the season so far.
Second quarter: Opportunity came knocking
Syracuse had plenty of chances to make something happen in this game. But this one might haunt the Orange for a while.
Dungey saw wide receiver Sean Riley wide open in the end zone for a potential 55-yard touchdown pass, but the ball went off the sophomore's hands and SU missed the chance to take the lead with just under nine minutes to go in the first half.
LSU quarterback Danny Etling found openings in the Orange pass defense and drove the Tigers 71 yards late in the second quarter, completing four passes in five attempts. He connected with Stephen Sullivan for a 43-yard touchdown and the Tigers took a 14-3 lead heading into the half.
Third quarter: We've got a game, folks!
The Tigers got the ball to start the second half and they came out strong. LSU's first play of the second half was an 87-yard touchdown bomb from Etling to wide receiver Drake Davis, who beat his defender.
But the Orange responded quickly. Syracuse marched right back with a 30-yard touchdown pass from wide receiver Devin C. Butler to wide receiver Ervin Phillips on a flea flicker to make it 21-10.
Myles Brennan replaced Etling under center for LSU and the true freshman led his team down to Syracuse's 20-yard line. Williams finished the job with a 20-yard rush into the end zone and LSU took an 18-point lead. Williams recorded 77 of the 91 yards on the six-play drive.
On the next series, a 58-yard Sterling Hofrichter punt pinned LSU at its own one-yard line and when SU Linebacker Parris Bennett tackled Williams in the end zone for a safety the Orange cut the deficit to 28-12.
Syracuse got the ball back and drove 72 yards in ten plays, finishing with a 14-yard touchdown run by Dungey, who kept around right end and smashed his way through tacklers past the pylon. .
For the game, Dungey completed 32 of 53 passes for 265 yards and a TD. He ran the ball 13 times for 24 yards and caught a pass for 13 yards
Babers opted to go for the extra point rather than two.
"Points are so hard to come by and you would think that one point, oh you gotta get that one," Babers explained after the game. "No you don't. You need to be patient."
The Orange trailed 28-19 heading into the final 15 minutes.
Fourth quarter: close, but
Juwan Dowels intercepted Etling's pass and the Orange took over at their own 20-yard line. Syracuse went on an 80-yard drive in 13 plays, resulting in a 22-yard touchdown pass to Steve Ishmael with 5:40 left to play.
Trailing by two, Babers called for an onside kick.
The Tigers recovered at their own 44. With less than two minutes in the game, D.J. Clark ran the ball in to give LSU a 35-26 edge and the upset bid was over.
"I kept telling the guys, you know, 'we're winning this, we're winning this'. I mean, we all had confidence," Dungey said. "I really felt like we left a lot on the table, out on the field."
Not a moral victory
Plenty of people wrote the Orange off before kick-off. But Syracuse hung around and gave the Tigers a game.
Babers is not a moral victory kind of guy, but said he's still proud of the way his team performed.
"We shouldn't be satisfied," Babers said. "We could have won that football game and we didn't. They need to understand that that hurts and we need to find a way to go out and win the next one."
"I think that we're a good team. Now, we've got to line up and play again. We got to play another team that had a fantastic win (North Carolina State, which beat Florida State in Tallahassee.) We're coming off of a loss.
"We got to be healthy. I don't know how healthy we are. It's going to be a long road, but I think I got a bunch of guys that will line up every single Saturday and fight, even if the Saturday's on a Friday" (as it will be when Clemson comes to the Dome on Oct. 13).
Now if his team turned a corner after putting up a fight? He said that's still questionable.
"We're going to have to see. We just lost a game. I don't think you turn corners when you lose."
Next up
Syracuse (2-2, 0-0) opens up ACC play when it visits N.C. State (3-1, 1-0 ACC) on Saturday with kickoff set at 12:20.
LSU (3-1) takes on Troy (3-1) in a 7:00 p.m. game in Baton Rouge.