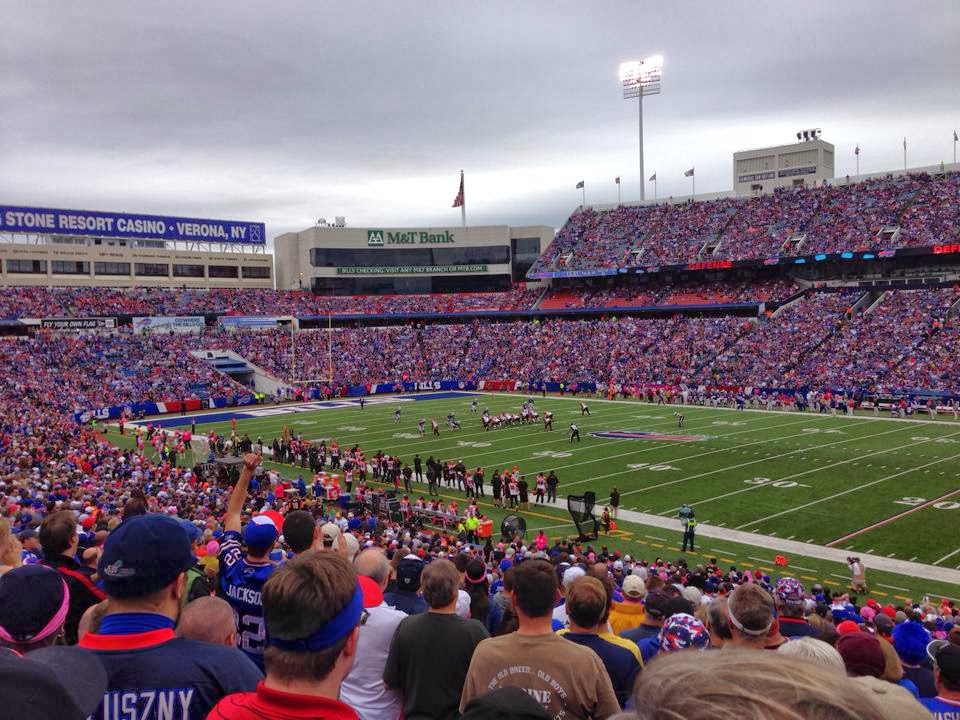 Story and Photos by Michael Silver Let's go Buffalo! This simple yet effective catch phrase roars through Ralph Wilson Stadium as 74,000 fans cheer for their hometown Bills. While the Giants and Jets fill up the back pages of sports sections, they technically play in New Jersey. Thus, I find myself in New York's lone […]
Story and Photos by Michael Silver
Let's go Buffalo! This simple yet effective catch phrase roars through Ralph Wilson Stadium as 74,000 fans cheer for their hometown Bills. While the Giants and Jets fill up the back pages of sports sections, they technically play in New Jersey. Thus, I find myself in New York's lone professional football Mecca and it felt like I landed on a different planet.
How did I get here to begin with? It started with a conversation among friends during Newhouse summer boot camp. We looked at the schedule and circled October 13th, 2013 versus the Cincinnati Bengals. A two-hour drive west on I-90 took us from Syracuse to Buffalo on Saturday night. Luckily, a fellow classmate lives here and was gracious enough to be our guide and host for the weekend.
What is the first thing you think of when hearing Buffalo? Wings naturally.
"You have to get authentic Buffalo wings as soon as we get there," our friend proclaimed.
Everyone says to check out Duff's, and by many accounts Anchor Bar is where Buffalo Wings were invented, but if you want an old school, country western vibe, locals say Sportsmen's Tavern is the place to be. Located in Black Rock, this two-story pub and music venue is a staple of the community, where twenty-something-year-old hipsters and war veterans share bar stools and stories till 4 a.m.
I ordered a basket of ten spicy wings that were cooked to perfection, falling off the bone, and we drank Rusty Chain, an amber brewed by local favorites Flying Bison. The house band played Johnny Cash, Tom Petty, and Elvis Costello covers, with the addition of a great slide guitar player. Everyone welcomed us in like family. The bartender told me a story about rebuilding a 1967 Fastback Mustang Mach 1 over the summer, and a sauced up football fan chewed my ear off about this rookie quarterback starting the next day. Our group stayed up late playing pool and mingling with the locals, knowing we had a long day ahead of ourselves.
Sunday is a day of rest, but also a time for great football. Waking up early and heading to the stadium for a 1 p.m. kickoff sent chills down this sports junkie's spine. This would be my first time seeing a live professional football game. Growing up in Southern California, the 'hometown' team is the San Diego Chargers. A modest 90-minute drive down the 5 South could take me there, but I'm not a Bolts fan and never made the trek.
The first thing you notice driving towards the stadium parking lot are nearby residents selling spaces on their driveways and front lawns for $10 to $20. An extra five dollars will get you a parking spot inside Tailgate USA, in Orchard Park, the Buffalo suburb where Ralph Wilson Stadium is located. The lot is a 360 degree concrete jungle surrounding the stadium, which has been home to the Bills and their fans since 1973.
Buffalo fans are notorious for their pre-game activities and our rowdy bunch was ready to join the party. Charcoal and propane grills lined the asphalt, with the smell of hot dogs, hamburgers and bratwursts sizzling behind every car, pickup truck and minivan. Coolers stocked with Bud Light, Coors Light and Natty Ice were popular choices along with camping chairs propped up by 9 a.m.  Families were playing backyard games such as corn hole and tossing around the pigskin. Tailgating is serious business around these parts.
Then you become aware of Zubas, everywhere. A fashion trend consisting of red, white, and blue oversized stripped pants, matching their team's colors. A craze started in the 1980's that quickly escaped most of America, except here. Men, women, and children of all ages wear these obscenely bright pants with pride, along with throwback Jim Kelly jerseys and sing the team fight song.
As for the game itself, the rookie quarterback, Thad Lewis, started for the Bills and gave them a brief lead early on. Not long after, a couple thousand Bengals fans, in the right end zone were noticeably vocal. Wearing matching striped tiger prints, they took over as their team stormed back to what seemed like a comfortable lead.
Suddenly some football magic happened. An offensive explosion broke out on this overcast afternoon. A deep pass with under a minute to play tied the game up and forced overtime to the delight of many. A few minutes later, however, the road team won on an anticlimactic field goal.
This was my first NFL experience and it took part in the least likely of places. Time slows down on Sunday afternoons, where friends and family come together and all that really matters is Bills football. Buffalo, New York, I salute you.