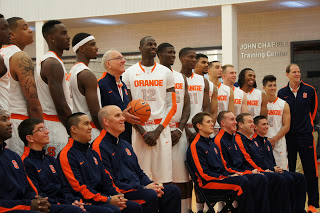 October 19, 2013
Story and Photo By Michael Silver SYRACUSE, NY — The 2013-14 Orange Men's and Women's basketball teams took part in media day on Friday at the Carmelo K. Anthony Basketball Center. Men's head coach Jim Boeheim addressed the media for 15 minutes and discussed his new roster; a balanced class that includes four seniors, two […]
Story and Photo By Michael Silver
SYRACUSE, NY — The 2013-14 Orange Men's and Women's basketball teams took part in media day on Friday at the Carmelo K. Anthony Basketball Center.
Men's head coach Jim Boeheim addressed the media for 15 minutes and discussed his new roster; a balanced class that includes four seniors, two juniors, four sophomores and five freshmen.
Talk of the new ACC schedule was prevalent and Boeheim seemed well prepared.
"We're going from a very tough conference to another very tough conference, so there's no difference for us as far as league play is concerned," Boeheim said.
When asked about the departure of Michael Carter-Williams to the NBA and new starting point guard Tyler Ennis, the Orange head coach was confident with his young ball handler.
"Tyler is a very steady player, he knows what he is doing all the time. He plays a lot like a veteran point guard, which is very impressive coming in as a freshman. He has an excellent skill set. He has the ability to be explosive and make plays, but he also can run the team efficiently and make good decisions in the half court. I think he's as well prepared as any freshman point guard we've had here."
Once the presser concluded the team broke out for individual interviews and the official team photograph.
Earlier in the day, the Orange women's basketball team held its media session. Head coach Quentin Hillsman spoke to reporters and touched on the new season and challenges that lie ahead in the ACC.
"One thing about our roster is that we are very deep," Hillsman said. "The last couple years, that has been out strong point, that we have been able to play nine, 10 players double figure minutes. This year, I think we'll need 11 or 12 to really step up and play big for us."
The men's team begins exhibition play Friday, November 1, at 7 p.m. versus Holy Family at the Carrier Dome. The women's first home game tips off Thursday, November 14, at 7 p.m. versus Dartmouth.