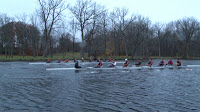 Story, photo and video by Matt Dowell Syracuse University's men's rowing team is wrapping up outdoor practices for the fall.  With the weather getting progressively colder and the water bound to get icy, the team will move indoors and focus primarily on fitness. The fall racing swing for the team included a Top 10 finish for the varsity […]
Story, photo and video by Matt Dowell
Syracuse University's men's rowing team is wrapping up outdoor practices for the fall.  With the weather getting progressively colder and the water bound to get icy, the team will move indoors and focus primarily on fitness.
The fall racing swing for the team included a Top 10 finish for the varsity eight at the Princeton Chase, coming in ninth out of 60 collegiate teams. But the Orange finished a disappointing 24th out of 32 crews at the Head of the Charles that included both collegiate and post-collegiate club rowers.
The goal going through the winter and into the spring season is to peak toward the end of the spring for the Eastern Sprints and the Intercollegiate Rowing Association (IRA) Regatta which serves as the national championships for Division I men's crew.
"We understand that we're not really race ready the first race of the season," said Captain Kyle Rogers, a graduate student in his fourth year rowing for SU. "Usually our stroke rating for the race is a little lower earlier in the season and we try and build up and add and kind of use what we learned in the first race and build on the next one. Hopefully by the final race of the season, we've peaked."
"Our coach (Dave Reischman) would say our goal is to row hard every day," said Jake Martens, a senior and the other captain "To put in as much work as we possibly can to maximize the return on our investment and I would say our ultimate purpose behind doing that is to get back to the Grand Final at Sprints and hopefully top 10 in the country at the IRA."
 Syracuse crews have won five IRA championships in the varsity eight-oared shell competition over the years but the most recent came in 1978. The crew had a disappointing third level finish at the IRA last spring after making the Grand Final in two of the three years before.
Martens says the athletes definitely feel the pressure.
"We're all very aware of the past successes of the university," he said. "And we're also aware of the fact that over the last 30 years or so it hasn't performed to the standards of its history."
The first spring race is a scrimmage at Princeton in March.