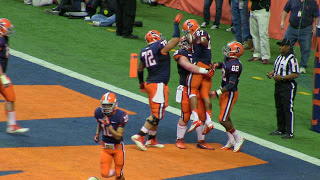 SU Earns Bowl Eligibility with Last-Second Win over Boston College  Text and photos by Jonathan Gault Scott Shafer is an emotional man. That much has become clear in 2013, even though just two of Syracuse's first 11 games were decided by a touchdown or less. So it's not a stretch to say that after SU closed […]
SU Earns Bowl Eligibility with Last-Second Win over Boston College
 Text and photos by Jonathan Gault
Scott Shafer is an emotional man. That much has become clear in 2013, even though just two of Syracuse's first 11 games were decided by a touchdown or less. So it's not a stretch to say that after SU closed out the regular season with a last-second, 34-31 win over Boston College on Saturday, the first-year head coach was feeling something.
"I love this team, I frickin' love this team!" Shafer proclaimed in the bowels of the Carrier Dome at the post-game press conference. Shafer shook the podium, added "I love this town!" and then closed with two words: bowl-eligible.
It's the goal that's driven this team since the season began on a hot August day in the Meadowlands, and SU achieved it in the most dramatic fashion possible. In a game with as many twists and turns as a Die Hard movie, Syracuse (6-6, 4-4 ACC) struck the decisive blow, as quarterback Terrel Hunt hit tight end Josh Parris for an eight-yard touchdown pass with six seconds remaining to give the Orange the victory.
SU's win may not have had the national title implications of Saturday's other frenetic finishes in Ann Arbor and Auburn, but to the men in orange and blue, nothing was more important on the final day of November.
"To know we're going to have another [game] is a great feeling," center Macky MacPherson said. "All I can think about now is that I get one more opportunity. I don't care who we play, I don't care where we play, I don't care if it's in Alaska."
MacPherson, grandson of SU coaching legend Dick MacPherson, said that he felt sorry for anyone who might have left early.
"It was a hard-fought game, and to be honest with you, I think that was one of the top five Syracuse games that's been played in the Dome, and I've been watching games for a while."
Hunt has been uneven in his first year under center, and when BC linebacker Steele Divitto intercepted his pass with 3:24 to play in the game, all appeared to be lost. Syracuse trailed, 28-27, and the Eagles (7-5, 4-4 ACC) had the ball at the Orange 22-yard line.
SU limited BC to a field goal, giving Hunt 2:08 to drive 75 yards for the winning touchdown — without any timeouts. What followed was a microcosm of Hunt's season.
On that final drive, Hunt completed four of his five passes and added 19 yards on three carries. For the second time in as many drives, Hunt seemed as if he had lost the game for Syracuse, fumbling after an eight-yard carry took him to the BC 25. But the reliable MacPherson fell on the ball to retain possession, and four plays later, Hunt dumped a short pass off to Parris, who scrambled 11 yards before crossing the goal-line with the game-winning score.
"This was definitely my best game played ever, high school, whatever," Hunt said.
Hunt's numbers back up that assertion — 29-of-43 for a career-high 270 yards passing and two touchdowns (and that one interception) and 17 carriers for 90 yards and another touchdown on the ground. Hunt consistently made the right call running the read-option and caught the BC defense napping with 22 seconds to play by running for a first down with BC expecting a spike.
"I didn't even look at the clock," Hunt said. "Coach called a spike and I sneaked it for the first down. Just play in the moment."
He still looks far from a finished product — two fourth-quarter overthrows to wideouts Ashton Broyld and Christopher Clark both could have gone for touchdowns — but Hunt's good plays outweighed the bad on Saturday.
Third down was key in the ballgame, and SU's success (12-for-18), coupled with BC's futility (3-for-10) allowed the Orange to pile up over 36 minutes of possession, compared to just 23 for the Eagles. SU outgained BC, 480 to 359, and doubled the Eagles up in first downs, 30 to 15. Add in Syracuse's success stopping BC's 2,000-yard rusher Andre Williams — who was limited to just 29 yards on nine carries before leaving the game with an injury in the third quarter — and it should have been an easy victory for the Orange.
But a propensity to give up big plays at the wrong times almost doomed Syracuse. SU gave up a 52-yard completion as Eagles quarterback Chase Rettig hit wideout Alex Amidon with a minute to go in the first half, setting up a BC touchdown to cut the halftime lead to 21-14. A 54-yard run by Rettig in the fourth quarter set up another Eagles TD and gave BC a 28-24 lead with 7:49 to play. Even the Orange's otherwise fine work on Williams was spoiled by one good run — a 26-yard touchdown when Williams reached the edge before the Syracuse defense and sprinted down the left sideline for the score.
SU also failed to capitalize after moving the ball on two first-quarter drives, as Ryan Norton missed a 30-yard field goal and Jerome Smith was stuffed on fourth and goal from the two-yard line.
A pair of backups led the Orange's receiving corps, as Parris and wide receiver Alvin Cornelius III — pressed into action after injuries to Beckett Wales and Jarrod West — combined to catch 14 balls for 128 yards and two touchdowns, both to Parris.
"Nobody knows who Alvin is except for Jimmy Munson, his high school coach," Shafer said. "Alvin comes in, he blocks well, he makes plays.
"We've been beat up pretty damn good. 'The next guy in' has been our creed. I don't care what your name is, I don't care what jersey, I don't care what position you're supposed to be playing, but the next man in is up and it's his job to get it done. And today was a great example of the next man in."
Next man in on the Syracuse schedule? A bowl game.
Shafer postgame: http://www.youtube.com/watch?v=YAyooBv9n50
Hunt postgame: http://www.youtube.com/watch?v=zAD1QsAxZJw
MacPherson postgame: http://www.youtube.com/watch?v=1M48Tgix-I4
Bromley postgame: http://www.youtube.com/watch?v=VxfjNiWzpe0
A few more notes from Saturday's victory:
With the win Syracuse is eligible for its third bowl in four years. The Orange won the Pinstripe Bowl in 2010 and 2012
Syracuse continued its streak of not allowing a 100-yard rusher this season
Linebacker Marquis Spruill registered half of a tackle for loss, tying him with Duke Pettijohn for second on the Orange's all-time list (40.0)
BC kicker Nate Freeze hit a 21-yard field goal with 2:08 left to play in the game and is a perfect 18-for-18 this season
Nineteen SU seniors and five student managers were honored on the Carrier Dome turf before the game by a group that included athletics director Dr. Daryl Gross and NFL Hall of Famer Floyd Little.
SU kicker Ryan Norton missed a 30-yard field goal early in the game but rallied back to hit two career-long kicks. He was good from 42 yards in the third quarter and hit again from 44 in the fourth.