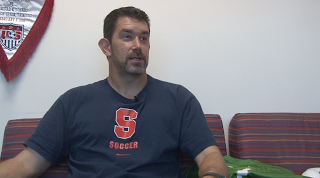 December 22, 2013
By Pete Sweeney  The Florida State Women's Soccer team arrived in Syracuse on October 10th ranked as third best team in the country. The Seminoles boasted a record of eleven wins, no losses and three ties. The ACC Tournament was already marked in their game calendar. The Orange was in a very different position. At […]
By Pete Sweeney 
The Florida State Women's Soccer team arrived in Syracuse on October 10th ranked as third best team in the country. The Seminoles boasted a record of eleven wins, no losses and three ties. The ACC Tournament was already marked in their game calendar.
The Orange was in a very different position. At 5-7-1 with just six games to play, the team needed to win just about every game it had left.
 For 94 minutes, Florida State and Syracuse played scoreless soccer. But in the 95th minute, Florida State midfielder Dagny Brynjarsdottir headed the game-winning goal past Orange goalie Brittany Anghel. There would be no more scoring the rest of the game.
 For Florida State, it was just another win on an impressive season's resume. But for Syracuse, this game was a microcosm of its season.
 Three other times during the year, Syracuse played teams ranked 10th or better and lost by a score of 1-0. The team could play with the best, but it could not beat the best. Syracuse wasn't winning in the ACC, but it was proving that it belonged in the ACC. There's no one in the conference who can deny that.
 "After going through a season, I did talk to some other coaches in the ACC [and] asked for their impressions of the team," Head Coach Phil Wheddon said. "And the underlying factor from every coach is they knew it was going to be a very, very difficult game."
 While Syracuse finished the year 7-11-1 and missed the playoffs, the campaign was important in building the Orange's identity moving forward into next season. This year, opposing teams saw the Orange as a tough game on the schedule. But the women who are returning want more. That's why it's December and you can find players in the gym every day, preparing for a first whistle that won't come for another eight months.
"We will be faster, more athletic, more skillful," Wheddon said. "The group that's here training right now wants this so badly. We have soccer junkies that want to play. They want to take care of all their schoolwork so they can play. We're definitely in the ACC Tournament [next year] for sure."
To follow up on his bold statement, Wheddon and his staff will need to find an ample replacement for his five departing seniors, including four-year starting goaltender and team leader Brittany Anghel. This could make for a tall task in the ACC.
"The goalkeepers that we have coming in are going to have to catch up to speed very very quickly," said Wheddon. "We're going to have some issues in the goal for sure. You are going to have some growing pains. Brittany had those during her first season. The only problem is, in the ACC those growing pains can really cost you."
Still, with all of the challenges that lie ahead, Wheddon couldn't be more enthusiastic for what next year will bring.  He and his staff have worked diligently to bring in a highly-talented recruiting class and he believes that this team will be unlike any other before it.
"We will have, without a doubt, the best team that Syracuse has ever had."
Does someone have a pen? Wheddon thinks it's time to mark the ACC tournament in his team's game calendar.
Video
10 Questions With Coach Wheddon – http://www.youtube.com/watch?v=rm5KCHY6NpU