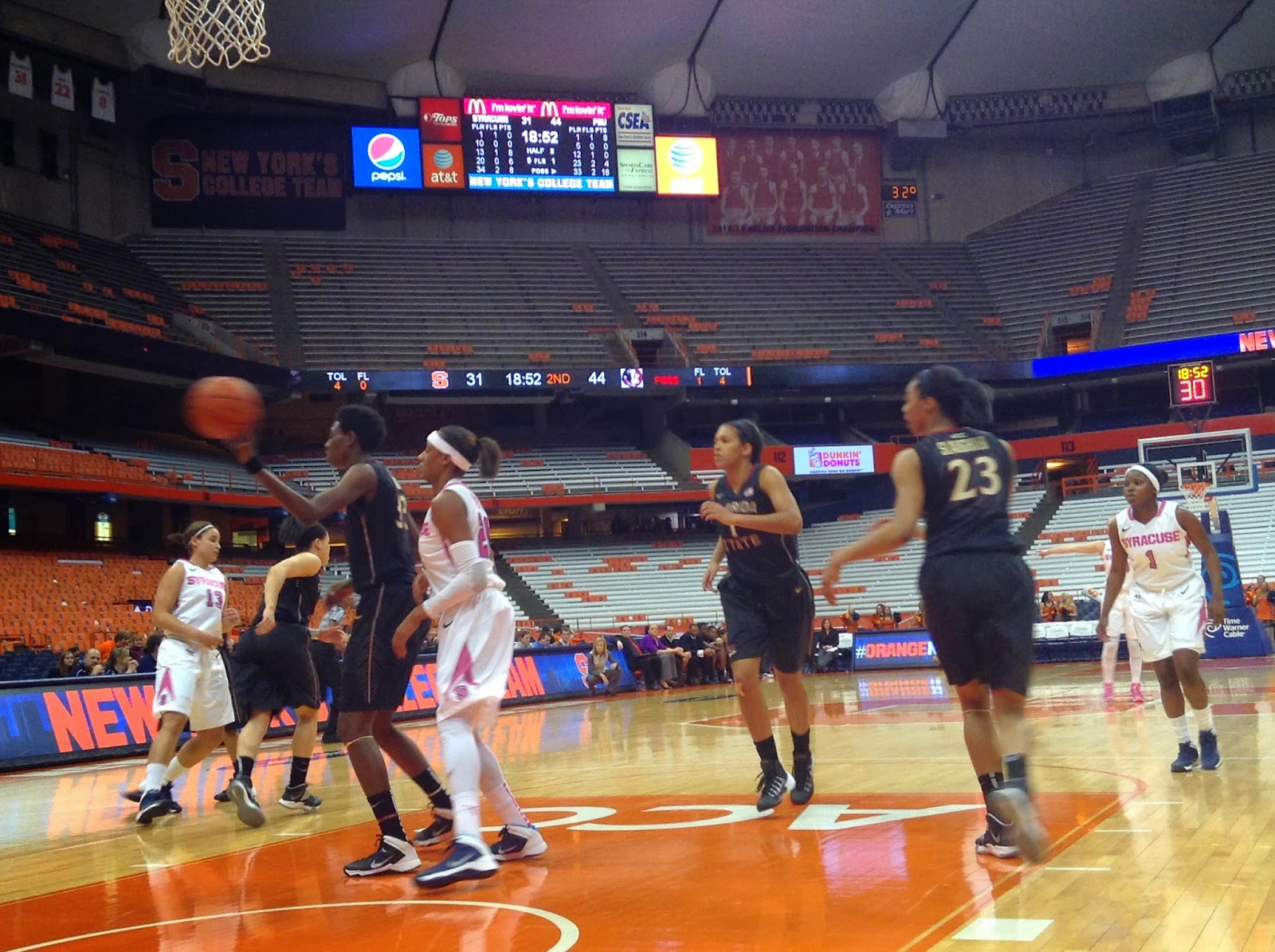 Story, photo and videos by Rilwan Ameen Backdrop: At one point this season, both Syracuse (17-8 overall, 6-6 ACC) and Florida State (17-7, 5-6 ACC) were ranked among the nation's top 25 teams. Since winning 14 of its first 15 games to begin the year, Florida State had lost six of eight. But Florida State's […]
Story, photo and videos by Rilwan Ameen
Backdrop:
At one point this season, both Syracuse (17-8 overall, 6-6 ACC) and Florida State (17-7, 5-6 ACC) were ranked among the nation's top 25 teams.
Since winning 14 of its first 15 games to begin the year, Florida State had lost six of eight. But Florida State's Head Coach Sue Semrau said the mid-season struggles provided valuable learning lessons.
"People have a hard time believing when a coach says losing is be a good thing," Semrau said. "For us it opened the eyes of our younger players and going through the grind of the ACC, our focus since the Notre Dame game has been extremely sharp."
While Syracuse began the season 11-1, the Orange women had lost three straight before reversing their fortunes to win six of their last nine.
Having five ranked teams in the top 17 in the country, the ACC has been the best conference in women's college basketball this year. Syracuse stood just outside (6th in conference) of the top tier at 6-5 in the ACC and Florida State stood 9th at 4-6 in the league.
Despite the many ups and downs that are a part of a college basketball season both teams found themselves coming into the game looking to remain in the top half of the conference.
History made:
Two Shakeya Leary jumpers, one Brittney Sykes jumper and one Brianna Butler three-pointer in the first minute and 57 seconds of the game; was all it took for the Natasha Howard show to commence in the first ever meeting between Syracuse and Florida State in women's basketball.
Syracuse Head Coach Quentin Hillsman said after the game, that there simply was not an answer for the Seminole star.
"Man, Natasha Howard was a beast tonight. She was tremendous," Hillsman said. "She got the ball in the paint, scored the ball… did a very good job of playing at the rim. She's an unbelievable player who's a great career at Florida State and will continue to do so at the next level."
Howard, scored the very first basket in the game just five seconds in and continued her offensive onslaught from there; pouring in a school-record 40 points en route to leading the Seminoles to an 83-59 victory.
Big games are something Semrau has become accustomed to from the senior.
"Natasha Howard is one of my favorite players that I've ever coached," Semrau said. "For her to have an opportunity to reach this milestone isn't because she was lucky, it's because the type of work ethic that she has."
"She'll leave a mark on Florida State not because she scored more points than anybody in a single game, but because of what she means to us every day."
Tone setter:
With 28 of Howard's 40 points coming primarily inside the paint (14-19 FGM-A) and (12-15 FTM-A), Florida State found the opening in Syracuse's defense by playing inside out; capitalizing on open looks knocking down 2/3's of their three-point attempts (8/12 total).
"I was surprised at the way we shot the ball from the outside to open things up for on the inside and I think that was the difference in the game," Semrau said. "And our ability to get her the ball was that."
"Our kids played hard, they really tried to get after it and compete but our bodies, " Hillsman said. "I mean we're down two point guards and we had to end up playing Britt at the point some and it didn't work out for us tonight."
Coming off a 26 point, 11 rebound performance against Boston College, Howard said her thought process was to get her teammates involved first and then finding her spots.
"When they can get me the ball, I just score and do my own thing when I'm out there."
The difference in the game besides the hot outside shooting of the Seminoles, was their ability to crash the boards; out-rebounding Syracuse 43-24 in the game (13-11 OFF. Reb) and (30-13 DEF. Reb).
Deja vu:
Shakeya Leary scored the first four points for the Orange and had four steals, contributing to Howard's five total turnovers. However, Howard would win the battle, taking over the paint and Leary was held without a rebound in the game.
"Natasha was scoring, she was running the floor well… just finishing and being really effective getting to the line and just being real aggressive," Leary said.
In an eerily similar fashion to their last home loss against Maryland, Syracuse got off to a fast start going 4-4 from the field to take an early 9-2 lead causing Florida State to regroup with a timeout.
But since that time in the huddle, the tempo slowed down and Syracuse would be outscored 81 to 50 the rest of the way.
"You're in a new environment and none of them have ever played in a dome before," Semrau said. "It was just refocusing, making sure that we knew where the shooters are and just plugging away and not panicking."
Home woes:
The Orange struggled to adjust without starting point guard Rachel Coffey and backup point guard Cornelia Fondren — both of whom were declared unable to go right before tip-off due to sickness.
"When you take two players out of the lineup, who are getting major minutes, you're going to struggle a little bit," Hillsman said.
Held to a season-low six points, well below her season average of 17.6 per game, Brittney Sykes was in unfamiliar territory.
"It was real frustrating, but I had to put aside the frustration and help my team on the bench," she said. "I had to just find something else to do if I wasn't playing well, I just have to be there for my team more than just scoring."
"Second half they did a very good job of getting some early leak-outs, getting some easy looks at the basket," Hillsman said. "When you start getting those looks in a game that's a 17, 16 point game you're going to struggle to make up that balance."
Semrau was thrilled her team did not let up against a Syracuse team sporting a different starting lineup for the first time all season.
"I was really proud of how my team, stayed focused… and didn't let up knowing that a great point guard wasn't on the floor." 
Unusual trend:
Starting two Freshman Alexis Peterson and Isabella Slim, along with mainstays Brittney Sykes, Brianna Butler, and Shakeya Leary the Orange could not find the same rhythm that comes with maintaining continuity out on the floor.
"Have to give Alexis a lot of credit, she played 34 minutes, nine assists and two turnovers; that's a tremendous ratio," Hillsman said.
After the game, Semrau said that the addition of Syracuse to the ACC has really been a benefit to the league. She also added that the Orange were not the same team without the full arsenal of players.
"I don't think that was characteristic of Syracuse… tonight. They have great shooters on their team, we were really worried about Butler and I know that they missed Coffey not being in the lineup."
First timer:
In her first career start with Coffey out, Peterson was held scoreless but contributed those nine assists.
"I learned last night that I'd be starting, " she said. "I thought I played fairly decent, I think I could done something more to help the team out by not turning the ball over."
"My first goal is to always get my teammates involved. Being the point guard is to run the team and control the tempo… my missed shots didn't really affect me, I just took them when I was open."
Despite the injuries to Coffey and Fondren, a bright spot for the Orange was the night of La'Shay Taft, who stepped up to score a game-high 18 for Syracuse in just 20 minutes of action. 15 of her total came beyond the arc with five 3-pointers.
Bounce back:
With the loss, Syracuse slips back to .500 in the tough ACC. But Sykes and the Orange are not letting the setback deter them from their season-ending goals.
"The good thing about it is this conference," Hillsman said. Thursday, Sunday is great because Sunday will be here in a short minute."
"In basketball the greatest thing you can have is short-term memory," Sykes added. "To come back from Notre Dame, play Florida State at home and have a loss like we did it's on to the next game."
"You go into film the next day… you learn from your mistakes and try not to make them again. We have to win the rest of these games on the road and at home."
Reaction:
After the game when it was announced that Howard set the school record, she turned to Coach Semrau incredulously asking," really?!" Semrau responded with a beaming smile and nod.
When asked where does her performance rank all-time for her career Howard put her career night in context.
"I really don't know, I just go out and just play no matter what. Whether or not I score 40 points, I just want to win and help my team win," she said. As for re-writing the Florida State record books.
"It feels good, but I couldn't have done it without my teammates and the coaches."
"She's a freak you guys," Semrau joked. "She might be Tyler Ennis."

Game notes:
Syracuse donned pink jerseys and sneakers at tonight's game to support the Play4Kay Initiative and its fund for Breast Cancer awareness research. The foundation honors the memory of former North Carolina State Head Coach, Kay Yow, who passed away in 2009
Natasha Howard's record-setting 40-point night, breaks the mark previously set in 2005 by Roneeka Hodges, who scored 39 against Maryland
Senior, Cheetah Delgado who set a school record assist total in FSU's previous game against Boston College, added 12 more against SU
Howard was also named to the Wade trophy candidate watch list, an annual honor given to the nation's top Division I women's college basketball player
Natasha Howard's uncle LaSean, played basketball at SU for two seasons (1996-1998)
Syracuse shot 36 percent in tonight's game after shooting just 32 percent in the previous game against Notre Dame
With the loss Syracuse now drops to 7th in the ACC at (6-6) while Florida State remains 9th at (5-6)
Tonight's game was also Syracuse's Brianna Butler's 20th Birthday
Both Rachel Coffey's and Cornelia Fondren's game-status against Boston College is unknown per SU Athletics and Head Coach Quentin Hillsman
Syracuse will head on the road to play Boston College this Sunday (2/16/14) at 1:00 PM (ET)
Videos:
Coach Hillsman postgame:
https://www.youtube.com/watch?v=NdsYdG1ma98
SU players postgame:
https://www.youtube.com/watch?v=VcUwBc9qwkM
FSU postgame:
https://www.youtube.com/watch?v=dWn19Rc3aHk