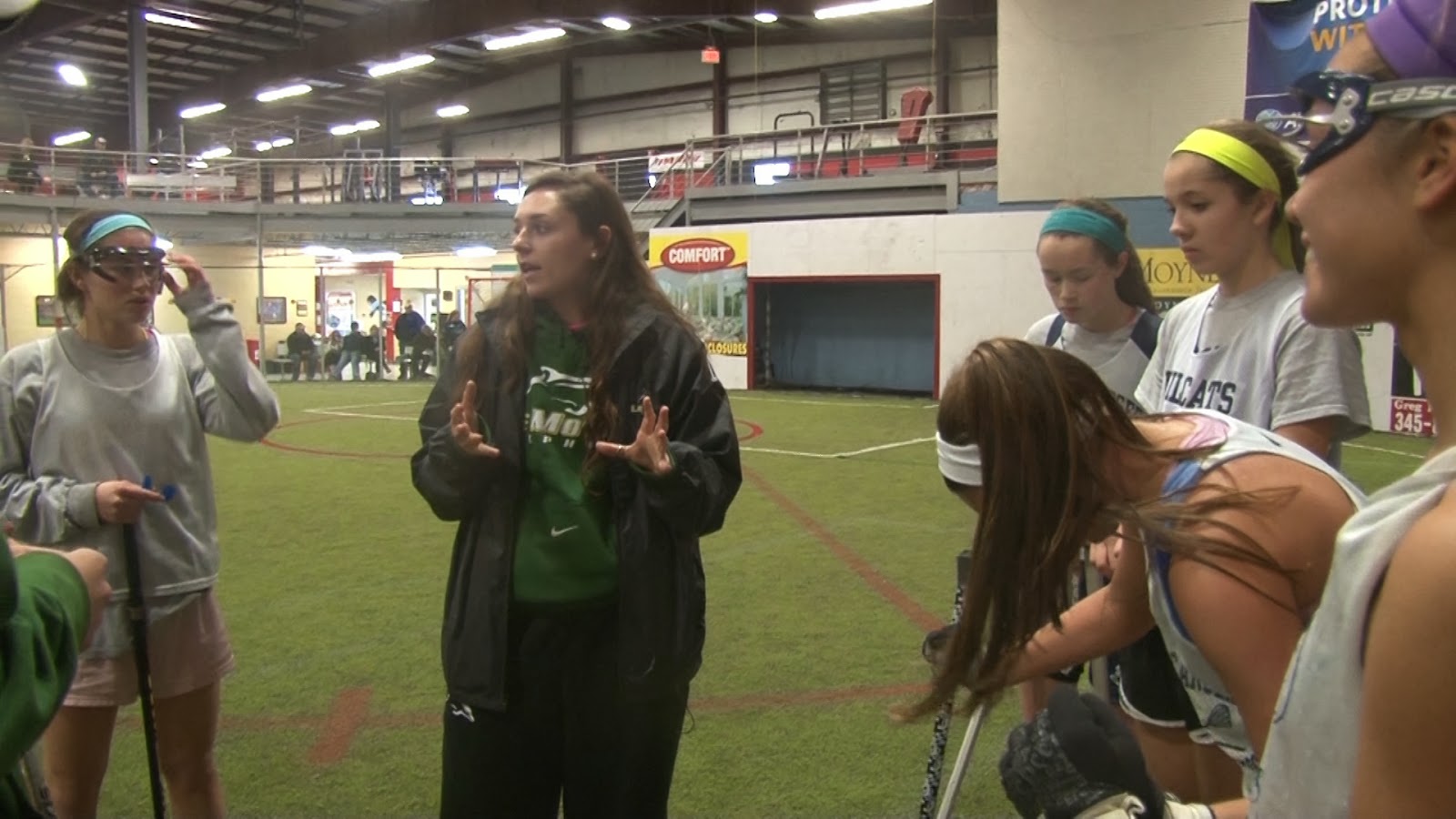 March 3, 2014
Story, photo and videos by Norman Seawright III –    Le Moyne College's women's lacrosse team is 1-0 after a weekend win over Bentley 15-6 and travels next to LIU Post for a game Wednesday. Our Norman Seawright visited with the Dolphins just before the start of the season.    (Syracuse) Dana Anderson, defensive player for […]
Story, photo and videos by Norman Seawright III – 
Le Moyne College's women's lacrosse team is 1-0 after a weekend win over Bentley 15-6 and travels next to LIU Post for a game Wednesday. Our Norman Seawright visited with the Dolphins just before the start of the season.
(Syracuse) Dana Anderson, defensive player for the Le Moyne Dolphins lacrosse team, is on the sidelines, wearing her team jacket emblazoned with #12 and passionately yelling while a player on her team scores on a fast break.
 She isn't injured. She isn't serving a suspension. For this match in the 5th annual 5v5 Brine Valentine's Day Shootout, she's coaching the West Genesee Wildcats—her former teammates.
 "I'm excited to be on the other side of it," Anderson said. "It's definitely a good feeling to be able to take the skills that you received from your high school coaches and your college coaches and showcase those."
 The Le Moyne Dolphins' women's lacrosse team plays host to training camps throughout the year that teach fundamentals and use competition in drills, rounding out the experience with tournament-style play that lets the players show off their skill.
 "You get to see them evolve," Anderson said. "I've coached them ever since they were this little, and now I'm able to coach them in this tournament while I'm in college."
 Each squad is matched with a Dolphins player. In West Genesee High School's case, Anderson was an easy pairing.
"I love watching the girls play," Anderson said. "I just love making connections with other girls I don't get to coach as much."
The Wildcats respond well to her—after all, at least some of the players, like Hannah Elmer (who has committed to SUNY Cortland), have shared the field with her before.
"She had that leadership role already in high school," Elmer said. "I like playing for her."
While she keeps an eye on promising talent, Dolphins Head Coach Beth Hewitt sees the camps as classic examples of learning through instruction for her players.
"For us, that's the most fun part," Hewitt said. "To see the girls go back to their high schools, work with some of their old friends, and I think a lot of these high school players look up to these college players as well."
The Dolphins have some friendly competition while coaching against each other.
When asked if they take some coaching tactics from her, Hewitt laughed and said, "hopefully!"
As for Anderson's Wildcats…they left the shootout as champions.
Video report here:
https://www.youtube.com/watch?v=ImbskA7zJfA