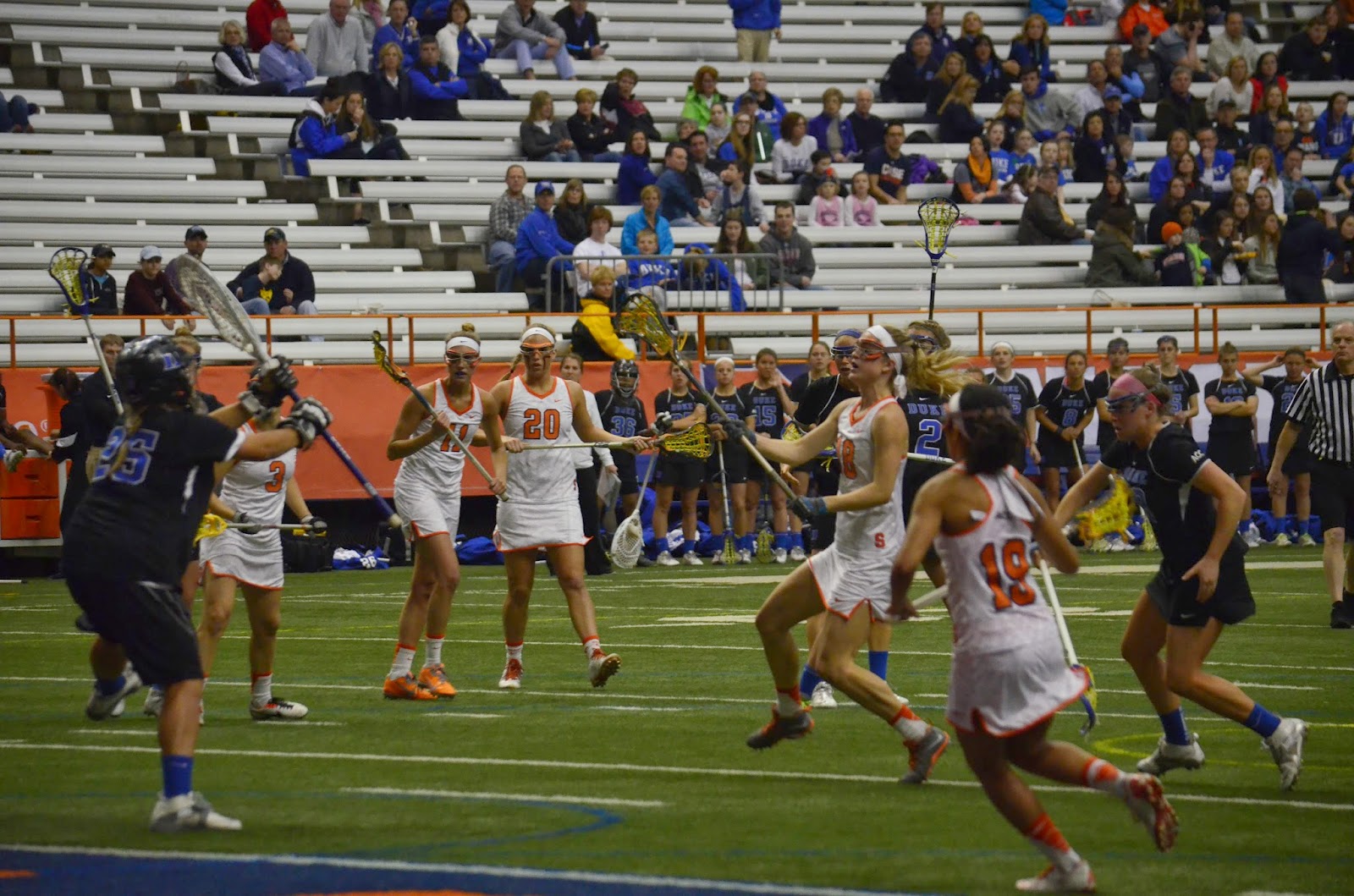 Story by Jennifer Ready Photos by Norman Seawright III SYRACUSE N.Y. (Newhouse Sports Media Center)— Senior Alyssa Murray reached a major collegiate milestone Saturday afternoon, recording her 300th career point to lead No.3 Syracuse in a 19-15 victory over No.8/9 Duke and improve its record to 10-1. "I've had a great career here mostly because of […]
Story by Jennifer Ready
Photos by Norman Seawright III
SYRACUSE N.Y. (Newhouse Sports Media Center)— Senior Alyssa Murray reached a major collegiate milestone Saturday afternoon, recording her 300th career point to lead No.3 Syracuse in a 19-15 victory over No.8/9 Duke and improve its record to 10-1.
"I've had a great career here mostly because of everyone around me," Murray said after the game. "I've had great people feeding it to me throughout my career and people who can catch my passes and finish. So I owe it to my teammates."
Murray joins former SU players Katie Rowan and Christina Dove on Syracuse's all-time scoring list, ranking third with 301 total points. She tallied seven points, on three goals and four assists against the Blue Devils.
Along with Murray, the Orange offense saw ten different players finish in the net. Sophomore Kayla Treanor notched five points with four goals and one assist. Katie Webster, Erica Bodt, Taylor Poplawski, and Kailah Kempney all recorded a pair of goals while Amy Cross, Gabby Jaquith, Brenna Rainone and Lisa Rogers all registered single tallies.
"I thought our team played very well, executed and built a substantial lead," Head Coach Gary Gait said. "It was great and allowed an opportunity for some of our other players to get in there, when that happens against a top ten team its just awesome. We are very thrilled with the performance of everybody, especially our core players that provided that opportunity for those other players."
The Orange led 10-7 at half-time but it was Duke that started the game with a 2-0 lead. Just 3:24 into action, junior Taylor Trimble and senior Sydney Peterson connected with the back of the net to give the Blue Devils an early advantage.
But Alyssa Murray struck with 22:56 remaining in the half. The Orange and the Blue Devils traded the lead early on but with the game knotted 4-4, a goal from Kayla Treanor sparked the Orange on a 3-0 scoring run and Syracuse kept its lead the remainder of the game.
Duke's Taylor Trimble answered to the Syracuse run netting her second goal of the afternoon to make it a two-point game, 7-5. Following a goal from Kempney for the Orange, the Blue Devils responded with two unanswered goals from Kerrin Maurer and Maddy Acton to make it a tight 8-7 game.
With less than a minute left in the half, Webster and Treanor rattled off swift goals to give Syracuse a 10-7 half-time advantage.
The Blue Devils were the first to strike in the second half. Midfielder Maddy Morrissey notched a goal just 57 seconds after the draw. However, Kailah Kempney retaliated with 26:02 left to play and started the Orange on a 5-0 run allowing Syracuse to break away from the Blue Devils with a 15-8 lead.
Following a goal from Trimble, Kayla Treanor recorded her 36th goal of the season and Alyssa Murray netted a pair of goals to give SU a wide 18-9 lead.
But the Blue Devils then went on a run to outscore the Orange 6-1 with 7:56 left in the game. It was not enough to defeat the Orange, Syracuse clinched the 19-15 victory over the Blue Devils in their first ever meeting in.
Midfielder Amy Cross led the Orange with three ground balls and one caused turnover. Syracuse goalkeepers Alyssa Costantino and Kelsey Richardson shared time in the net. Costantino had one save in the first half and Richardson had three saves and one ground ball in the last 30 minutes.
Syracuse will host Albany Tuesday night at the Carrier Dome, the draw is set for 7 p.m.
To watch the post game press conference with Head Coach Gary Gait, Alyssa Murray, Kayla Treanor and Kelsey Richardson click here.
Slide show here: http://sce2014.blogspot.com/2014/03/syracuse-wlax-v-duke-photos.html