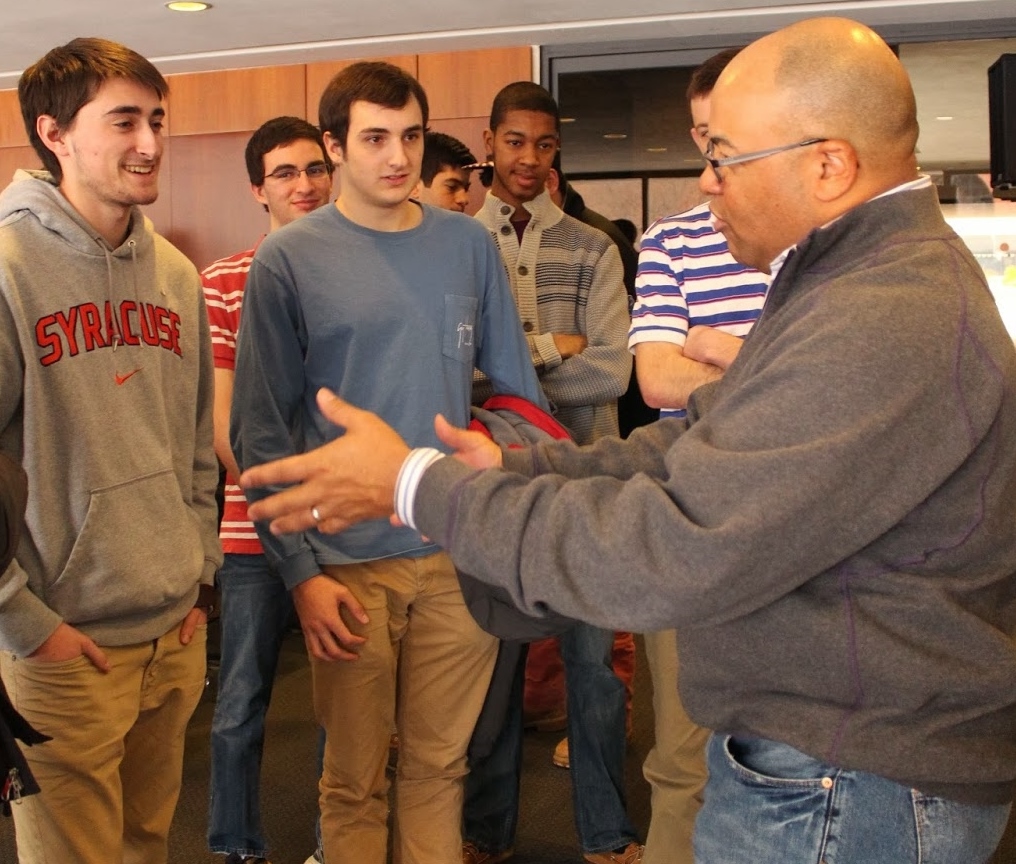 March 2, 2014
Photos by Kayla Chadwick He comes dressed casually with a cup of Starbucks in his hand to share his time, experience, advice and a few laughs with several dozen students and others who showed up in the Miron Room in Newhouse I at midday Saturday. Mike Tirico '88 is a guy who enters to little […]
Photos by Kayla Chadwick
He comes dressed casually with a cup of Starbucks in his hand to share his time, experience, advice and a few laughs with several dozen students and others who showed up in the Miron Room in Newhouse I at midday Saturday. Mike Tirico '88 is a guy who enters to little fanfare, sits down and chats with early arrivals and is as approachable as can be.
When he is introduced as one of our most successful and loyal alums he tries to deflect the praise. Then, just hours after being inducted into the WAER Hall of Fame, he proceeds to show why he deserves the accolades. Animatedly discussing his experiences from WAER to WTVH-5 to ESPN and ABC, he tells the audience golf is the easiest sport to do because "you don't have to say a lot." That brings chuckles.
He takes them through his preparation for Monday Night Football, pointing out that if you miss prep time because of one thing or another, you make it up late at night or early in the morning. He talks of Jon Gruden's brilliance in getting the crew ready for games. He explains that it's a good idea to take some of your children's books on the road so you can read to them and put them to bed through Skype.
And when the Q&A is over he greets each person enthusiastically, posing for pictures, shaking hands, saying "thanks for coming" until the last person in line gets a chance. 
Saturday night Tirico will be a speaker in WJPZ's tribute to Dr. Rick Wright. Sunday morning he'll fly out and Tuesday he'll call Illinois vs. Michigan. But at the moment, in that room, he is there and evidently very happy to be there with the people who have come to meet him.
 Here is the story in photos from Kayla Chadwick.
http://sce2014.blogspot.com/2014/03/mike-tirico-in-moment.html
Follow link and click on any photo to start slide show.