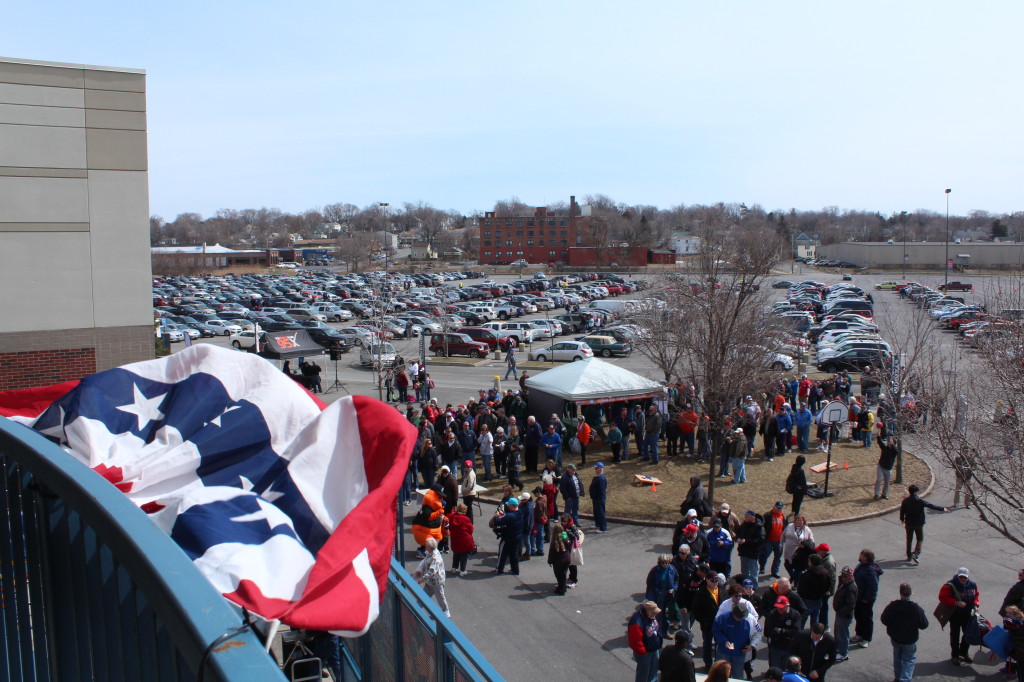 April 3, 2014
New management hopes to reinvigorate fan base Photo and slideshow by Kayla Chadwick By Jordan Greer SYRACUSE, N.Y. (Newhouse Sports Media Center) – Although the Syracuse Chiefs' Opening Day game resulted in a 4-1 loss to the Scranton/Wilkes-Barre RailRiders, a new energy was palpable throughout NBT Bank Stadium. After a 2013 campaign in which the […]
New management hopes to reinvigorate fan base
Photo and slideshow by Kayla Chadwick
By Jordan Greer SYRACUSE, N.Y. (Newhouse Sports Media Center) – Although the Syracuse Chiefs' Opening Day game resulted in a 4-1 loss to the Scranton/Wilkes-Barre RailRiders, a new energy was palpable throughout NBT Bank Stadium.
After a 2013 campaign in which the organization lost nearly one million dollars and the Chiefs finished last in the International League North, fan morale was at an all-time low.
"When you come to the park and see 300 people, it really depresses you," said Drew Utton, a lifelong baseball fan who has not supported the Chiefs in recent years. "The previous regime did nothing. The promotion schemes were terrible and the advertising was non-existent."
Former Chiefs general manager John Simone was removed from the organization last year after the team experienced its lowest paid attendance since the new stadium opened in 1997. Former Auburn Doubledays general manager Jason Smorol took John Simone's old post, and the challenge of bringing excitement back to Syracuse baseball.
Based on the reaction of the 6,661 fans in attendance, Opening Day did just that.
"We came out to support the new regime," said Brian Darby, a Chiefs fan who had lost faith in the old management. "We needed a change. We needed a spark."
Smorol immediately provided that spark by being more active in promotions and advertising in the community. Nancy Miller, the director of sales at the Candlewood Suites Syracuse-Airport, says her hotel is working with the Chiefs this year to offer tickets and products to families who stay at the Syracuse-Airport location. She believes reaching out to fans will bring them back and put the team on the right track.
"It is much more family friendly and exciting for the future," Miller said. "I think a big thing is the enjoyment and affordability of games."
These types of connections with local businesses in addition to game day promotions are all part of the plan to bring back pride, and fans, to NBT Bank Stadium. The Opening Day buzz was not lost on the Chiefs.
"The atmosphere was outstanding," Chiefs manager Billy Gardner said. "It was all good and well organized. Jason (Smorol) and his staff did a great job."
While the first game of the 2014 season could be considered a success for Smorol, it remains to be seen whether this success is sustainable. But some fans are already buying in.
"Before we would rather drive to see Auburn or Binghamton play," Darby said. "Now we are here for Opening Day and hopefully a whole bunch after this."