October 17, 2013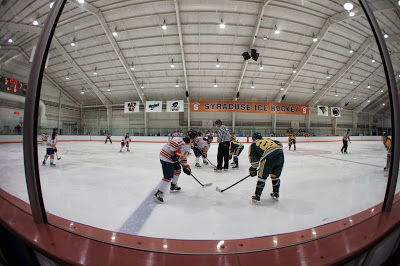 Story and Photos by Michael Silver SYRACUSE, NY — The Orange women's hockey team is heading to Providence, RI this weekend, looking to end a three game losing streak and get back to a winning formula in the College Hockey America (CHA) conference. Last weekend Syracuse played a home-and-home series versus upstate New York rival […]
Story and Photos by Michael Silver
SYRACUSE, NY — The Orange women's hockey team is heading to Providence, RI this weekend, looking to end a three game losing streak and get back to a winning formula in the College Hockey America (CHA) conference.
Last weekend Syracuse played a home-and-home series versus upstate New York rival Clarkson to begin conference play. On the road at Cheel Arena, the women's team were shut out 4-0. Being out shot 36 to 26, and gave up two back-breaking goals in the final period. The Golden Knights are now 5-0-0 and the Orange are 1-3-0.
One night earlier and 145 miles south on I-81, the teams faced off at Tennity Ice Pavilion for the Orange's home opener. Led by senior goaltender Kallie Billadeau, the women's squad played an inspiring, fast-paced game. The Golden Knights came in ranked as the No. 3 team in the country, and provided an overwhelming offensive attack from the opening face off.
A slap shot by Carly Mercer got Clarkson on the board early, with 1:40 remaining in the first period. Mercer would add another goal in the second period to give the Golden Knights a 2-0 lead with 20 minutes to play.
The score remained the same until midway through the third period. Having a 5-on-3-man advantage, Nicole Renault, a sophomore from Plymouth, Mass., scored a wrist shot for the Orange and cut the deficit to one.
Penalty killing played a big part into the Orange defense, holding the opposition's power play to 0-for-5, while going 1-for-5 themselves.
Billadeau, the Minnetonka, Minn. native did her best between the pipes, saving 39 shots for the Orange. It was not enough, however, as Clarkson would hold on to win 2-1.
Total shots taken was the real story, as the Golden Knights fired off 41 to the Orange's 18.
Clarkson improved to 4-0-0, while Syracuse fell to 1-2-0 on the early season.
The Orange now travel to play Providence College for back-to-back games this weekend. Friday the puck drops at 7 PM and Saturday at 3 PM.
They return home and face Boston College and Union College, respectively, the following weekend of October 25th and 26th. Home games are free to the public.
Follow @NewhouseSports on Twitter and Like our Facebook page for updates on SU Athletics and alumni events.