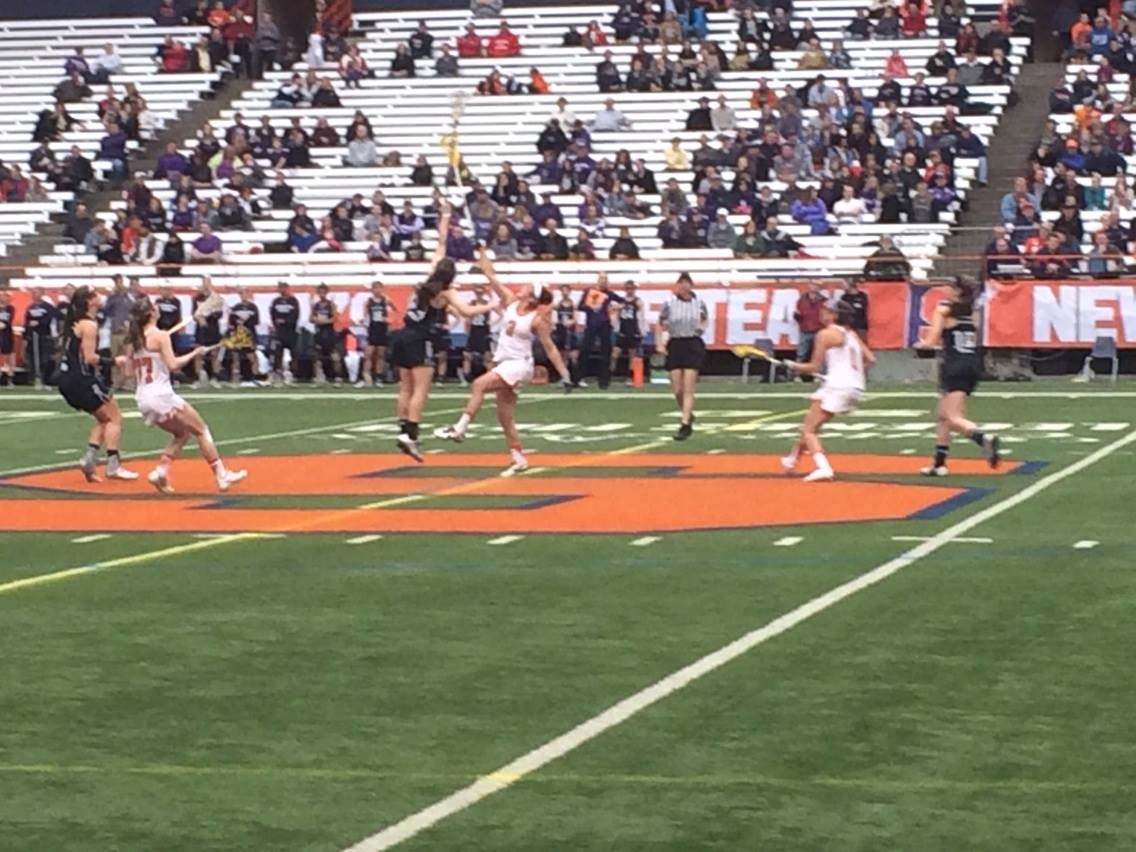 March 23, 2014
Story and Photo by Christopher Landers Just two minutes had gone by in the second half, and the game was tied, but a palpable sense of dread started to fill the Carrier Dome. Northwestern — the Big Bad Wolf of women's lacrosse, 11-1 all-time against the Orange and 9-0 over the last seven years (including […]
Story and Photo by Christopher Landers
Just two minutes had gone by in the second half, and the game was tied, but a palpable sense of dread started to fill the Carrier Dome. Northwestern — the Big Bad Wolf of women's lacrosse, 11-1 all-time against the Orange and 9-0 over the last seven years (including twice in the NCAA tournament) — had managed to tie the game on two quick goals out of the locker room despite trailing for the first 30 minutes. A game that had seemed in hand was now anything but, and it would only be natural for doubt to begin settling in.
But then a remarkable thing happened: Syracuse's senior class, a group that had never known victory against this program on any field, made a stand. Alyssa Murray scored the go-ahead goal that sparked a late 4-0 run and the Orange (9-1, 2-1 ACC) finally got the purple monkey off its back with an 11-7 win over the No. 7 Wildcats (4-3, 1-1 ALC) on Sunday. 
Northwestern is in the midst of a bit of a down year (by its standards, at least) and this is just one more step in Syracuse's push for a national title. But the Orange still proved something to itself, and the players now have the knowledge that at their best the can beat anyone, anywhere.
"I think it's just sort of, 'Ugh, thank god, finally,'" Murray said. "They've proven in the past they know how to win no matter what the circumstance, no matter what players they have on the field, and I think that's very telling of our team this year. We were able to dig deep."
The game was a contrast in styles — Northwestern's patient, possession-heavy attack against Syracuse's high-octane offense. And for much of the first half, the Wildcats controlled tempo, exercising patience against the Orange's matchup zone and keeping the ball away from its own net. Northwestern was in possession for minutes at a time, probing and prodding, looking for an opening but more than willing to keep searching if one didn't present itself — and it often did after forcing the Orange to defend for so long. So despite Syracuse's success against the Wildcats man-to-man – particularly senior Katie Webster, who torched her defender for two first-half goals — Northwestern hung around and trailed just 6-4 at halftime.
"We knew they were going to try to slow it down on us, take time off the clock," head coach Gary Gait said. "In the first half they had a lot of possessions, but we got after it and got some turnovers in that second half and it made the difference."
Northwestern struck quickly after the break, coming up with two quick goals as Syracuse came out flat. And just like that, though it had felt secure just 90 seconds earlier, the game was tied at six — and the same painful script began to be written, another close loss to the Wildcats. This time, though, Syracuse had an answer.
After a crucial faceoff win, Webster found Murray cutting through the middle for an easy finish to retake the lead. From that point forward, the Orange turned it into its style of game and never looked back — Northwestern committed three consecutive turnovers and the game's pacing and spacing opened up, turning into the up-and-down track meet Syracuse always wanted. The Orange ripped off three more goals in less than ten minutes, taking a 10-6 lead with 12 minutes to play, and cruised to the finish line from there. Amy Cross had two goals during the run.
"I think we played really well in transition," Webster said. "Especially when we get the ball from 30[-yard line] to 30, we're just all involved."
"We just got the defense on their heels a little bit," Murray said. "We were trying to take the wind out of their sails and that just started a big run for us."
Gait's biggest concern afterward seemed to be bringing his team back down to Earth after such a huge weight had been lifted.
"Today was about getting this done for our seniors, and they're very happy," he said with a smile. Then he paused and almost sheepishly added, "There are definitely still areas to improve in if you look at the stats, ground balls, those areas."
The ultimate goal has yet to be reached for this team, but that didn't make Sunday any less sweet.
Postgame news conference from cuse.com: https://www.youtube.com/watch?v=B0LxZ-10mdc&list=UUOBlh9E4bgmCWrDhuQGEkQA