February 19, 2017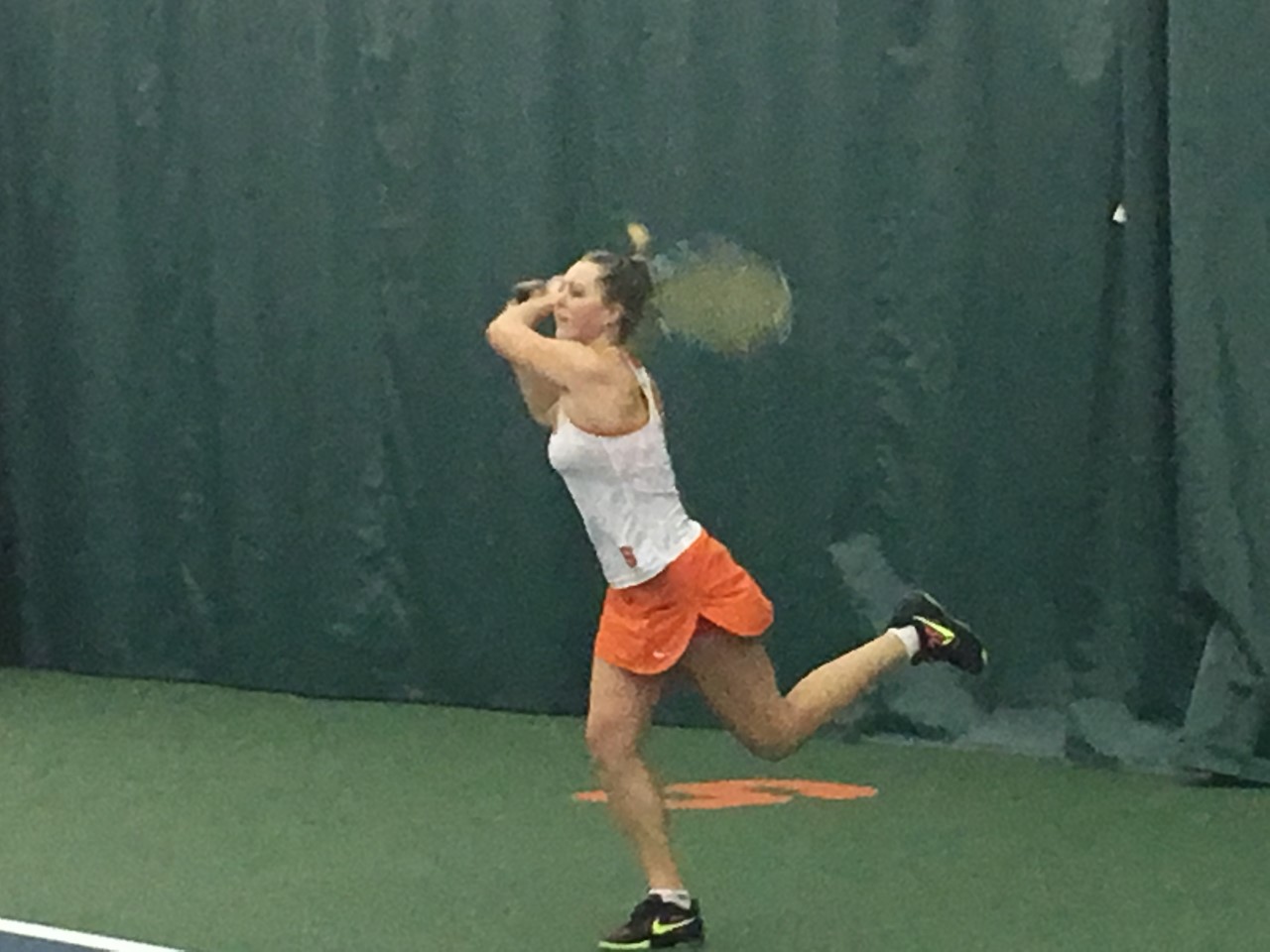 Story and photo by Andrew Leffler SYRACUSE, N. Y. — The sound of tennis balls striking nylon echoed in the Drumlins Tennis Center Saturday morning as the Syracuse Women's Tennis Team faced the University of Buffalo in its first home match of the spring season. Syracuse was determined for a win. Coming home after four straight […]
Story and photo by Andrew Leffler
SYRACUSE, N. Y. — The sound of tennis balls striking nylon echoed in the Drumlins Tennis Center Saturday morning as the Syracuse Women's Tennis Team faced the University of Buffalo in its first home match of the spring season.
Syracuse was determined for a win. Coming home after four straight losses, Syracuse was a bit homesick, and Saturday's 6-1 victory over Buffalo proved that there is no place like home.
Home Sweet Home

There was a different team out there. A team that one wouldn't expect to have lost four straight. Head coach Younes Limam said after the match, "I think it's always nice to get that first W at home."
"I think that one of the biggest things for us today was winning those big points." Despite losing one doubles match and one singles match, Limam was very pleased with his team.
"I feel like we did a tremendous job playing those big points, better than what we have done in the past, and you could see the results, like with the third set on court number 2 and on court number 5. We did a great job committing to our shots, and really doing it to the fullest."
Line One Doubles Combines For Three Wins
Syracuse's line one doubles team, comprised of sophomore Gabriela Knutson and freshman Miranda Ramirez led the way early on with their 6-3 win at doubles, and it didn't stop there.
Knutson, who played line one singles, had an easy 6-2, 6-0 win against Buffalo's Tanja Stojanovska.
Ramirez, who is the newest member of the women's team, made a statement in her first ever Syracuse home match, defeating Chantal Martinez-Blanco, 6-0, 6-3. at line two singles. Ramirez was more than pleased with her play. Her composure was evident, as she was in complete control all match, and all day long.
"I thought it was a great match," she said afterwards. "I thought I played really well, very happy with the result and the whole team won, so that made my day. Absolutely love it. The atmosphere is amazing. This is my first home match, so I really loved it."
Like a chess match, Ramirez was always one step ahead of her opponent.
"I think that from the back I was very solid. I had a lot of big shots and I was also opening up angles, which I thought helped me out a lot today. I was able to tell where she was going, where she expected the ball to go and try and hit the opposite way."
Start Strong, Finish Stronger
Syracuse had a great start to its home stand. The win against Buffalo was a strong start for the women, as they look to finish even stronger Sunday when they face Brown.