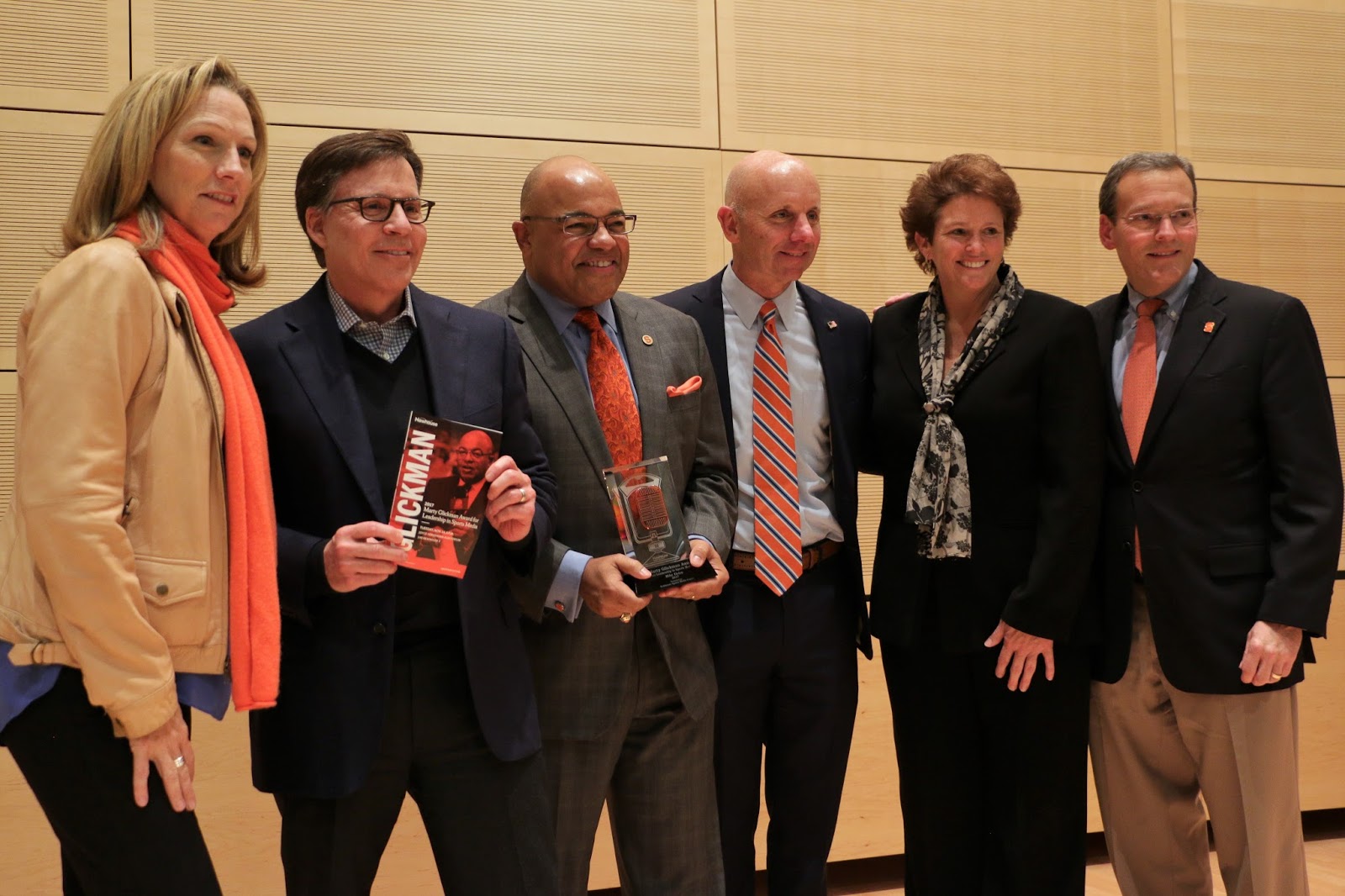 Story by Zach Staton Photos by Kristin O'Grady Syracuse, N.Y. – When Mike Tirico is behind a microphone calling a Notre Dame football game for NBC or hosting Football Night in America, he usually has a tremendous amount of notes prepared, ready to deliver any information at a moment's notice. That was not the case Tuesday night […]
Story by Zach Staton
Photos by Kristin O'Grady

Syracuse, N.Y. – When Mike Tirico is behind a microphone calling a Notre Dame football game for NBC or hosting Football Night in America, he usually has a tremendous amount of notes prepared, ready to deliver any information at a moment's notice.

That was not the case Tuesday night when he accepted the Marty Glickman Award for Leadership in Sports Media.
"I sat next to Beth (Mowins) and pulled out a notecard and said, 'Beth, look what I've prepared,'" Tirico told the audience in the Joyce Hergenhan Auditorium at Syracuse University's Newhouse School during his acceptance speech.
"Nothing. That flies in the face of what I'm supposed to do, but I wanted this to be from the heart."
Honoring Marty Glickman
Tirico, who graduated from Syracuse in 1988, is the fifth person to receive the award, joining Bob Costas, Marv Albert, Beth Mowins, and Sean McDonough. The award is named after Marty Glickman, an Olympian and 1939 alumnus who later became a trailblazer as a sports announcer. He is credited with being the person who started the long line of successful sports media professionals who attended Syracuse.
"It means a lot because of who Marty was and what he represent, and the standard he set." Tirico said. "I came here because of Bob (Costas) and Marv (Albert). And they came here because of Marty."
Albert, a Glickman protégé, said his mentor would be proud of Tirico.
"One of the things I admired about Marty was his ability to broadcast a variety of sports in any role," Albert said in a pre-taped message shown during the ceremony. "I see those same qualities in Mike Tirico."
Tirico's Résumé
Tirico's career has spanned more than 30 years, starting in Syracuse a rerporter and then sports director at WTVH-TV while serving as the play-by-play voice for SU football, basketball, lacrosse, and volleyball.  He then moved on to ESPN, where he spent the next 25 years in various roles, including the voice of Monday Night Football for nine seasons.  He also broadcaste events such as The Open, The Masters, FIFA World Cup, Wimbledon, and tennis' U.S. Open.
In July 2016, he made the move to NBC Sports Group, where he is now the voice of Notre Dame Football and NBC's broadcasts of Thursday Night Football and the on-site host forFootball Night in America and Sunday Night Football.  In 2018, he will become the primetime host for the Olympics, a position previously held by Costas, starting with the winter games held in PyeongChang, South Korea.  After such a long stint with ESPN, Tirico said he didn't know what to expect from the transition to a new company.
"Whenever you're someplace for a long time, people respect you professionally, but they don't know you personally," Tirico said. "These guys and gals have opened up their family to me and made me feel like I've been there forever."

A Friendship Comes Full Circle
McDonough, last year's recipient, presented the award.  He took over the play-by-play duties for Monday Night Football when Tirico left for NBC.  He kept McDonough informed on his possible move to a new company, hinting that it could lead to a promotion for McDonough.
"He said, 'I think if I leave and go to NBC, they're going to give you Monday Night Football,'" McDonough said during his presentation speech. "I said, 'Well if that's the case, as your friend, you absolutely must go.'"
Moving seemed to be a theme in the pair's friendship. Right after graduating in May 1984, McDonough took his first job in Boston.  The staff at WAER, the university-licensed radio station where McDonough worked during his time at Syracuse, decided to help him move to his new apartment.  Part of the moving crew: Mike Tirico, a freshman who started in September 1984.
"I never met the guy," Tirico recalled. "When you've helped somebody move their couch out of their college apartment to go someplace else, then you know it's a good start to a friendship."
Reunion for Monday Night Football Announcers

Tuesday night's ceremony also marked the first time that all three of Tirico, McDonough, and Mowins had been together since Mowins became the first female to announce Monday Night Football.  When she learned the news she would be on the call for the second game of ESPN's doubleheader, the first people she contacted were in Tirico and McDonough.
"They were together on the golf course with Al Michaels," Mowins said. "So they told me, 'Oh there's no pressure. There's no big shoes to fill.'"
Their advice to Mowins was simple: "Be yourself." The fact that three Newhouse graduates were following each other in the booth was something all three took seriously.
"We realize we are ambassadors for the University in some fashion when we're out there," McDonough said. "It's a responsibility we cherish and take very seriously."
The Tirico-Mowins Connection
Tirico called Mowins the "premier glass-ceiling breaker in this business of all-time." However, it was an indirect tie that Tirico said will always leave him indebted to Mowins.
"Beth's scholarship to play basketball at Syracuse was probably taken by my wife," Tirico said. "If not for Beth going to Lafayette, I never would have met my wife."
Perhaps the unknown sacrifice came to provide Mowins with good karma later on. Before Mowins went to work for ESPN, she interned at WTVH-TV whileTirico was there. She remembered the experience helped her see how to prepare for broadcasts and how to work with others in the business.
"It was the basis of my knowledge and my jumping off point into the industry," Mowins said.  "I got a glimpse at how the right way to do things were."