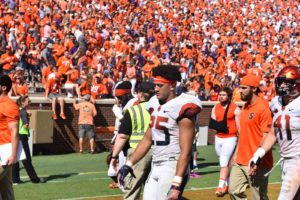 Story by Ramon Hernandez Photos by Keanu Haghighi CLEMSON, S.C. – The Orange suffered it's first first loss of the season today, as the Clemson Tigers took the close 27-23 win at Memorial Stadium. Perfect Storm There seemed to be a perfect storm brewing for the Orange in Death Valley. Syracuse was just minutes away […]
Story by Ramon Hernandez
Photos by Keanu Haghighi
CLEMSON, S.C. – The Orange suffered it's first first loss of the season today, as the Clemson Tigers took the close 27-23 win at Memorial Stadium.
Perfect Storm
There seemed to be a perfect storm brewing for the Orange in Death Valley. Syracuse was just minutes away from moving to 5-0 and becoming the first school, since Florida State in 2013 and 2014, to beat Clemson in back-to-back seasons. Clemson running back, sophomore Travis Entienne, however, was having none of that.
Entienne rushed for 203 yards on 27 carries, and punched in three touchdowns en route to a 27-23 victory over the 25-point underdog Syracuse. The Orange had no answer for Entienne and Clemson's run heavy offense in the second half. The Tigers had to keep the ball on the ground after losing their newly named starting quarterback, freshman Trevor Lawrence following a big hit from Syracuse's Evan Foster. They played backup quarterback Chase Brice, who only had eight pass attempts in his career, in his place, and put the offensive burden on Entienne's shoulders. He delivered.
"They just kept handing him the ball. We knew what the were gonna do but we couldn't slow him down," Syracuse Head Coach Dino Babers said.
Coming up Orange?
There were several times it seemed things were falling Syracuse's way. The first was early in the third quarter, when Trill Williams picked off a pass from Brice. The second was a punt fumble, recovered by Jamal Custis. Unfortunately for the Orange, neither play led to much of anything.
Things may have ended quite differently if not for an ineligible player downfield call on Aaron Hackett, on a crucial fourth – and – one. It seemed as though he picked up the 1st- down, it was all Clemson from there.
Tigers finish Fierce
The Tigers would put up a quick seven points, courtesy of Entienne shortly after, and hold strong on the Orange's last drive, sacking Senior quarterback Eric Dungey three times in the final minutes of the game.
Dungey said his confidence is not rattled, however, and that some of his teammates believe they should have won the game.
"There's kind of a sick feeling in my stomach right now. We really wanted this one, but luckily we've got a whole season ahead of us," Dungey said.
The Orange will look to bounce back on the road next week against the Pittsburgh Panthers.