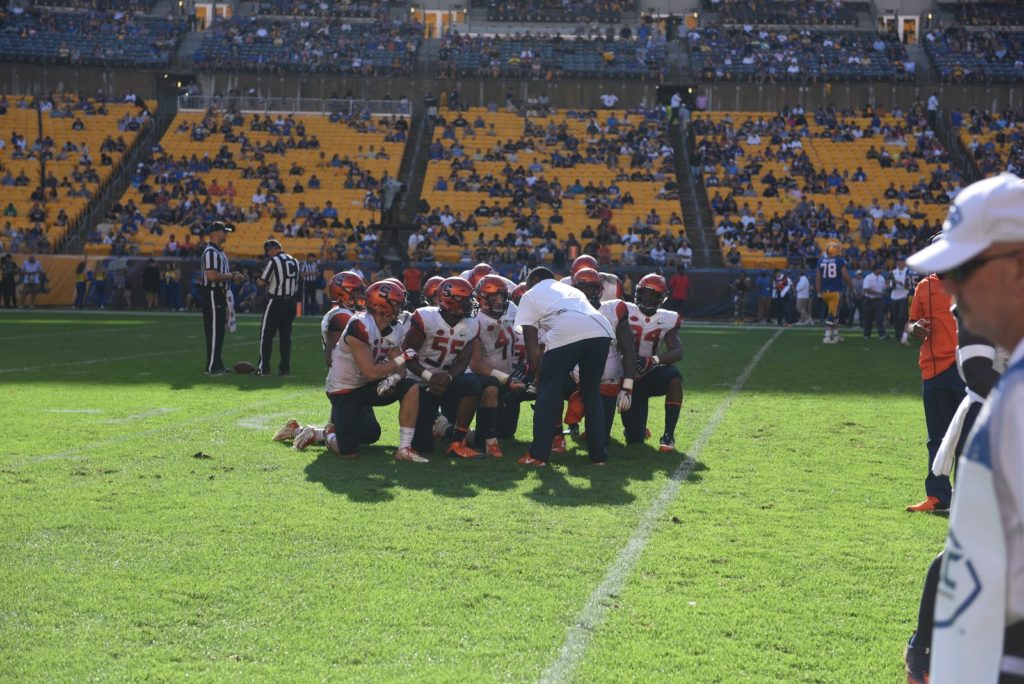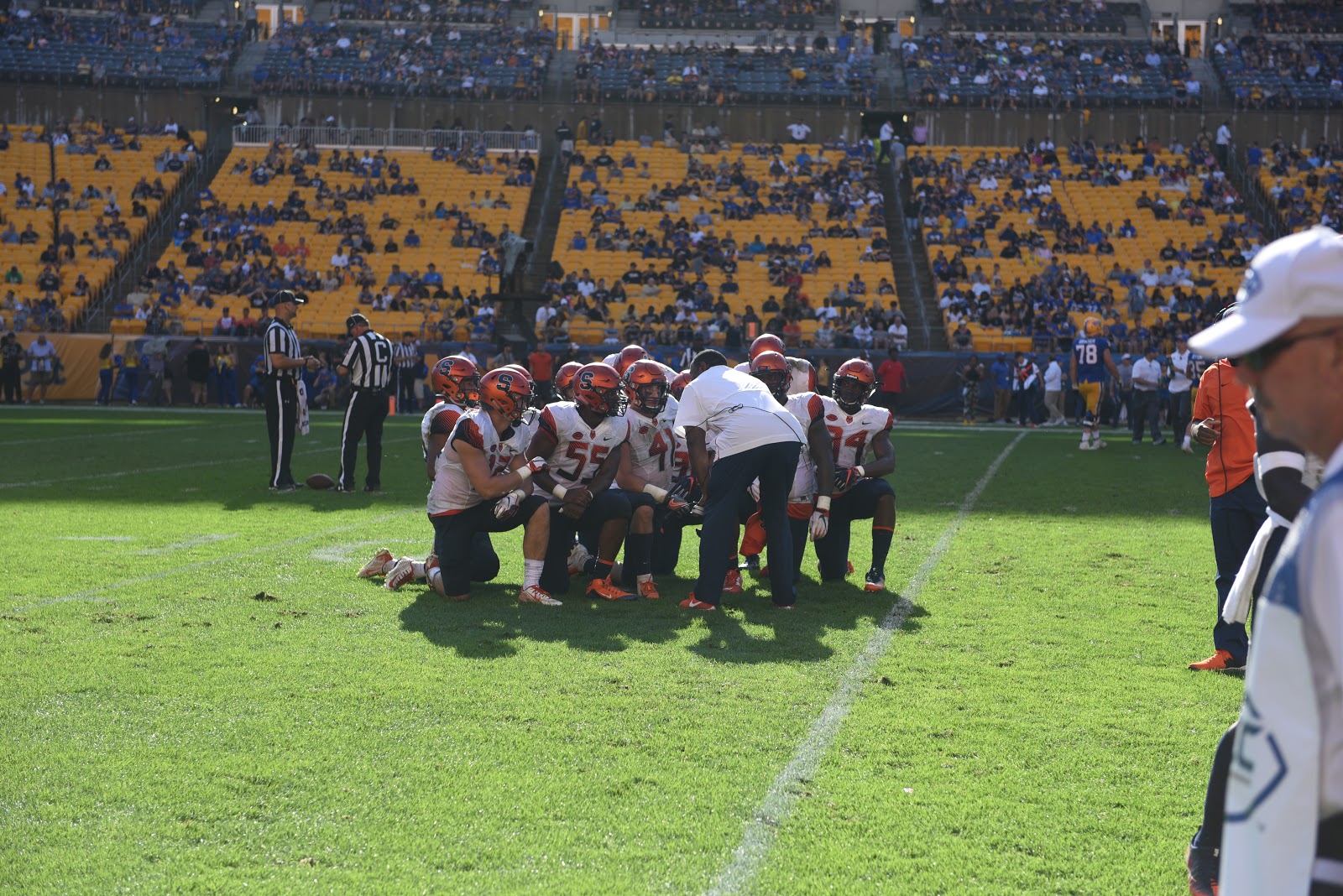 Overtime Interception Costs Syracuse
Story by Dakota Palmer
Photos by Tamar Turner
PITTSBURGH, Pa. — Mother Nature couldn't make up her mind on Saturday, and neither could the Orange.
Saturday afternoon, Pitt (3-3, 2-1) came back from a two-game losing streak to overtake Syracuse (4-2, 1-2) by a touchdown in overtime.
"I was saying all week Pitt's a dangerous team," Syracuse quarterback Eric Dungey said in a press conference following the game. "Unfortunately, we just weren't on the same page…but we'll get it fixed."
The Orange started strong: within two minutes, Dungey made a quick one-yard pass to tight end Aaron Hackett for a touchdown.
Later, the Orange defensive tackle Alton Robinson forced a Pitt fumble, which was recovered by linebacker Andrew Armstrong. Running back Jarveon Howard rushed two yards for another Syracuse touchdown, giving 'Cuse a 14-0 lead.
Less than a minute later, the Panthers came back with a 69-yard rush from running back Qadree Ollison and didn't let up. Pitt linebacker Quintin Wirginis forced a Syracuse fumble, which was recovered by Pitt defensive back Dane Jackson — who then ran the ball 35 yards for a touchdown toward the end of the first quarter.
Pitt went on to score 20 points without a comeback from Syracuse until Andre Szmyt kicked a 33-yard field goal with 1:30 left in the half.
"Obviously, we are really disappointed that we couldn't come home with a victory, but we didn't give it away," Syracuse Head Coach Dino Babers said in a post-game press conference. "This was really a hard-fought contest between two teams who really wanted to win."
With 0:17 left in the half, Pitt quarterback Kenny Pickett threw an interception to Syracuse defensive back Christopher Fredrick, but the Orange were unable to score again before the end of the half.
The Panthers started the second half with a 68-yard running touchdown from Rafael Araujo-Lopes, and the flood gates opened — literally. A downpour had spectators and players running for shelter, and the game was delayed at 2:16 p.m.
Weather Delay and Comeback
After an hour and nine-minute weather delay, the Orange came to play. With 8:12 left in the third, Howard rushed five yards for his second touchdown, barreling through each and every player in his way.
"I was just in the moment, just taking [it] play by play," Howard said in a post-game interview. "I was just doing it to help the team. I know they needed me, [so] I just did what I could."
In a third-and-10 situation, Dungey saw no passing options and ran the ball himself 21 yards through a wide-open space and dove into the end zone for a Syracuse touchdown, giving the Orange the lead once again. Szmyt added a field goal a few minutes later, increasing the score to 34-27.
Later, Pitt running back Darrin Hall called for the snap, faked a hand-off and ran the ball in 7 yards for a touchdown, tying the game with almost 8 minutes left.
Szmyt would help the Orange regain the lead once again after a 54-yard field goal to bring the game to 37-34.
Syracuse's defensive line kept the Panthers away from the end zone at the end of the fourth quarter, but with a 45-yard field goal, Kessman tied the game with 8 seconds left.
It's Not Over Yet
Syracuse won the coin toss and elected to go on defense first.
On the third down, Hall rushed three yards to get his elbow about two inches in the end zone for a touchdown.
On the first down of Syracuse's offensive drive, Dungey threw a long pass intended for wide receiver Nykeim Johnson, who was in the end zone, but it was picked off by Pitt's Therran Coleman.
"We had a one on one with Nykeim, so I had pressure on me and I wasn't able to really run into the throw — just throwing it to Nykeim and hoping he was going to make a play," Dungey said. "Unfortunately, the defender made a good play on the ball."
"I didn't perform the way I wanted to, but I know no matter what that they trust me and, we're going to get it moving forward," Dungey said.
"As he goes, we go," Babers said about Dungey. "We like the things he does, and he's our guy and we aren't going to trade him."