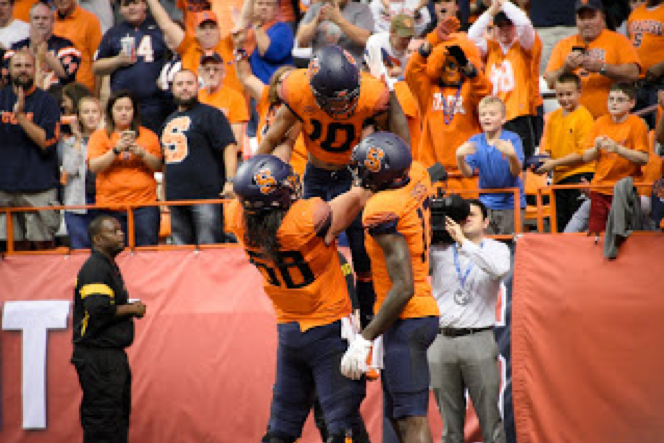 Syracuse Dismantles Connecticut to Remain Undefeated
Story by Jonathan LaRowe
Photos by Sunny Tsai
SYRACUSE, N.Y. – With a 51-21 win over the Connecticut Huskies, the Orange reached 4-0 to start the season for the first time since 1991.
"I'm just really proud of those young men," head coach Dino Babers said.
The Orange struck early and often against a Husky defense that has struggled mightily all season. Syracuse quarterback Eric Dungey accounted for three touchdowns in the first quarter to propel the Orange to an early 21-0 lead. Dungey showed off his trademark running ability with his first two scores coming on the ground.
"I try to be the best leader that I can," Dungey said. "I think a lot of these guys are starting to buy in and it's awesome to see."
Connecticut quarterback David Pindell answered with a rushing score of his own, a 75-yard scamper in the first quarter that put the Huskies on the board. Syracuse quickly responded with a field goal that extended the lead to three scores again.
Connecticut started the second quarter with another touchdown to cut the Syracuse lead to 10 and put a temporary halt on the Syracuse blowout. However, the Orange slammed the door on the Husky comeback attempt by the third quarter, scoring three more times, to increase the lead to 41-14.
Two Breakout Performances
While Eric Dungey continued his record-setting pace for the Syracuse offense totaling five touchdowns in the game, the win showcased a breakout performance from junior wide receiver Sean Riley. Riley electrified the Carrier Dome crowd with two highlight-reel plays in the second half.
Riley started the scoring in the third quarter with a 69-yard punt return for a touchdown. He found the end zone again in the fourth quarter with a 49-yard touchdown reception to answer a Husky touchdown.
"He's a really exciting player," Babers said. "I'm really excited for him. Now I need to challenge him to see if we can bring that same type of explosiveness into some ACC games because we sure do need it."
The Syracuse offense amassed over 600 yards of total offense on the day, but another one of the standout performers for the Orange was on the other side of the ball. Junior defensive end Alton Robinson led the defense with three sacks, a career high.
"Alton is playing at a very, very high level," Babers said.
Syracuse will face a major challenge next week on the road against ACC powerhouse Clemson.