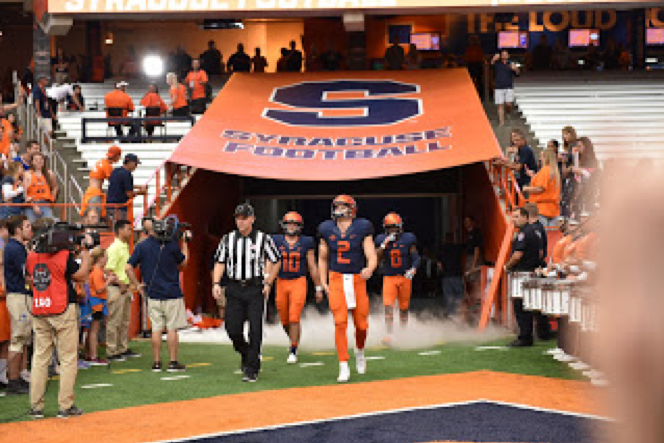 Syracuse Football's Defense Makes Strides Against Wagner
Story by Trevor Kriley
Photos by Isis Young
Syracuse, N.Y. – Walking into the Carrier Dome is an electric feeling. The architecture itself screams that this place is different from any other venue in the country, and the fans back that up. So many spectators, absolutely draped in orange, pumped life into the great, indoor arena. Certainly, there was a story in the fact that the Syracuse offense scored 62 points, 45 of which came in the first half. However, the life that the Dome atmosphere and its fans instilled into the Orange defense was even more impressive. After allowing 42 points to the Western Michigan Broncos on August 31st, something appeared to shift in the defense's mindset.
Wagner's opening drive told the story of what encompassed the next three and half hours of their visit to upstate New York. Following a delay of game penalty and a couple of pass attempts, a raucous third down ensued in which Andre Cisco whipped across the field to intercept a pass from quarterback Luke Massei. This ultimately led to an acrobatic diving catch by wide receiver Sean Riley that only served to propel the Syracuse defense into even greater play. This cycle of Orange energy continued into Wagner's next drive where Cisco was once again in the right place at the right time, allowing him to pick off T.J. Linta this time.
This marked the first time since 2012 that an Orange player recorded multiple interceptions in a single game when Keon Lyn did so against Temple. The impressive thing here: Cisco managed this feat in under five minutes of game time.
Dominant Force
From here on out, it was more of the same. The Syracuse defense was a dominant force on the field rarely allowing the Seahawks into Orange territory. Wagner was facing a monster that was hungry for interceptions and fumble recoveries every time its offense trotted out onto the field. "Turnovers are everything. They're such momentum changers," head coach Dino Babers said. Though there were few such swings of momentum in this game, the Orange defense made sure Wagner did not have the chance to gain any kind of traction.
After last week's games at Western Michigan, fans witnessed the Syracuse offense's ability to put up big numbers. Surely though, many were concerned about the team's play on the other side of the ball. While Wagner may not be a top tier opponent, the mere ten points the Orange defense allowed is a promising step in the right direction.