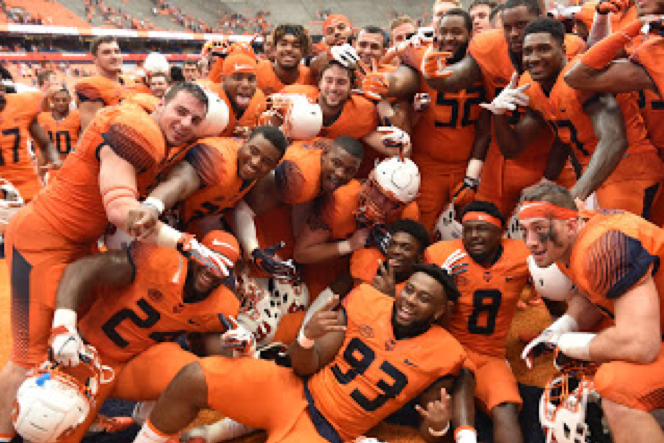 Syracuse Dominates Florida State in the Dome
Story by Daniel Booth
Photos by Kendra Sheehan  
SYRACUSE, N.Y.- The Syracuse Orange opened ACC play with a 30 to 7 win over the Florida State Seminoles.The combination of defensive dominance and offensive firepower paved the way for a colossal upset.
"It was not trickery, it was just lining up and whooping the guy in front of them", head coach Dino Babers said. This is the first time Syracuse has defeated Florida State since 1966.
Defensive Dominance
The Orange defense held the Seminoles to 1 for 14 on third down conversions, and sacked Florida State quarterback Deondre Francois four times.
"I was most proud about the way the D-line played", coach Babers said. "Defensive ends and defensive tackles were winning their one on one battles, and as a coach that's what gets you fired up."
Defensive end Kendall Coleman is responsible for two of the four sacks, and was in the backfield all afternoon. Coach Babers praised his defensive coaching staff led by coordinator Brian Ward, for their ability to execute their game plan at an exceptionally high level.
Ready or Not.
Syracuse quarterback Eric Dungey suffered an injury late in the second quarter after being struck in the eye. Due to Dungey's impaired vision, coach Babers decided to bring in redshirt freshman quarterback Tommy DeVito. DeVito piloted the Orange offense to five scoring drives, four of which came in the second half. At the 6:55 mark in the third quarter, DeVito scored Syracuse's first touchdown of the contest with a three yard run. About three minutes later, DeVito connected with senior tight end Ravian Pierce for a three yard touchdown pass. "The guys were locked in and they didn't lose any focus, the effort was continuous throughout all four quarters", coach Babers said. An explosive 14 point third quarter gave Syracuse a commanding 20-0 lead heading into the fourth. A solid 20 point lead proved to be more than enough to bury the Seminoles.
A Win Feels Good.
This high-profile win on national television bodes well for the persona of Syracuse's program moving forward. Coach Babers hopes a win of this magnitude will shine a spotlight on his program, and raise expectations for years to come. The Orange defense only allowed Florida State to score seven points, and the offense tallied up 441 yards of total offense.
Coach Babers led the well deserved locker room celebration after the game. "We need to enjoy this and then we need to get back to work, because we want to be consistent, and not occasional", coach Babers said. This win improves the Orange to 3-0 on the young season. Next Saturday, Syracuse will look to stay unbeaten against the University of Connecticut, at 4:00pmEST in the Carrier Dome.