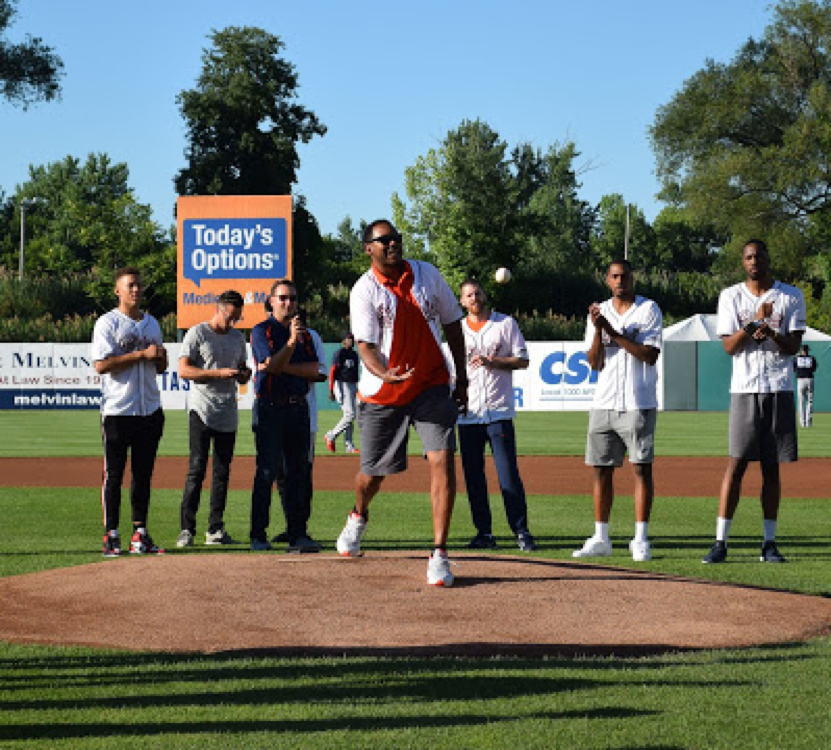 Former Syracuse standout leads Boeheim's Army
Story and Photo by Dakota Palmer
Before the Syracuse Chiefs took on the Louisville Bats in the first game of a four-game series on Thursday night, some familiar faces took the field: Boeheim's Army. As the team gears up to take on either the South Jamaica Kings or the Philadelphia Stars in this weekend's round of The Basketball Tournament, they stopped by NBT Stadium to throw first pitches and sign autographs for Orange fans.
While the basketball squad stood at the pitcher's mound donning their honorary Syracuse Chiefs jerseys, one man stood out among the rest: Ryan Blackwell.
Blackwell, the last to throw out a pitch, stood with his jersey unbuttoned and open, revealing the orange polo hidden underneath — a symbol of his Syracuse pride. While he's played professional basketball internationally— France, Portugal, England and Japan — he's back in Syracuse as both the Boeheim's Army coach and the Liverpool High boys basketball coach.
After transferring to Syracuse from the University of Illinois, Blackwell was a starting forward for three seasons. Playing nearly 3,500 minutes in his Syracuse career, Blackwell started in all 100 games he played in. He led in rebounds both his sophomore and junior years.
Blackwell, the head coach at Liverpool since 2015, said this past season was a "complete turnaround" from the 2016-17 season. In April, he was named the USA Today New York State Basketball Coach of the Year for his work at Liverpool High.
"We got to state finals (last year), lost, and then this year went 26-0 and won the school's first ever state title," he said. "I just told the guys, 'it's a marathon over a sprint.' They had to just get to work and work on the things we needed to."
A coach of about 16 kids, Blackwell said winning the first state title in the school's history was huge.
"This is my third year there, and to be able to come in and turn the program around…the best part about it is that we had great kids," he said. "They were easy to coach, they were fun to coach, and it made it even more special."
Blackwell said he had the Army come in and help the boys practice.
"They didn't like that," he said while laughing. "But it ended up being great for them, for us, for our team overall, and then we just did what we had to do."
He said he learned some key lessons from his time at 'Cuse that he brings to his players each day: "Work hard, be tough mentally, hold yourself accountable, [and] it's no one else's fault except for yours. If you utilize your teammates and obviously work as a unit, good things can happen."
In 2017, Blackwell was named head coach of Boeheim's Army and led the team to become the Northeast Regional Champions the same year. Blackwell feels confident about the tournament this weekend.
"I think it'll go great," he said. "We've got everything we need. As long as we share the ball, move the ball, rebound — we'll be fine."
Center for the Army Dashonte Riley said Blackwell is a player's coach.
"He's a really personable guy and has a good IQ for the game," Riley, who transferred to Eastern Michigan, said. "He's leading us to victory in this tournament."
Shooting guard Brandon Triche '13 also emphasized Blackwell being a player's coach.
"He pretty much just looks at what we like to do and how each player has their attributes, and we try to have different plays for each other," he said. "I mean, he's laid back, he's a great coach — obviously he knows his stuff. It's great playing for him."
Boeheim's Army will play in Brooklyn on Saturday against the winner of the South Jamaica Kings and Philadelphia Stars game. The game will be broadcast on ESPN3.