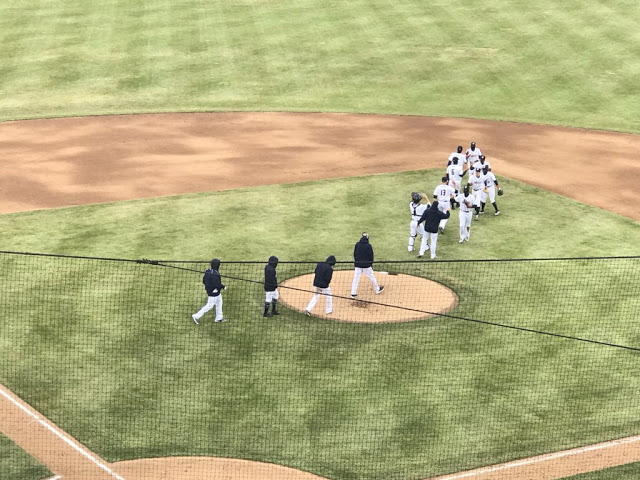 Chiefs Crash Tides on Frigid Saturday
Story and photo by Corey Crisan
Syracuse, N.Y. — A chilly Saturday of matinee baseball resulted in a solid offensive day for the Syracuse Chiefs against the Norfolk Tides. The Chiefs earned at least a four-game series split with Norfolk as they cruised to a 6-1 win at NBT Bank Stadium.
Chiefs starter Edwin Jackson was very effective in his second start of the young season. The 34-year old veteran logged two perfect innings before Norfolk No. 8 hitter Joey Rickard singled in the third inning. Jackson went on to throw five innings of two-hit baseball while walking two and striking out four against his former team.
"He's battling the cold just like everybody else," Chiefs manager Randy Knorr said after the game. "He's never going to give in, he's going to be there, and he showed it today."
The Chiefs were the first to score on Saturday, doing so in the third inning. Rafael Bautista led off with a single and Andrew Stevenson was hit by a pitch. As Syracuse attempted a hit-and-double steal, Adrian Sanchez grounded to Tides second baseman Anderson Feliz. Feliz went to touch the base to induce a force out but Stevenson beat the play and was called safe. Sanchez was out on Feliz's throw to first.
With runners on second and third and one out, Jose Marmolejos grounded to short and Bautista scored the game's first run.
Norfolk responded in the top of the fourth. Michael Saunders walked, advanced on a groundout and stole third base. DJ Stewart then knocked him in with an RBI single to tie the game at 1-1. The score remained that way until the bottom of the sixth.
Marmolejos reached on a fielding error by Feliz. Tides starter Jayson Aquino, who replaced the last-minute scratch David Hess, surrendered walks to Chris Dominguez and Alejandro De Aza to load the bases with no outs.
Irving Falu stepped in and ripped a 1-1 double over the head of Stewart in left field, clearing the bases and giving the Chiefs a 4-1 lead. Two batters later, Chiefs catcher Tuffy Gosewisch lofted an RBI double down the left field line to bring in Falu, extending the Chiefs lead to 5-1 with one out in the sixth. After Bautista struck out looking, Stevenson and Sanchez walked to load the bases, Marmolejos grounded out to Tides first baseman Garabez Rosa to end the inning. The Chiefs scored four runs on just two base hits in the sixth inning.
"Every pitch, he threw me a changeup," Falu described his at-bat. "I think I hit the changeup."
Norfolk failed to advance a runner past first base in the seventh, and they went in order in the eighth as Syracuse added a bonus run thanks to an RBI single from Sanchez.
The Tides offense was quiet on Saturday. The only runner to advance past second base was the only run scored. Only six runners reached base.
The Chiefs (6-3) maintain at least a share of first place in the International League North Division with its win on Saturday. A total of 1,535 were in attendance on the 40-degree day in Syracuse.
From the Manager
Chiefs catcher Tuffy Gosewisch started his first game – Major or Minor League – on Saturday. He finished 2-for-4 with a pair of doubles and an RBI at the plate.
"I was surprised offensively with Tuffy because he hasn't done anything in a couple of weeks," Knorr said. "I wanted to get him in there, get him going a little bit, I don't want him sitting there too long."
Chiefs No. 3 and No. 4 hitters Jose Marmolejos and Chris Dominguez scored a run each on Saturday. Marmolejos drove a run in, and Dominguez extended his batting average to .303 on the season.
"They protect each other as hitters," Knorr said. "We're going to keep it like that for a while. They talk a lot in between at-bats, they have a good rapport with each other."
What's Next
The Chiefs and Tides conclude their series on Sunday. First pitch is scheduled for 1:05 p.m. at NBT Bank Stadium. The Chiefs begin a three-game series with the Indianapolis Indians on Monday evening in Syracuse.