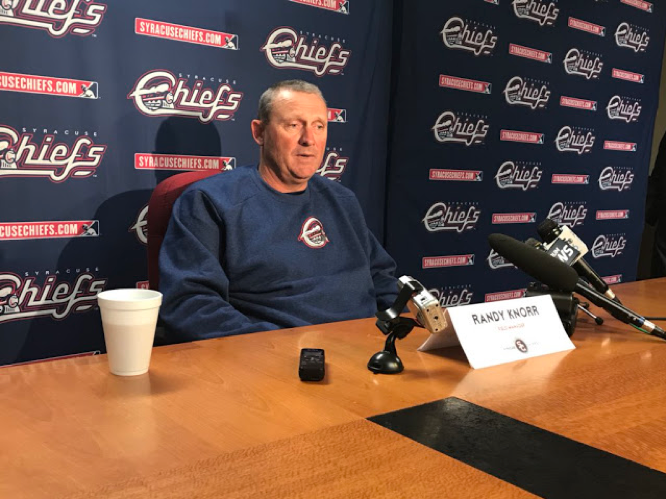 Syracuse Chiefs Prepare for 2018 Season
Story and photo by Corey Crisan
Syracuse, N.Y. — Optimism is high in Central New York as the Syracuse Chiefs open its season on Friday. A 2017 season that included a last-place finish in the International League North Division goes from forgettable to forgotten as new expectations flow throughout a new clubhouse and new leadership.
Randy Knorr replaces Billy Gardner, Jr. as the Chiefs manager. Knorr is entering his second stint in Syracuse. He previously managed the Chiefs in 2011. That season, Syracuse finished with a 66-74 record en route to a fourth place finish in the IL North.
Knorr spent 2012 through 2015 as the parent Washington Nationals' bench coach under former managers Davey Johnson and Matt Williams. In 2016 and 2017, Knorr spent time in the Nationals system as a player development advisor. Despite having a job that required a lot of travel and interaction with the front office, Knorr missed being in the dugout.
"I like it so much better on the field," Knorr said at the Chiefs media day on Wednesday. "I like to communicate with the players. I like the development part. When I was in the big leagues as a bench coach, I still did develop… I missed that… I like to be around the players and talk to them."
Syracuse has the expectation to improve from its prior season.
"In Spring Training, when we got the guys together, I really liked the chemistry," Knorr said. "The all get along with each other, they push each other, and for that reason, I think it's going to be a better year."
Knorr also noted his perspective on what his roster is capable of this season.
"We can do a lot of things," he said. "We have speed. I like our starting pitching – the bullpen guys all have experience."
A Polished Prospect
As does every other regular Minor League season, the Chiefs Opening Day roster expects to feature new faces that are making their progressions towards either 40-man roster spots, to their Major League debuts, to return to the Washington Nationals' roster, or a combination of the three. The main event on this roster is outfielder Victor Robles.
Robles is one of the top prospects in all of Major League Baseball. MLB Pipeline says Robles is the No. 6 overall prospect, and Baseball America says he is the No. 5 overall prospect in the minors. Expectedly so, he is ranked first in the Nationals organization by MLB Pipeline and Baseball America. He is on the cusp of returning to Washington and could do so with a hot start in Syracuse.
"He's a special player; he really is," Knorr noted about Robles. "He can do a lot. They talk about five tools, and I like to talk about the sixth tool, and that's mentally, how you play the game. He's not far from that, either, and I think that's the last step for him… Once he gets that, he'll be well on its way."
Robles spent time in Washington in 2017. He made his Major League debut on September 7th  against Philadelphia and made the Nationals' NLDS roster versus Chicago. Robles appeared in two games and scored a run in the NLDS.
As far as development is concerned, Robles recognizes he still has some work to do.
"Base stealing, getting good jumps," Robles put into basic terms through translator and teammate Chris Dominguez. "The (offseason) work that I did flourished in Spring Training. They're depending on me to do the job during the spring, and I just did the best I could."
Robles succeeded in 2017 and made his Major League debut without logging a single inning of playing time at the Triple-A level in Syracuse. He hit for a .324/.394/.489 batting average, on-base percentage, and slugging percentage slash line with 16 extra-base hits, 11 stolen bases, and an .883 OPS in 37 games with Double-A Harrisburg. He also logged some time in Advanced-A Potomac, where he hit .289 and stole 16 bases in 77 games. By the way, he's only 20 years old.
Familiar Suspects
Robles is not the only show in town this season. Fellow Nationals center field prospect and 2017 Syracuse Chief Andrew Stevenson is returning by virtue of a logjam in Washington's outfield. The Nationals currently list Bryce Harper, Adam Eaton, Michael Taylor, Brian Goodwin, and Howie Kendrick as its outfielders on the 25-man roster. Taylor, Harper, and Goodwin logged over 70 games played each in 2017, and Kendrick signed a two-year deal worth $7 million after playing 52 games with the Nationals last season.
Stevenson slashed .272/.326/.344 in 99 games between Syracuse and Harrisburg. He's entering his age-24 season, so he'll have plenty of time to polish his skills alongside Robles in the outfield while the Nationals organization deals with this good problem of an outfield overload. He will also have plenty of chances to make more amazing catches like this in Syracuse.
Another returning face to the Chiefs roster is starting pitcher Erick Fedde. Ranked the top pitching prospect in the Nationals organization by MLB Pipeline and Baseball America, Fedde was called up for a cup of coffee with the Nationals last season due to some injuries. He started three games in Washington and gave up 16 earned runs, including five home runs, in 15 1/3 innings. Considering he spent time across three levels (AA, AAA, MLB) last season, his return to Syracuse to continue developing should not be too surprising.
"We pushed (Fedde) pretty hard last year," Knorr said. "We're going to keep an eye on him. There might some games where we keep him short. He might go five innings and unhittable, but we're looking at the future, because we think at some point, he's going to be back in the big leagues, and he needs those innings for the stretch (postseason) run."
In addition to Stevenson and Fedde, other returning Chiefs players from last season include pitchers Austin Adams, Edwin Jackson, Jaron Long, John Simms, and Austin Voth. Position players Spencer Kieboom, Jhonatan Solano, Michael Almanzar, Irving Falu, Adrian Sanchez, and Alejandro De Aza will also return to Syracuse to begin the 2018 season.
Power Potential
First baseman/outfield hybrid Jose Marmolejos is the No. 22 overall prospect in the Nationals system, and he projects to make an impact in Syracuse this season. Marmolejos spent the 2017 season in Harrisburg, and he has some power to boot. Scouts list his power tool to be around a 45 on the 20-80 scale (explained here), which equates to around 12-15 projected home runs per season. Syracuse is used to seeing power come from the first base position. Three of the top four home run hitters in 2017 were first basemen by trade: Clint Robinson (18 HR), Neftali Soto (14), and Matt Skole (11). Robinson and Soto are now free agents, and Skole is a member of the Chicago White Sox organization, leaving room for Marmolejos to step in. Marmolejos slashed .288/.361/.458 with 14 home runs and 18 doubles in Harrisburg last season.
Another power threat comes from newcomer Moises Sierra, who signed with Washington as a free agent on January 10. Sierra spent 2017 in the Pacific Coast League with the New Orleans Baby Cakes (and its logo), an affiliate of the Miami Marlins. Sierra slashed .294/.361/.438 and hit 11 home runs in 123 games for New Orleans. Sierra is a veteran on this Chiefs roster; he's entering his age-29 season.
Veteran Leaders
As the Minor Leagues are typically meant for growth of Major League prospects, sometimes that is not the case. Three players on the Chiefs roster – all returning from 2017 stints in Syracuse – have a combined 28 seasons of Major League service time. They also combine for a youthful age of 101 years old. Those players are starting pitcher Edwin Jackson, infielder Irving Falu, and outfielder Alejandro De Aza.
"De Aza is a great human being," Knorr said. "I think (De Aza and Moises Sierra are) going to help (Robles) out quite a bit… They're unbelievable with him."
De Aza embraces the role as a veteran mentor to the rest of the team, and especially to the 20-year old Victor Robles.
"My role is to play the game right and try to help him in any way that I can," De Aza said. "If there's anything I can help him with, then I'm more than welcome to do it."
Edwin Jackson has 15 years of Major League experience under his belt, dating back to 2003 when he was a teenager with the Los Angeles Dodgers.
"Once it gets old, that's probably when I'll go home," Jackson said. "I've been from the bottom of the game to the top of the game. I've experienced a lot in my career, both good and bad. That helps, passing information (to younger players) and being able to help them get through different situations that they're in (and) that I've already been through."
Getting Underway
The Chiefs open its season on a six-game road trip. They will play the first three in Scranton, PA versus the IL North Division defending champion RailRiders, then they will travel to Rochester to face the Red Wings before returning to Syracuse for its home opener on Thursday April 12 versus Norfolk.
As far as pitching probables are concerned, manager Randy Knorr mentioned a temporary rotation of Austin Voth, Tommy Milone, Erick Fedde, Edwin Jackson and Cesar Vargas. Much like the Opening Day roster, that is subject to change as of Wednesday's media day.
Follow Corey on twitter @cdcrisan.