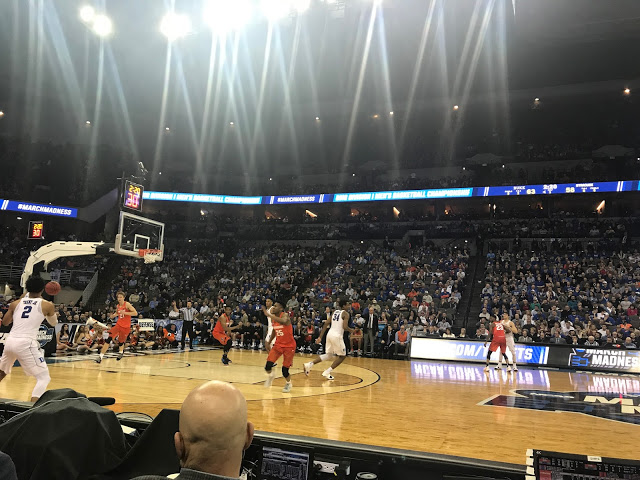 Road Ends in Omaha Syracuse Falls to ACC Foe Duke
Story and Photo by Tyler Dudley 
Omaha, Neb. – Syracuse fell to familiar ACC foe,  the Duke Blue Devils in heartbreaking fashion, 69-65, Friday night in the Sweet Sixteen match up of the NCAA Tournament.
New Team 
The last time these two teams met was back in February at Cameron Indoor Stadium. Playing in Duke's territory was difficult. Duke held Syracuse to only 16 points in he first half, that time around. However, these weren't the same teams that fans saw back in February and that showed.
"We're both different," Duke head coach Mike Krzyzewski said. "The game we played in Durham, I didn't think either team played very well. There wasn't a lot of energy in that game. They're better and we're better."
Headed into half-time Syracuse was trailing 34-27; Duke ended the half on a 10-0 run.
Coach Krzyzewski was impressed with the Syracuse offense and Battle, as well.
"Battle is one of the best players in the country," Coach K said. "And I thought he really kept them in the game in the first half, and he's poised. He's a big-time player. I love Tyus. And he can play really any position."
Syracuse's zone defense was their strength during the last three games, but it wasn't the case this time around. The Orange shot 49 percent from the field, but it just wasn't enough.
"Tonight, things weren't going our way for a long time, but they just kept coming back," Syracuse head coach Jim Boeheim said. "They've got as good an offensive team as you're going to find. And we've done a very good job with them both games. But tonight we were better offensively, just not quite good enough."
The Orange were able to stay with the Blue Devils for a good portion of the first half, but let it slip away within the last seconds.
Power Five 
Cardiac 'Cuse was in full effect tonight as the Orange brought the game down to the last wire.
On the last play of the game, Battle drove outside the wing and tried to break through to shoot and draw a foul, but it was no good. Duke took this one right out of Syracuse's hands, but it wasn't without a tough fight.
"They've done just about everything you could hope for. And they deserve an unbelievable amount of credit," Boeheim said.
Duke won the tip-off but were held to no points on the opening drive.
Syracuse center Paschal Chukwu put Syracuse on the board after slamming it to the basket off a high lob from Marek Dolezaj. Chukwu powered through and jumped up to the basket. Despite having four fouls, he pulled through until the end.
Frank Howard has been strong offensively for the Orange, but he struggled against Duke's heavy defense. He only had six points in the game with eight rebounds.
Marek Dolezaj was benched with eight minutes to go in the first half after picking up his third foul of the game. He ended the first half with two points but was ready to play in the second,  he ended the game with seven rebounds and eight points.
Tyus Battle came up with some last minute clutch shots to lead the team with 19 points and five assists.
"It hurts right now… but… I couldn't be more proud of this team, and just to see these guys grow as the season went on, it's been an amazing run," Tyus Battle said.  And I'm just happy to be a part of it."
Both offenses got the ball rolling right from the start. There was a lot of back and forth on the court as both teams kept a steady pace in scoring.
Duke and Syracuse both had their ups and downs.
"It was a battle. It was a fight," Duke guard Grayson Allen said. "We knew it was probably going to be close all the way down to the wire."
Allen struggled banking shots from beyond the arc. He shot 3-14 from the three and ended the game with 15 points and eight, notable, assists.
Wendell Carter Jr. and Marvin Bagley III were able to find open looks as they had a combined 36 points for the Blue Devils.
On the contrary, Syracuse was unlucky in getting the ball to fall inside the basket.
"We just couldn't get the ball in the basket. They got easy ones," Oshea Brissett said.
Brisett was held to two points in the first half, shooting 1-8 from the field. He ended the game with 15 points and seven rebounds. At their last meeting in Cameron Indoor Stadium, Brissett shot 2-13, and only scored six points.
Finding open looks and getting the ball to fall was key to the Blue Devils pulling away from the Orange.
End of the Road 
Questions running around the locker room were whether or not Oshae Brissett will stick around for another season.
Despite having to deal with a tough loss, he was confident in his return.
"The guys that are coming in next year, I feel like I need to educate them and let them know a lot about how the season should be," Brissett said.
Coach Boeheim, despite the loss, was thoroughly impress with his team and made it well known.
"… What these guys have accomplished, I don't think you can give them enough credit to be able to eat the teams we've beaten and play the defense the way we've played it," Boeheim said. "So these guys deserve an awful lot of credit. I'm really proud of these guys. They've done just about everything you could hope for… they deserve an unbelievable amount of credit."
With three top-recruits coming in next year, fans have hope for a good team. People were doubting 'Cuse's ability to make the tournament to begin with, yet they advanced to the Sweet Sixteen.
"I've never been any more proud of a team for what they've done in this last ten days," Boeheim said. "We didn't play anywhere near as good as we can play tonight. So these guys deserve an awful lot of credit."
There's no telling what this team's ability will be next year.