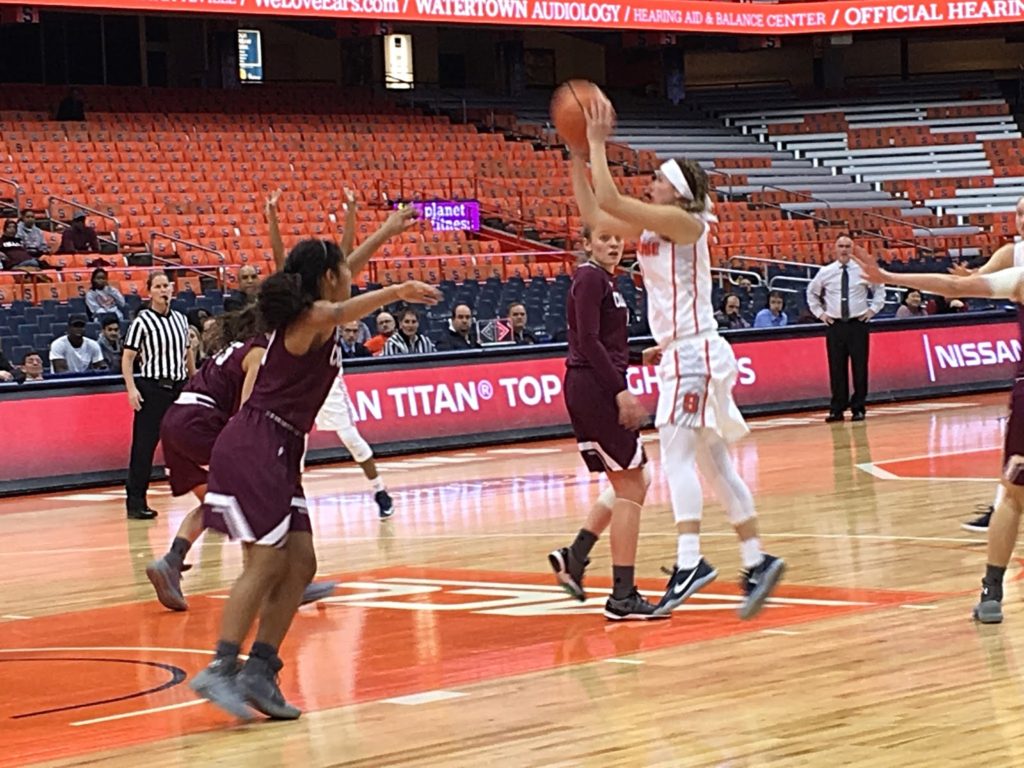 Orange Remain Undefeated After Facing Colgate
Story and Photo by Erica Pieschke
Syracuse, N.Y. – Colgate Raiders did not have a chance against the Syracuse Orange Wednesday night with a final score of 79-39.
After a close win in overtime against Stony Brook on Sunday, the Orange came out determined to regain their confidence and continue their undefeated season. And that is exactly what they did.
"I wanted to make sure we came back ready to play and have a solid game plan," head coach Quentin Hillsman said. "We stuck to it tonight and we had a good result."
The Return of Colgate
These two teams have faced each other 13 times in SU history, but have not played in nearly six years against each other. After Wednesday night's game, Syracuse held onto the title making their record 14-0 against Colgate.
Colgate fought hard but it was not enough to make it past Syracuse. Nia Ahart was the leading scorer for the Raiders, with nine points in the game.
First Half Take Down
Syracuse showed no mercy out of the gates, ending the first half 51-16. Kicking off the game, Digna Strautmane hit two quick shots and a three pointer, but her aggressive playing turned into her first, and only, foul of the night.
Isis Young was the leading scorer on the court in the double digits with ten points. Tiana Mangakahi and Miranda Drummond walked away from the first half with nine points each.
Show No Mercy
Heading into the second half, Syracuse continued to push the lead. Coach Hillsman said it is important to play and coach a complete game.
"You've got to coach and play the whole game. I want them to play clean basketball and they deserve to be coached every minute that they are on the floor," Coach Hillsman said. "They're going to keep pushing the ball and playing the play, I'm going to keep coaching until we're done."
And the Cuse continued to push hard until the final buzzer.
Fresh Faces Continue to Shine
With only one returning starter from last season, Gabby Cooper, the majority of the Syracuse team has never played together. Despite the lack of experience as a unit, this team shows signs of chemistry and success early.
As one of the four undefeated teams in the Atlantic Coast Conference, the Orange have not let it go to their heads.
"We talk about it a little bit but it's not our main focus. We just have to stick to what we do best," guard Tiana Mangakahia said. "We do say let's keep this winning streak going to have energy and pursuing what we want to do next."