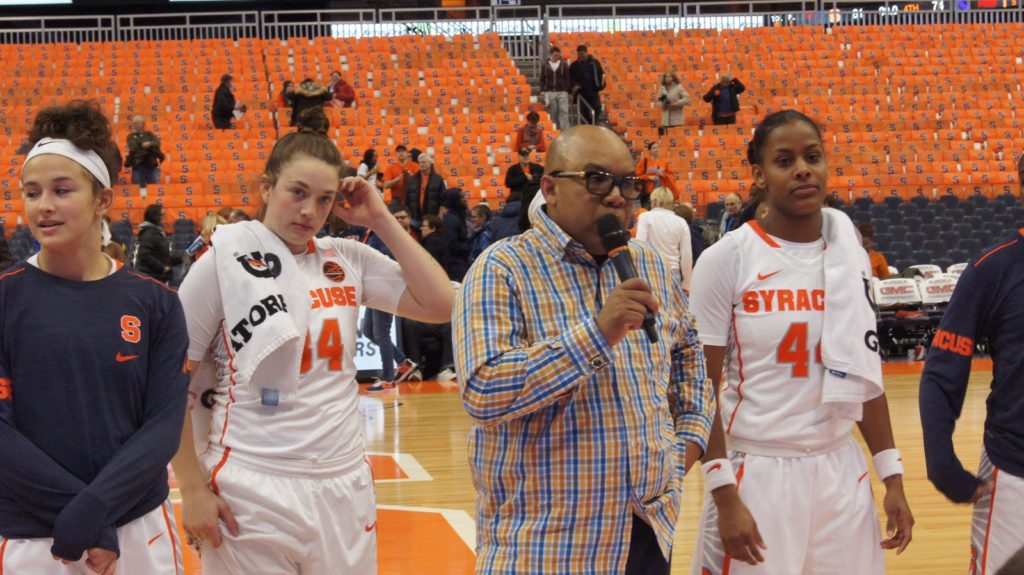 Syracuse Needs Overtime to Secure the Win Against Stony Brook
Story by Ivan Traczuk
Syracuse, N.Y. – What started as a game of runs ended with aggressive back and forth play as the Syracuse women's basketball team notched a win Sunday at the Carrier Dome. The Orange defeated the Seawolves of Stony Brook University 81-70 in overtime to stay a perfect 8-0. Stony Brook loses its second straight game and falls to 5-2.
Syracuse Starts Strong
Syracuse carried their momentum from beating 25th ranked Northwestern just days before into the beginning of this game. They started red hot streaking to a 15-0 start behind a strong effort from team leaders Tiana Mangakahia and Miranda Drummond.
The two combined for 15 of the team's 24 first quarter points. Drummond finished with 23 total points, her third game this season recording more than 20 points. 

Stony Brook Has a Run of Their Own

Stony Brook's leading scorer Shania Johnson quickly felt a sense of urgency and led her team on a run of its own. Through tough defense and a fast moving offense, Stony Brook held the Orange scoreless for 8 minutes and 5 seconds while accumulating 16 points.
Johnson scored 8 of her team's 16 during that streak and finished with a team high 21 points.
When asked about Johnson's explosiveness, Syracuse Coach Quentin Hillsman said. "We knew how good she was going to be today and when we were able to stop her is when we found success."
Regaining Momentum

With 6:51 remaining in the third quarter, Syracuse was down 41-38. Coach Hillsman subbed in the transfer from Florida, Isis Young. Within two minutes, Young hits three three pointers to give Syracuse back the lead and the momentum.
Young finished with 12 points, all coming from clutch shots beyond the arch.
"Isis was tremendous off the bench," Hillsman says. "For me, Isis was really the one that won us the game today. I thought her play was huge."
Down The Stretch
With only 45 seconds left in regulation, Syracuse found themselves down by four points. Through disciplined defense forcing a five-second violation and fantastic lane penetration by Mangakahia,
Syracuse was able to tie the game up at 69 before the final buzzer. From there, the Orange rode the wave of momentum into a dominant overtime period.
The Syracuse defense played fierce recovering 10 rebounds and allowing their offense to score 12 points in the five-minute period. Stony Brook only scored 1. Mangakahia led her team down the stretch finishing with 29 points and 11 assists, good enough for her seventh double double in as many games.