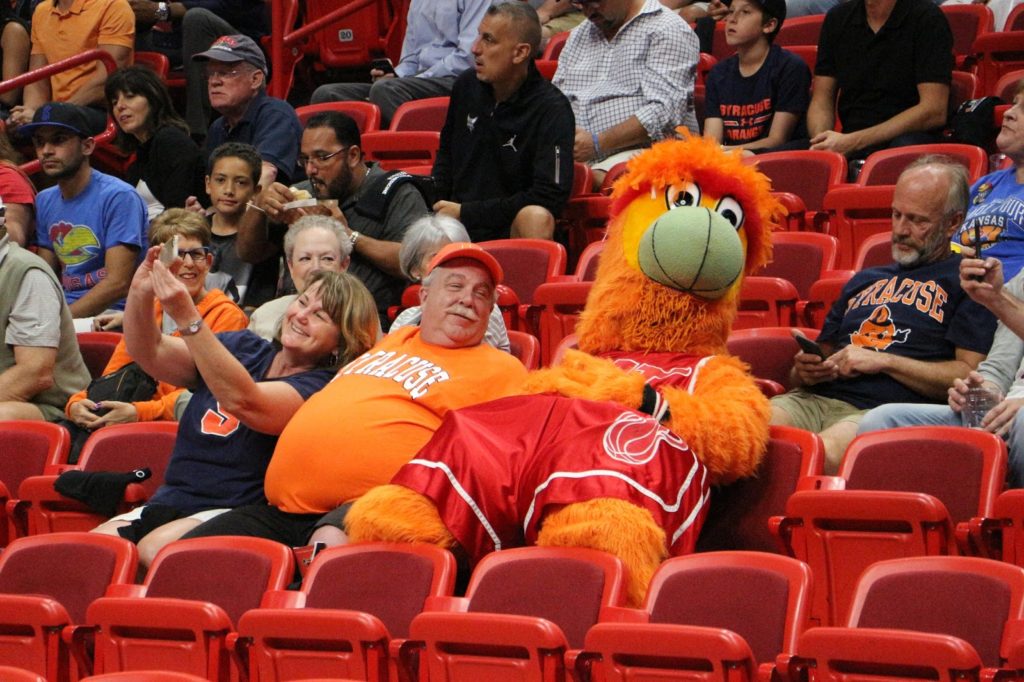 Syracuse falls to No. 2 Kansas in HoopHill Miami Invitational
Story by Brooke Meenachan
Photos by Epiphany Catling
Miami, Fla. —  No. 2 Kansas handed the Orange its first loss of the season 76-60 in the HoopHill Miami Invitational.
Despite the final outcome, the Orange proved it can hang with even the No. 2 ranked team in the nation.
"I thought our defense was good," Syracuse head coach Jim Boeheim said.  "Our offense kept shooting ourselves in the foot. The first half was bad offense. Down 21, I thought our guys dug down and made a great effort to get back in it."
Graham doesn't miss
Devonte Graham matched his career-high with 35 points for the second consecutive game. He shot 10-for-17, but it was his shot from behind the arc that kept the Jayhawks out of reach.
"Graham was really good today. He kept making a shot every time we needed something," Boeheim said.
The senior guard shot 7-for-13 from the perimeter over Syracuse's 2-3 zone.
"When we run our 2-3 zone, when the ball goes to the middle, we fan out," Graham said. "You've got to leave someone open, it's usually the guy at the top."
Battle takes command
Battle struggled to find his shot in the first half and his frustrations showed on the floor. He shot just 7-for-22 from the field and only made two of 11 shots from behind the arc.
"Your shot's not always going to fall. But you've got to keep on shooting," Battle said. "You've just got to stay aggressive and good things will happen."
Battle made his first 3-pointer of the game two minutes into the second half and the 6-foot-6 guard was starting to feel it.
He paced the Syracuse offense with 22 points, while Howard contributed 15 points and Oshae Brissett added 13.
Final minutes
Syracuse trailed by as much as 21 points early in the second half before Battle and Howard combined for 14 points in a 16-2 Orange run to cut the deficit 49-42.
The Orange finished the first half with 21 points and matched that number in just six minutes  in the second.
Kansas had a 64-57 lead with just over eight minutes to play, but Syracuse didn't go away. The Orange went 6-for-7 from the charity stripe and Howard connected on a mid-range jumper to bring Syracuse within nine.
The Jayhawks went on an 8-1 run in the final four minutes to seal the deal.
"This game was a great game for us," Boeheim said. "It was a great experience to figure out what we need to do in certain situations."