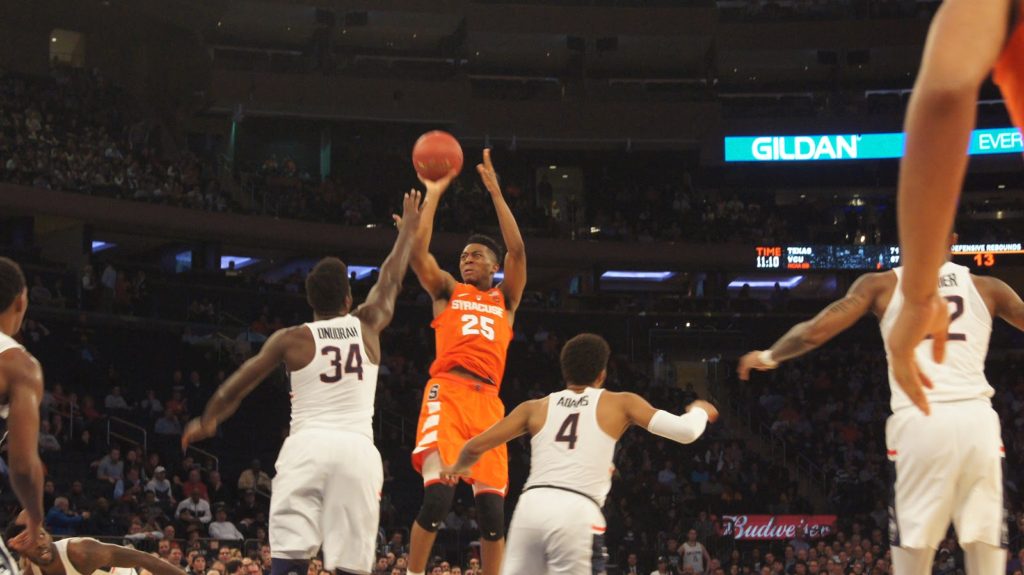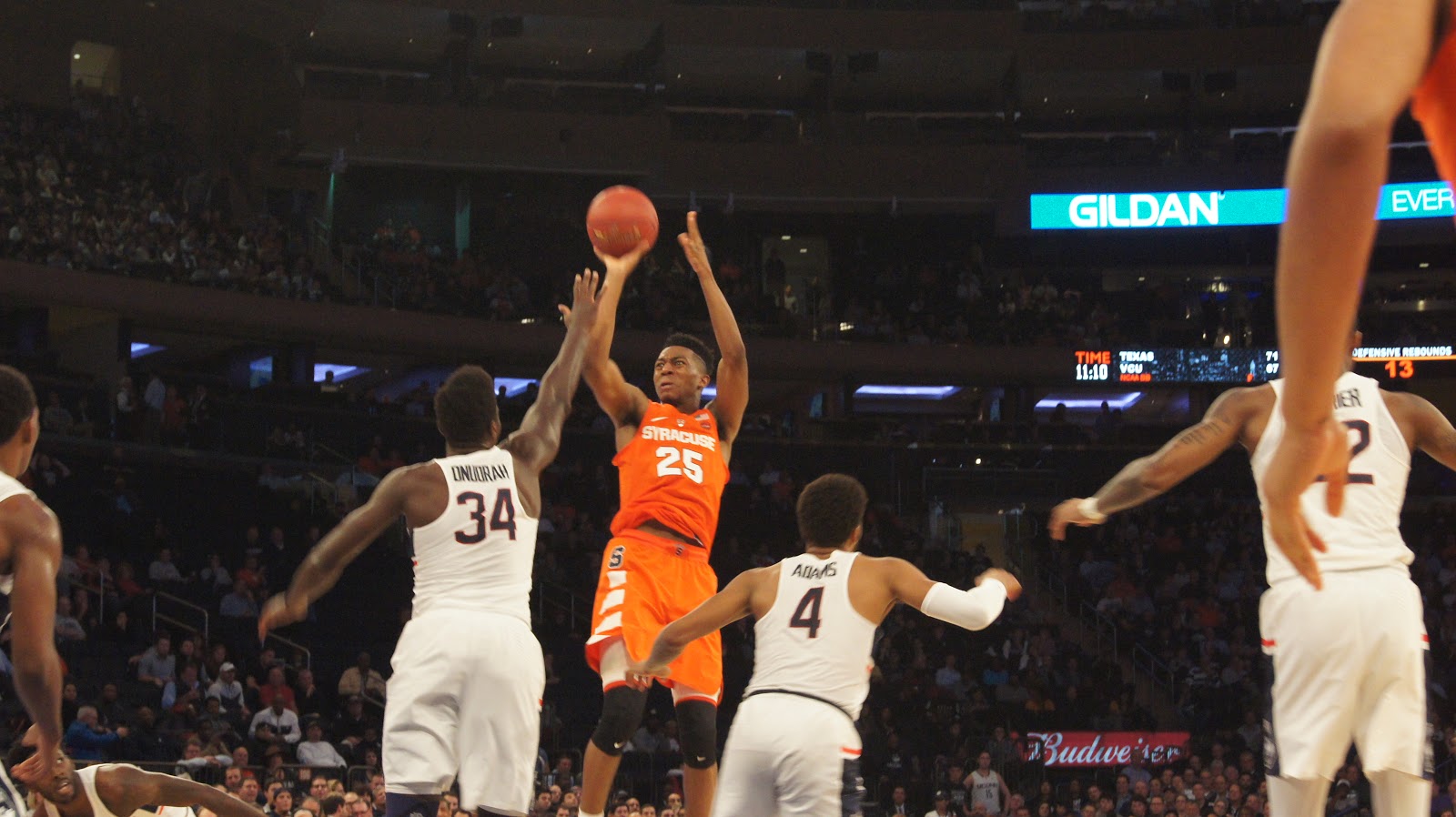 Syracuse Bounce Back With A Victory Against Rival Connecticut
Story by Ashley Burroughs
Photos by Zachary Staton
New York, N.Y. – Syracuse defeated Connecticut, 72-63, in the Jimmy V Classic in front of a packed crowd filled with Husky and Orange fans in Madison Square Garden.
"The story of the game was Matt Moyer had a huge game," head coach Jim Boheim said.  "He really struggled all year. He got offensive boards. He got three offensive rebound basket tips. He was a big difference in the game."
All Eyes On Matt Moyer
Red-shirt freshman Moyer had a breakout game at Madison Square Garden. Moyer scored five points including his first three point shot of the season to give the Orange an early,11-6, lead in the first half.
"The thing that Coach told me was I can't go out there and make nothing happen," Moyer said. "I gotta be aggressive. It's one thing if you go out there and make mistakes. But you gotta go out there and try to do something."
Moyer had the Syracuse crowd and bench on their feet when he made a tip-slam off of a missed  right corner three point shot by Oshae Brisset to extend Syracuse's lead 18-13.
"Oshae shot it and I was thinking, 'Why is nobody blocking me out? Are you serious?' The ball came off and I think I boosted off somebody," Moyer said. "I was, like, 'Whoa!' I slammed it in, I guess. The emotions just flowed out of me. This is a special place. Madison Square Garden. It's a special place."
At the half Syracuse led, 40-29, Moyer had 10 points and three rebounds for the Orange. He was one-point shy of his career high of 11 points when the team played Toledo.
Moyer finished the game with a new career high of 18 points and eight rebounds. He shot 7-of-9 against the Huskies.
"He's our teammate, so we're just so happy for him to play well and see good things going for him," Tyus Battle said. "And I know that really helped his confidence a lot."
The Orange Leading the Way
The Orange had two other players besides Moyer who were in double figures. Tyus Battle and Oshae Brissett combined for 38 points.
Battle led the team in scoring with 22 points on 8-of-18 shooting.
Brissett had his fourth double-double of the season. He scored 16 points and grabbed 10 rebounds.
In the second half, Battle hit back-to-back three point shots and a mid-range jumper that gave the Orange a 17 point lead but turnovers and fouls allowed the Huskies to chip away at the Orange.
Connecticut was able to cut the deficit to 11-points, 60-51, with 8:57 left to go but Paschal Chukwu made a major defensive play. He blocked the shot and prevented the Huskies from getting within single digits.
With 6:17 left to go, Chukwu fouled out the game and finished with six points and five rebounds.
Marek Dolezaj, forced to play center after Chukwu fouled out, made key plays down the stretch for the Orange. He stopped Connecticut's momentum with a steal that led to Brissett getting a dunk.
Moyer added another tip-in dunk to extend the Orange's lead, 67-57, but the Huskies continued to battle to cut the deficit.
Jalen Adams made a strong move to the basket and scored with 1:14 left to go to close the deficit, 68-61, but it wasn't enough as the Orange was able to bounce back and get a win on the road.