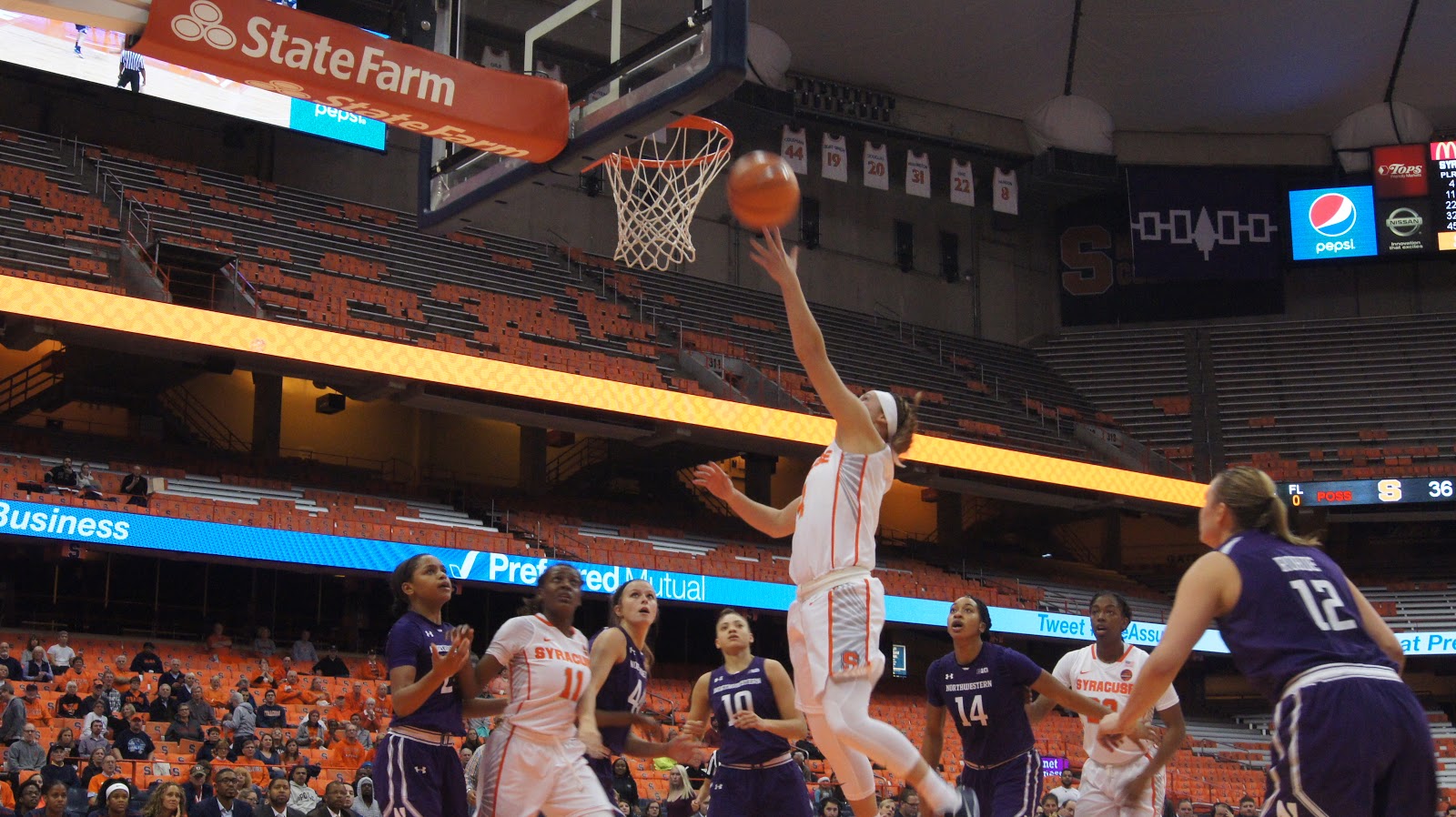 Orange Women Hold Off Wildcats, Stay Unbeaten
Story by Brooke Meenachan
Photos by Karthik Venkataraman
Syracuse, N.Y. — The ACC-Big Ten Challenge game between the No. 25 Syracuse Orange and Northwestern Wildcats lived up to the hype Thursday night at the Carrier Dome.
Syracuse came away with an 81-74 win to improve to 7-0 on the season. Northwestern drops to 5-3.
"I'm just happy we're keeping it rolling," Syracuse head coach Quentin Hillsman said. "That's the biggest thing for us, is to win games. Our girls are playing tough. They're really playing good basketball."
Orange Difference Makers 
Miranda Drummond and Tiana Mangakahia each posted a double-double, combining for 55 points for the Orange women.
Drummond led the offense with a career-high 29 points and tied her career-high with 11 boards.
Mangakahia also set a career-high with 26 points and finished with 12 assists.
"Pushing the ball on them was one of our key points going into that game, so we emphasized that and did that throughout the game," Mangakahia said. "When I was driving in I could see girls move into the open spots and open gaps, so that helps as well."
Wildcats' One-Woman Show
Lindsey Pulliam kept Northwestern in the game. The freshman paced the Wildcats with career-high 29 points. She posted 19 of them in the first half.
"I thought Lindsay played like a senior and not like a freshman," Northwestern head coach Joe McKeown said. "I was really proud of her, so I think she just raised the bar for us."
Hillsman agreed. "We didn't really slow her down. She was amazing. She had an amazing game."
But Pulliam drew her fourth foul with 9:16 left on the clock and the Wildcats trailing 57-55. She returned with just over six minutes remaining in the game.
Down the Stretch 
It was a back-and-forth battle all game, especially in the final minutes.
The teams were tied 60-60 with just over seven minutes remaining when Syracuse went on an 11-4 run.
A jumper from Abi Scheib put the Wildcats within three with 2:28 remaining.
But multiple turnovers by Northwestern and clutch free throws by Mangakahia down the stretch proved to be the difference.
"The coaches on the sideline were like, 'they can't guard you, attack, attack,'" Mangakahia said. "So, that helped me, attacking and they were fouling, so it played out good."
The Australia native hit 10-of-14 from the free throw line in the final three minutes. She's tied for third in SU women's basketball history for free throws made during one game.
"This is a game where we had to remain aggressive," Hillsman said. "We could have pretty much laid down in the second half, but they went full heart."
"I thought we did a great job attacking them and then we struggled a little bit,"McKeown added. "Then they did a great job attacking us and beat us to the rim in the fourth quarter. We had a lot of chances. We just didn't capitalize."
What's Next
The Orange hosts Stony Brook (5-0) Sunday at 2 p.m.
The Wildcats return home to welcome Milwaukee (3-2) Sunday at 2 p.m.