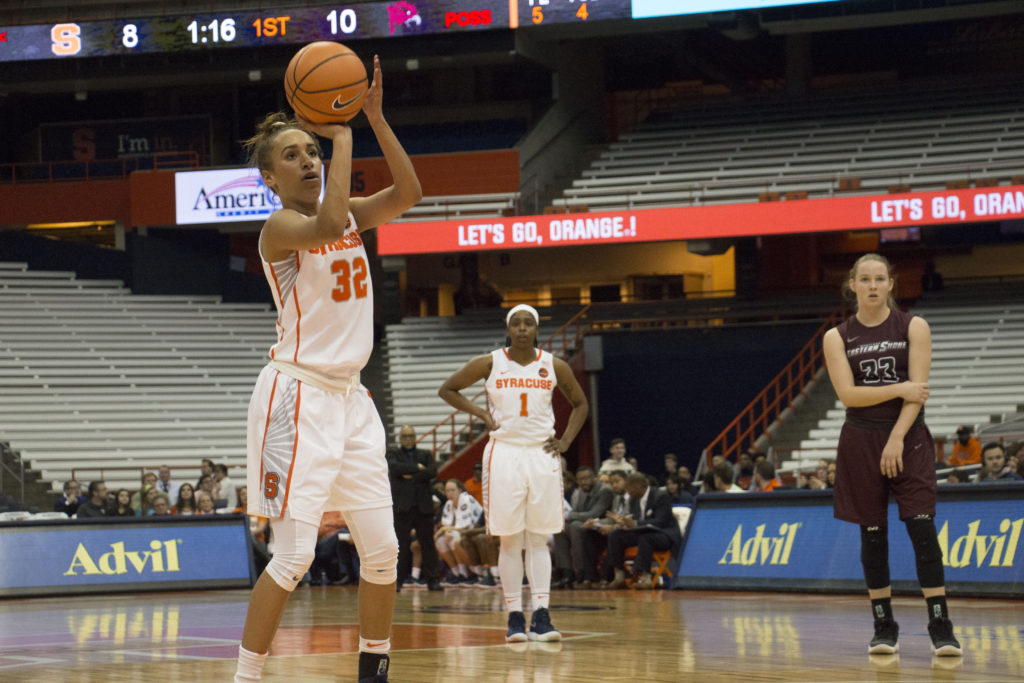 Syracuse Battles to 68-45 Win Over Hawks
Story By Julian Whigham
Photos by Jude Allume
Syracuse, N.Y. – The Syracuse Orange women's basketball team (2-0) topped the Maryland Eastern Shore Hawks (1-2) 68-45, winning their second of four straight home games.
Sophomore point guard Tiana Mangakahia looked sharp, spreading the ball around for ten assists and redshirt junior forward Miranda Drummond led the way in scoring, recording 19 points on an efficient five of nine shooting night.
"She (Drummond) did a really good job of getting into some open areas, she's a good player." Orange head coach Quinton Hillsman said. "When you have a good player who can play a lot of minutes for you, you have a chance at being successful."
How It Happened
Syracuse got off to a hot start defensively holding MDESW to just 10 points and 35-percent shooting from the floor. The Orange's defensive effort translated into early offense, converting ten first-quarter turnovers into eight points on the other end. In the second period, Jasmine Nwaje sparked a 10-0 run with a jumper at the 6:11 mark and after an Isis Young layup in the final seconds, Syracuse closed the half with a 37-28 advantage.
In the fourth, the Orange got out on another run, this time a 12-point advantage capped by a Mangakahia lay-up as the guard tallied her final two points, finishing with 16 on the night—recording her first double-double of the season.

Freshman Nikki Oppenheimer drained a 3-point dagger in the closing moments of the fourth, giving the Orange a comfortable 24-point lead.
Player of the Game 
Miranda Drummond's 19-point night helped her lead both teams in player efficiency at a rate of 19.0. Drummond started slow, shooting just one for four in the first quarter. Her sluggish shooting night didn't last long, scoring 13 points in the second quarter.
"Seeing that first one go down definitely helps." Drummond said.
Notes
Syracuse out-rebounded Maryland Eastern Shore 51-33 and picked up 12 offensive boards in the game.
Three Syracuse players recorded double-figure points, including Drummond (19), Mangakahia (16), and Finklea-Guity (11)
Mangakahia finished with ten assists tonight for the second game in a row.