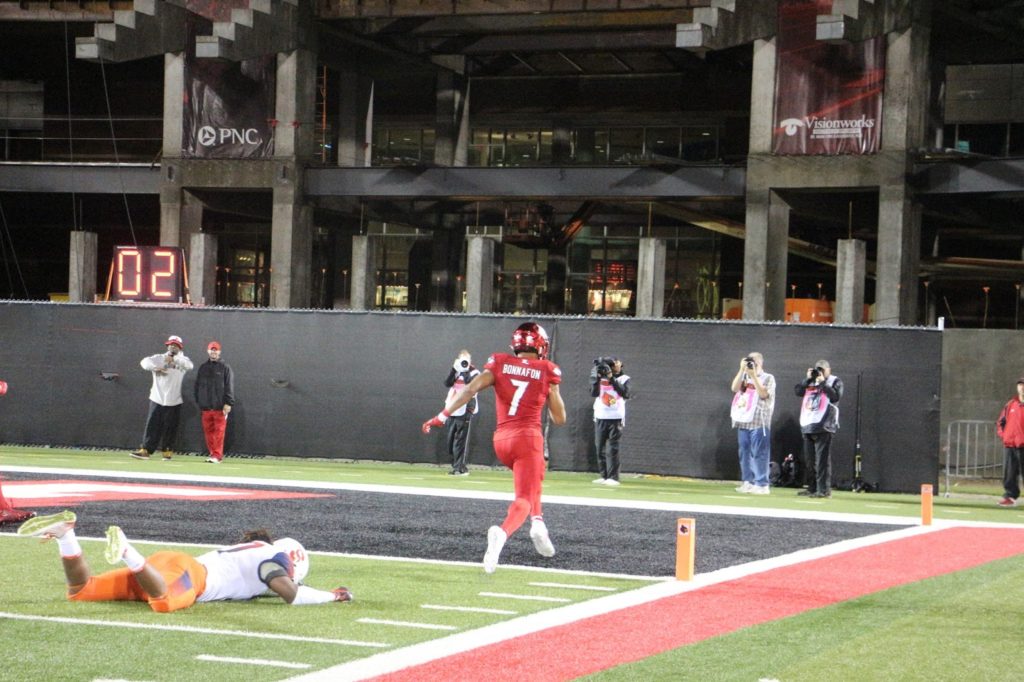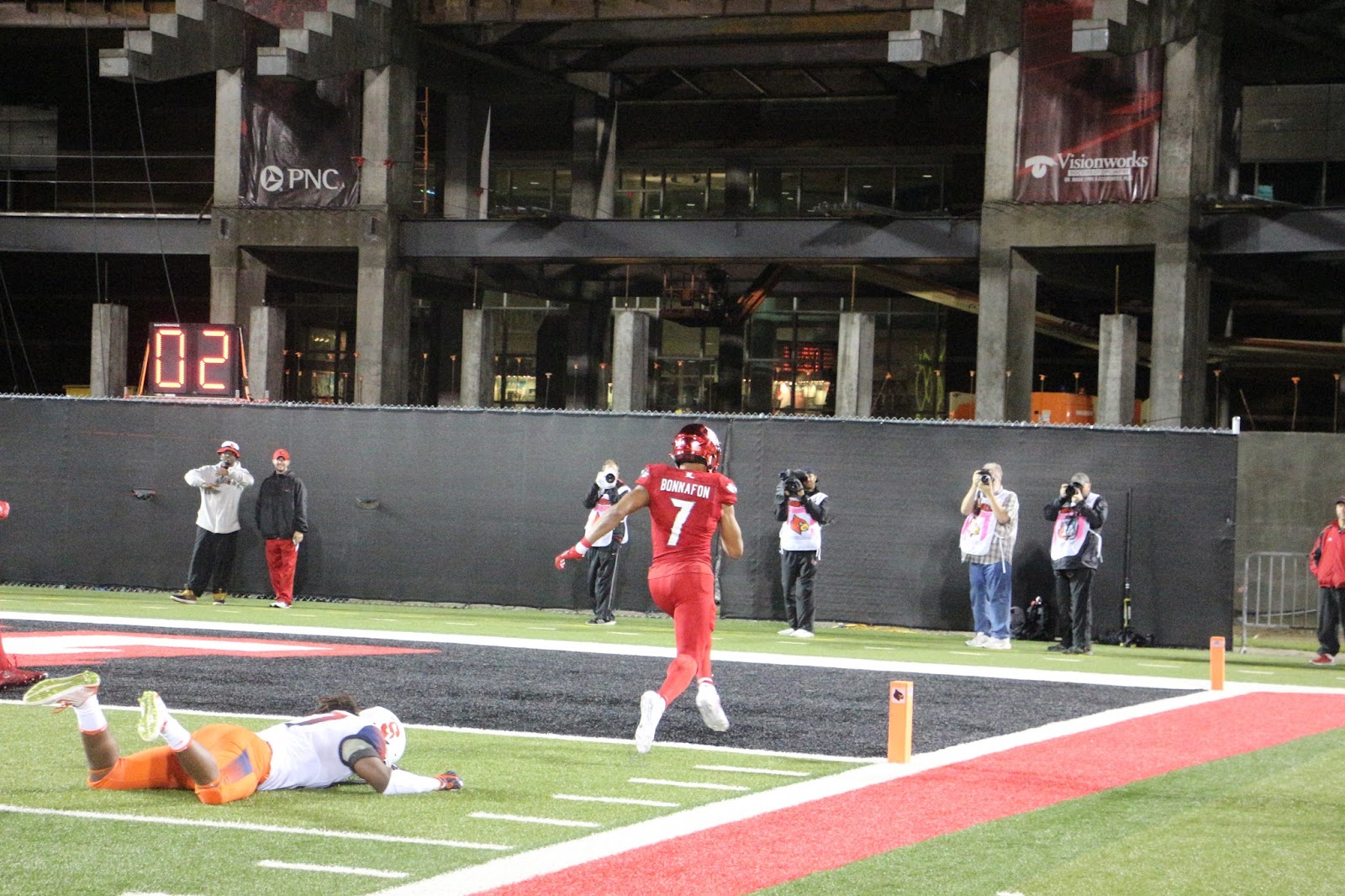 Orange Crushed by Cardinals
Story by Karthik Venkataraman
Photos by Rafael Freitas
LOUISVILLE, Ky.–Weather delayed Saturday's game, but not even Mother Nature was pouring it on as much as the Louisville Cardinals did on Syracuse in the Orange's 56-10 loss at Papa John's Cardinal Stadium in Louisville, Kentucky.

At a Glance
The team suffered its worst loss by point margin on the season, ending its chance for an automatic bid for a bowl game.
"I'm not even going to use the 'B' word right now," Syracuse head coach Dino Baber said. "It's just a situation where we went out there and played a football team that's in the top part of our conference and we didn't get an opportunity to compete with them."
The Cardinals got it done behind a powerfully balanced offensive attack. Louisville outgained Syracuse in total yards 727 to 335.
Louisville Lit up Scoreboard Early and Often
Louisville set the tone just 36 seconds into the Senior Day game with a senior.
On the second play of the opening drive, Cardinals running back Malik Williams bolted into the endzone for a 43-yard rushing touchdown and a 7-0 lead.
The Orange responded with a 51-yard field goal from Cole Murphy later in the quarter, but those were the only points Syracuse mustered in the first half.
Just as quickly as the Cardinals opened up the first quarter, they did it again in the second. On the quarter's opening play, Quarterback Lamar Jackson stiff armed a defender on his way to a 43-yard rushing touchdown to make it 14-3.
Two minutes of game time later, running back Reggie Bonnafon added to the score with a 33-yard rushing touchdown to make it 21-3 as the crowd chanted his name.
"That was like a dream come true," Bonnafon said. "It was cool to feel the love from the fans."
The game was postponed early in the second quarter due to lightning. The 43 minute delay couldn't halt the Cardinals momentum.
When play resumed, Jackson found wide receiver Jaylen Smith for a 72-yard strike with 5:50 left in the first half.
On the following drive, Syracuse third-string quarterback Rex Culpepper replaced Zack Mahoney, who was starting for injured Eric Dungey. Mahoney was 5 of 15 for 49 yards with two interceptions when he was pulled.
Louisville took a 35-3 lead at halftime. Syracuse was out-gained 450 yards to 148 at the break. All the touchdowns Syracuse's defense let up in the first half were for more than 30 yards.
Louisville Kept Foot on the Gas in Second Half
The Orange started with possession in the second half with a chance to gain momentum,
however, Culpepper threw an interception in the opening drive of the half.
Louisville promptly scored 56 seconds later as Jackson twisted and turned for a 19 yard rushing touchdown making it 42-3.
The Cardinals scored two more touchdowns in the half.
Malik Williams ran through the Orange defense for a 56-yard touchdown in the third quarter. Williams had nine rushes for 181 yards and two touchdowns. It was the most rushing yards by a running back at Louisville since 2010.
Backup Louisville quarterback Jawon Pass threw a touchdown to wide receiver Dez Fitzpatrick to make it 56-3 in the fourth.
The Orange scored an eight yard, Ervin Phillips rushing touchdown with about five minutes left in the game to make it 56-10.
Game notes for the Orange
Rex Culpepper finished the game 8-19 for 89 yards with two interceptions.
Syracuse boasts the top active receiving duo in NCAA football with wide receivers Steve Ishmael and Ervin Phillips.  They struggled to find space today, combining for only four catches and 42 yards. It was the duo's lowest combined total of the season.
The Orange allowed over 50 points for the second straight game, allowing 110 points in total to Wake Forest and Louisville. The defense has let up over 700 yards in both of the last two games. They allowed 734 yards to Wake Forest and 727 to Louisville.
"I think it's a lot more about who we are playing and what they are doing," Babers said on the defenses struggles. "Coaches are doing a good job isolating people and putting them in situations where guys are going to have to make plays."
A Career Day for a Heisman Candidate
Lamar Jackson had quite the day for Louisville and set school records along the way. Jackson went 14-26 for 270 yards and two touchdowns. He ran 12 times for 111 yards and two touchdowns.
"Today he made plays that people can't make other than him," Syracuse linebacker and team captain Zaire Franklin said.
He broke the school record for most total yards in Louisville Cardinals history. He passed Chris Redman's total of 12,474 yards.
Orange Highlights
As starting running back Dontae Strickland sat out due to injury, his backup Moe Neal rushed for a season high 98 yards.
Steve Ishmael ties former Orange wide receiver Amba Etta-Tawo's single-season record for receptions at 94 that was set in 2016.
On defense, linebacker Zaire Franklin recorded his 300th career tackle.
What's Next for Syracuse
The Orange plays its final game of the year against Boston College next Saturday in the Carrier Dome. It will be Senior Day for Syracuse.
"We've got to treat it like everything else and finish it the right way," Franklin said. "Come in, watch it, learn from it, get a win on our senior night."
Syracuse is no longer eligible for an automatic bid for a bowl game.