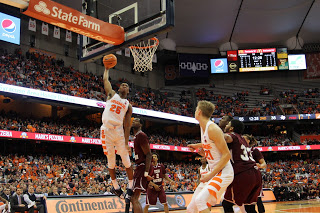 Battle Leads Syracuse Over Texas Southern
Story by Brooke Meenachan
Photos by Peter Benson
Syracuse, N.Y. — Tyus Battle proved to be the difference maker in Syracuse's 80-67 win over Texas Southern in front of 16,644 fans Saturday night at the Carrier Dome.
 The 6-foot-6 sophomore guard finished with 21 points on 9-of-16 shooting in just 26 minutes on the court. Syracuse head coach Jim Boeheim took Battle out after picking up his second personal foul with 9:50 left in the first half. Syracuse was trailing 20-18 at the time.
"He could have went back in, but I think Frank [Howard] and Geno [Thorpe] played well together during that stretch," Coach Boeheim said.
Thorpe Steps Up
Thorpe helped pick up the slack for Syracuse with Battle on the bench. The fifth year transfer from South Florida led the Orange with 13 markers on 5-of-6 shooting, including 3-of-4 from the perimeter, heading into half with a 38-30 lead over the Tigers.
"When we we're moving the first half, Geno made some really good plays, almost on his own," Coach Boeheim said. "He kept us in there the first half. That was good."
That wasn't the case in the second half as Thorpe didn't score a single point. The Pittsburgh native played only seven minutes and missed all three shots he took.
"I'm just trying to play my own game, you know what I mean?" Thorpe said. "Find my own rhythm. I'm not really too worried about how people think I'm playing. I just want to contribute to the team as much as possible."
Battle's Back
Battle returned to start the second half and made his presence known by burying a 3-pointer on Syracuse's first possession.
The Orange went on a 15-0 run with the help of the sophomore guard. He scored 14 points in the first eight minutes.
Battle faked out his defender in the corner, spun back towards the baseline and put down a one-handed dunk that lifted the Syracuse crowd from their seats with 12:26 on the clock.
Battle is averaging 22.3 points per game this season.
Syracuse Slow Start
Like its last three starts, the Orange struggled to get the ball rolling.
Texas Southern went on a 5-0 run to start the first half. The Orange got on the board with a pair of foul shots from Oshae Brissett.
In the postgame conference, Boeheim said it was like his team had never seen a zone before.
The Tigers played a 2-3 zone, which Syracuse struggled against, going 0-7 from the field to start the game.
"It's early in the season." Battle said. "People are going to get more comfortable with the system with our team, with our coaching staff, guys are going to step up every night."
Their first bucket didn't come until four minutes in when Tyus Battle knocked down a 3-pointer.
Syracuse had five players finish in double figures. Battle led the offense with 21 points and Thorpe added 13. Howard finished with 12 markers and dished out eight assists. Bourama Sidibe and Marek Dolezaj scored 11 and 10 points respectively.
The Tigers were led by Donte Clark, who finished with 20 points.